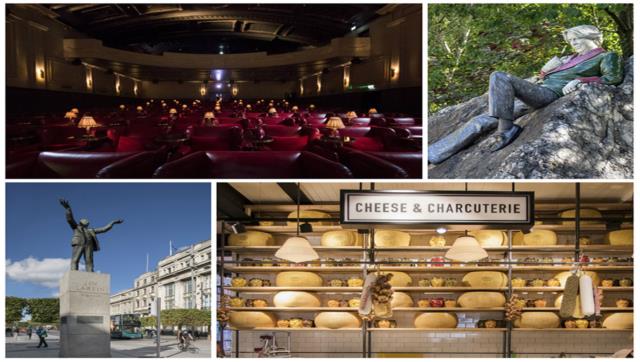 Dublin fizzes with infectious energy – fast-paced and culturally clued-in, this creative, charismatic city always has something new going on. Here are five of the best for 2018…
1. Talking Statues
Want to get inside the head of James Joyce? Or how about hearing the thoughts of Oscar Wilde? Stand in front a select number of Dublin's iconic statues, and you can do just that. Keep an eye out for a blue plaque around the city's statues, then swipe your smartphone and the statue will call you back. Voiced by some of Ireland's most famous actors, such as Gabriel Byrne and Ruth Negga, and written by celebrated authors including Roddy Doyle and John Banville, Talking Statues Dublin takes a sometimes quirky, sometimes dramatic approach to telling the stories of key figures in the social, cultural and political life of Dublin.
2. Stella Theatre
Exquisite mosaic tiling, sumptuous art deco styling, and sofas and beds from which to enjoy some of the finest films around – this is the Stella Theatre. Recalling the 1920s with a ravishing dose of glitz and glamour, this Dublin cinema was originally opened in 1923 and featured a ballroom and fountain in the foyer. Painstakingly restored, the Stella is a real showstopper with luxurious red seats and a gorgeous cocktail bar. Throw in some top-notch food, and you've got cinema perfection sorted.
3. Discovery Trails
Dig a little deeper on your journey to Dublin and you'll find compelling history, colourful characters and truly intriguingly tales. And the perfect way to find them? The Dublin Discovery Trails. Download the app and you're right into a world of intrigue with new trails including The "Real" Dublin, Dublin Northside and The Dubline. These great walking trails wind around some of the city's great attractions, and take about two hours on foot.
4. New tastes to enjoy
With a great location on the banks of the River Liffey, Dollard & Co more than sets the tone for great tastes, combining casual dining, a food emporium and fancier gastronomy. One of Dublin's most talked about restaurants in 2017, Bastible, has opened a sister restaurant called Clanbrassil House with a small menu and creative dishes such as onglet steak, bone marrow and chimichurri. Or go for modern gastropub cooking at the Legal Eagle, near Dublin's Four Courts, with a contemporary take on traditional dishes such as beef suet pudding with crushed sweed.
5. New openings
The Tenement Museum Dublin breathes new life into what was once the grandest street in Dublin, Henrietta Street. In the 1900s, Dublin was rife with overcrowded tenements within buildings that once housed the aristocracy. The new Tenement Museum was itself once home to 17 families, and now houses a museum where productions are staged. Fancy a bit of traditional music in a modern venue? Follow the tunes to the new Piper's Corner on Marlborough Street, which mixes craft beers and trad tunes. And for a taste of Dublin's indie music scene, try the Underground Dublin on Dame Street – one of the latest venue additions to the popular festival Hard Working Heroes.
Want to find out more about what's happening in Dublin?
It's a breath of fresh air.
Dublin