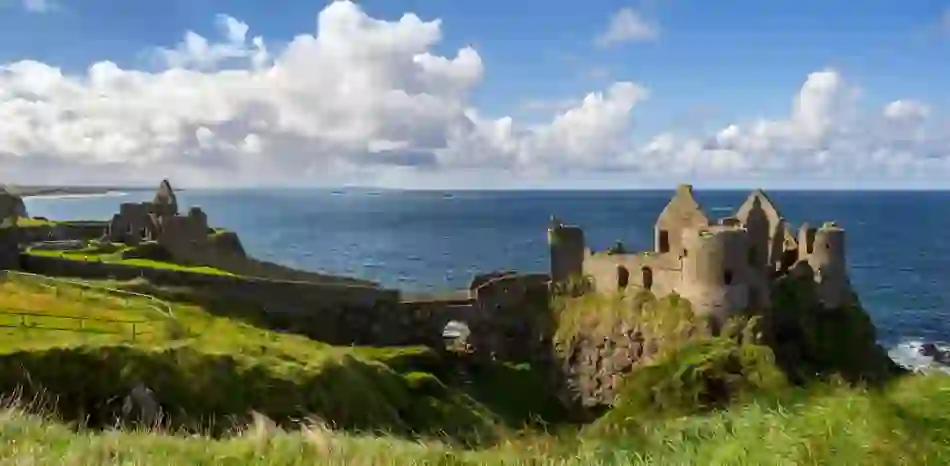 Discover historic Dunluce Castle
As you cruise along the rugged coastline of County Antrim, you'll be greeted by a magnificent medieval structure perched high on a craggy headland: the legendary Dunluce Castle.
Though today Dunluce Castle is a ruin, its walls have played witness to a feud laden with romance, betrayal and tragedy between the McQuillan and MacDonnell clans. Whether you're a history buff or someone who loves adventure, you're in for a treat.
The history of Dunluce Castle
Over its history, Dunluce Castle has witnessed some of Ireland's most tumultuous and violent periods. The castle's main structure was built by the McQuillan clan in 1500 and was hotly contested by their rivals, Clan McDonnell, who eventually seized the prized location in the mid-1500s. With its past littered with bloody feuds, it's no surprise that over time, ghostly murmurings have emerged about Dunluce's lonely old ruins.
The most famous of these is the story of Maeve Roe, the daughter of Lord McQuillan. The tale goes that Maeve refused to marry her father's chosen husband, as she was in love with another man. As punishment, Maeve was tossed into the castle's tower and locked away until she changed her mind. With all hope lost, the young woman's beloved launched a daring rescue, but upon their escape, the pair of soulmates were drowned in the waves at the nearby Mermaid's Cave. Local legend says she can be seen still keeping watch in the tower, and her cries can be heard on stormy nights…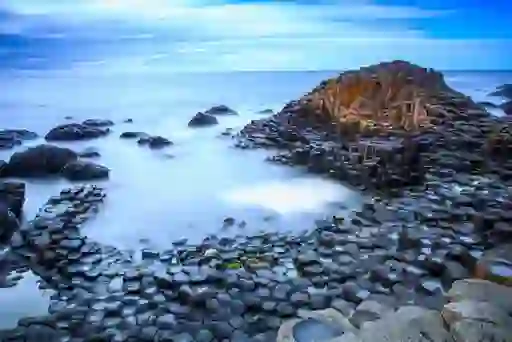 Beyond the castle
Fancy visiting the film locations of HBO's Game of Thrones® while you're in Northern Ireland? Then look no further than the beautiful avenue of warped beech trees, The Dark Hedges. Although more globally renowned as the filming location for the Kingsroad, the site is also reputedly haunted by a spectral Grey Lady.
A short drive away from Dunluce, you'll find the world-famous Giant's Causeway. This UNESCO World Heritage Site is one of the most distinctive sights on the island, with an impressive 40,000 basalt columns, the result of an ancient volcanic fissure eruption from around 60 million years ago.
And don't forget about the historic city of Belfast. From alternative art galleries and the spectacular Titanic Belfast, to the buzzy George's Market (Fri-Sun), this is a place bursting with creativity!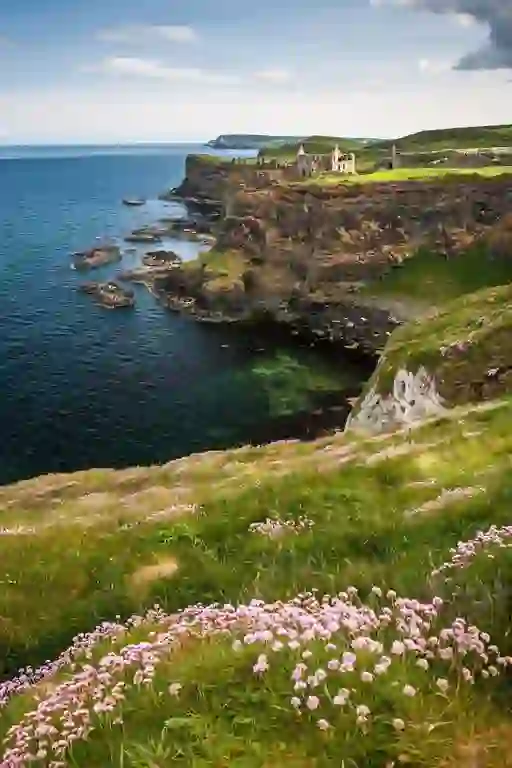 Need to know: Dunluce Castle
The castle can be visited daily between 9.30am and 5pm with last entrance at 4.30pm (though it closes at 4pm in December and January). There is a charge to visit, and no need to pre-book.
You can get a nice view of the castle from the nearby Magheracross Lookout and Picnic Area which has parking facilities. It also boasts lovely views of the coastal headlands.
If you have time, make sure to visit Portrush, which boasts lovely beaches and some excellent golf.
Another nearby attraction is Carrick-a-Rede rope bridge – a stunning walkway that links the mainland to a tiny island. Advanced booking is recommended.