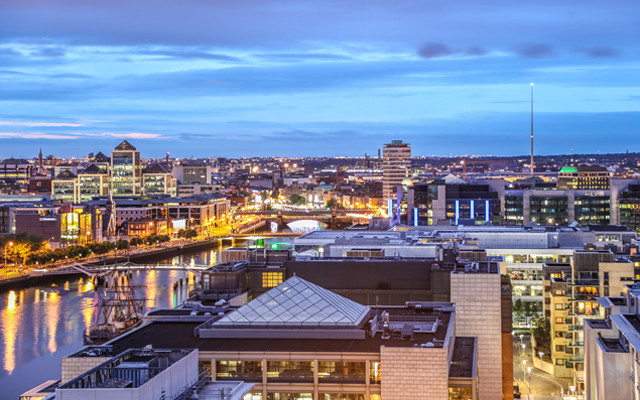 10. The Rhino in the River
Rhinos, surprise surprise, are not native to Ireland. So when one appeared overnight without explanation in the River Dodder it caused quite a stir. Full disclosure: the rhino in question is made of bronze and grazes beside the Dropping Well pub in Milltown.
9. The Hungry Tree
When was the last time you saw a tree eating a bench? Thought so. But that's exactly what you'll see over in the gardens of the King's Inns where a remarkable London plane tree is slowly consuming a cast-iron bench.
8. Irish Mummies
You don't have to travel all the way to Cairo to see real mummies. Deep in the limestone crypt of St Michan's Church lie several well-preserved remains, including one believed to be a Crusader. Rubbing his finger brings good luck.
7. Guitar Hero
Rory Gallagher is considered one of the greatest blues players of all time, so it's fitting that a bronze replica of his signature Fender guitar is mounted on the wall beside Meeting House Square in Temple Bar. Look up or you'll miss it.
6. Holy Water Stoops
Holy water clams, Batman! Flanking the entrance to St Audoen's Church in Kilmainham hang two enormous clamshells that act as holy water stoops. Fished from the Pacific Ocean in 1917, these mighty molluscs truly are a sight to behold.
5. The Literary Pharmacy
Whether you agree or not, Ulysses by James Joyce is consistently cited as the best novel ever written. The near-700 page tome is packed with real Dublin locations, like Sweny's pharmacy on Lincoln Place which now acts as a Joycean museum with daily readings.
4. Lamps Will Guide You
Most associate Merrion Square with the multi-coloured statue of Oscar Wilde. But the Georgian park holds other, subtler curiosities. Like the 25 or so ornate gas lamps hidden there. Each one is unique and represents a bygone era in Dublin's history.
3. Father Pat Noise Plaque
Crossing O'Connell Bridge, you might spare a thought for Father Pat Noise, whose commemorative plaque tells how he died under suspicious circumstances when his carriage plunged into the river. Don't feel too bad – the plaque was installed as a prank and the ill-fated priest never existed.
2. K1 Telephone Booth
Once upon a time, smartphones didn't exist and public telephone boxes dotted Dublin. The oldest, dating back to 1925, now stands on the eastern side of Dawson Street as a technological relic. With its green door and brass handle, you won't miss it.
1. St Patrick's Footprint
In Dublin, you can literally walk in the footsteps of a saint. Beside the tidal bathing area in Skerries is a footprint left by St Patrick when he gave chase to the bothersome townspeople who really got his goat – by stealing and eating it.