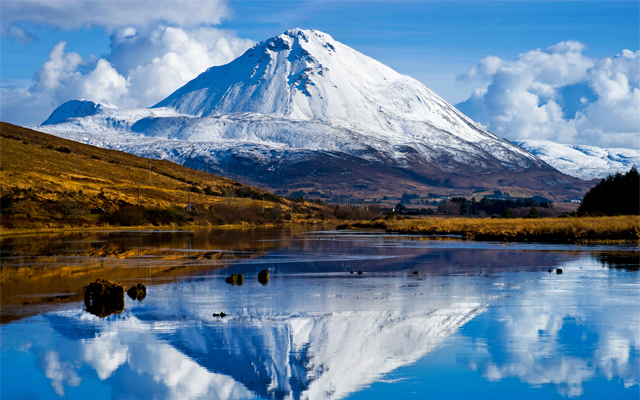 6. Mount Errigal, County Donegal
One of Donegal's Seven Sisters mountains, the sun rebounds brilliantly from Mount Errigal's quartzite appearance, giving off a glorious pinkish glow – even in winter. Close to Glenveagh National Park, Mount Errigal is the tallest peak of the Derryveagh Mountains, guaranteeing you a majestic shot year-round. See if you can count all Seven Sisters: Errigal, Mackoght, Aghla Beg, Aghla Mór, Ardloughnabrackbaddy, Muckish and Crocknalaragagh.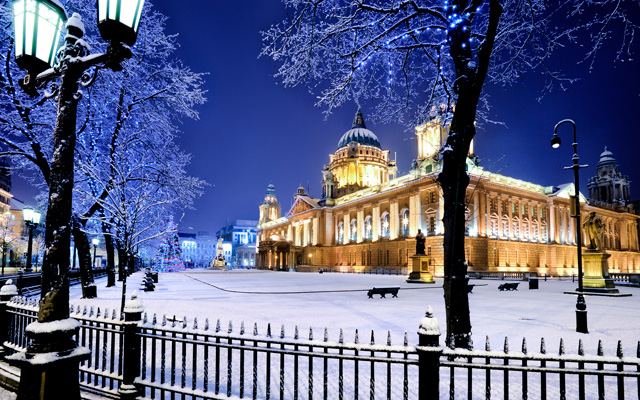 5. Belfast City Hall, County Antrim
Belfast is a city made to be photographed, from its iconic yellow Samson and Goliath cranes, to the sinking Albert Clock, known as the city's own Tower of Pisa. So where better to capture the winter wonderland of Northern Ireland than at Belfast's City Hall? The Christmas market takes place on the grounds throughout November and December, while the Titanic Memorial Garden sits to the east of the building. The Titanic Monument and Memorial Plinth are surrounded by plants in shades of white, blue, silver and green, chosen to reflect the colours of water and ice.