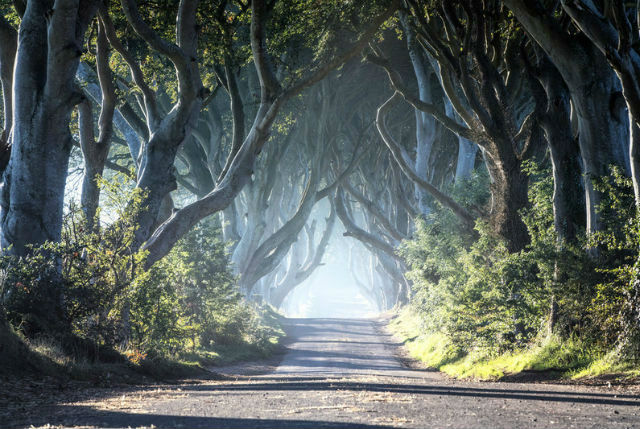 But before you read on, be warned! If you haven't quite caught up to season 7, the night is dark and full of spoilers...
1. Aidan Gillen, Dublin
The scheming and manipulative Petyr Baelish, otherwise known as Littlefinger, rose from humble beginnings to become the Master of Coin in King's Landing. Now, having used his wheelings and dealings to install himself as the Lord of the Eyrie, the world is his oyster. This expert of plots and politics is brought to life on screen by Dublin native and masterful actor Aidan Gillen.
2. Michelle Fairley, Coleraine, County Londonderry
Poor Catelyn Stark. The lady of Winterfell had a string of bad luck since the beginning of Game of Thrones® – first her son was thrown off a tower, then her husband was executed. And that's without mentioning THAT wedding... But through it all the fabulous Michelle Fairley, a native of Coleraine in Northern Ireland, brought grace and dignity to the role. 
3. Conleth Hill, Ballycastle, County Antrim
If there's one man with more secrets than Littlefinger, it has to be the mysterious and enigmatic Varys, Master of Whisperers. From King's Landing to Meereen, it often feels like Varys is the man with all the answers – but he's not telling anyone. Conleth Hill, who hails from Ballycastle in Northern Ireland – one of the filming locations in the series – brings all of Varys' eccentric charm and dangerous atmosphere to life in the series. 
4.  Jack Gleeson, Cork
There's a part of us that will always miss King Joffrey. Despite being arguably one of the most vicious, spoilt and wretched characters on the show, his antics and tantrums made for some of the most captivating moments the series has ever known. Jack Gleeson, born in Cork, played the part of Joffrey with what everyone will agree was unforgettable commitment. 
5. Art Parkinson, Moville, County Donegal
The Starks really must be the most unfortunate family in Westeros. Poor Rickon Stark was sent away to Last Hearth when Winterfell was invaded by Theon Greyjoy. But betrayal lurked when he arrived, and Rickon was then handed over to the heartless Ramsay Snow... Talented young actor Art Parkinson, from County Donegal, takes on the role of the unlucky Rickon, whose home just happens to be at the start of the Wild Atlantic Way.