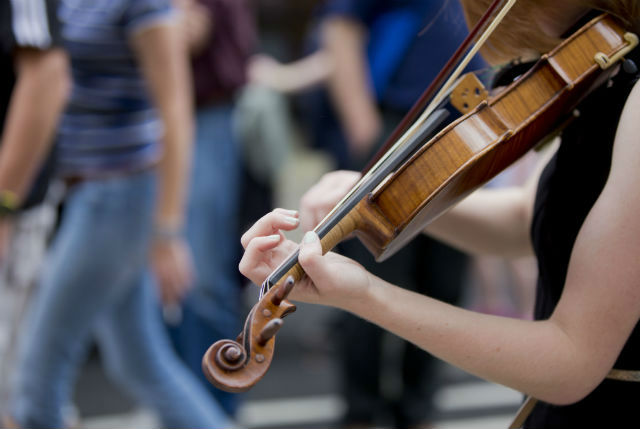 The Dubliners
The Dubliners is an Irish folk band founded in – you guessed it – Dublin! Formed in 1962, they made a name for themselves playing their stomping ballads in the city's pubs, most notably O'Donoghue's, which you can still visit today. The energy and unique brand of Irish folk got them noticed quickly, and they were soon touring Dublin, London and further afield, making appearances on Top of the Pops in the UK, and on The Ed Sullivan Show in the United States. Hits like Black Velvet Band, Seven Drunken Nights and their own rendition of The Wild Rover cemented their status as lovable legends, particularly frontman Ronnie Drew. Although there have been changes in the line-up over the years, these stalwarts of Ireland's music scene are still touring today – so catch them if you can!
Thin Lizzy
Have you ever found yourself singing along to The Boys Are Back in Town? Well we have Thin Lizzy to thank for that upbeat tune. Starting out in 1969 in the clubs of Dublin, Thin Lizzy changed the landscape of rock. Members came from all over the island of Ireland – frontman and musical icon Phil Lynnott was a Dublin native, while Gary Moore of Belfast is recognised as one of the world's greatest guitarists. Stroll over to Harry Street in Dublin and you'll see the lead singer immortalised in a landmark status – pay homage by humming a few bars of that infectious tune Whiskey in a Jar – another Thin Lizzy classic – while you're there.
The Pogues
Who doesn't love Fairytale of New York? You know, it's that tune at Christmas that rings out from morning to night across the globe. Well, we have The Pogues, in part, to thank for this alternative festive tune.  At the intersection of Irish punk and Irish folk, The Pogues collaborated with the late Kirsty MacColl for this particular song, and it rocketed them to super stardom. Fronted by the inimitable Shane McGowan, The Pogues used traditional Irish instruments alongside rock music staples to create a totally unique sound. Albums like Red Roses for Me and If I Should Fall from Grace with God garnered critical acclaim, blending punk rock with traditional Irish elements! To hear them play is to appreciate the band's greatness.
The Corrs
Hailing from County Louth, this quartet is made up of siblings Andrea, Caroline, Jim and Sharon. Operating across a range of instruments, from the tin whistle to the bodhrán, The Corrs have topped the charts around the world with their brand of Celtic folk fused with pop. In fact, you've most likely been singing along to their hits for any years, with hits like Breathless, Summer Sunshine and Runaway making us sway our hips to the beat since the Nineties. They recently reformed and are releasing new material for the first time in years, so watch this space and get ready for some smooth sounds.
Beoga
You may not know the name, but you've definitely heard their music! This whirling, twirling folk band recently collaborated with pop megastar Ed Sheeran, co-writing that irresistible tune "Galway Girl". Consisting of five members, four from Northern Ireland and one from County Limerick, since they came together in 2002 they've picked up more than a few accolades, including a Grammy nomination and a performance at the BBC Proms alongside the Ulster Orchestra. Catch them as they make their way around the island of Ireland and the rest of the world – it's a performance you won't forget!