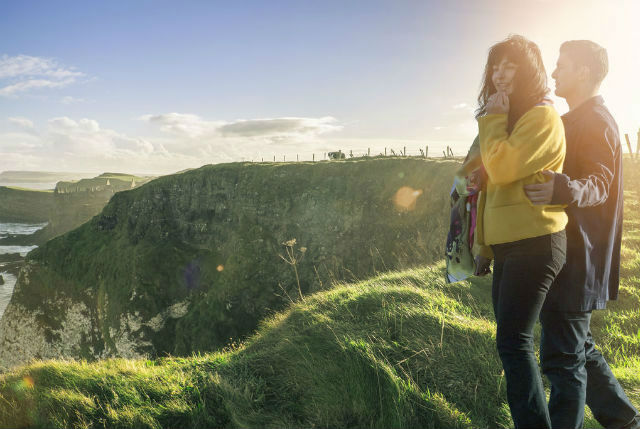 9. Horse Riding, County Kerry
When legendary Irish warrior Oisín fell in love with the beautiful Niamh, the two eloped to Tír na nÓg, the land of everlasting youth. And where did the happy couple set out upon their white steed? Rossbeigh Beach, County Kerry. You can giddy-up and trot along the unspoiled sands to your heart's content.
8. Candlelight Dinner, County Waterford
In 1170, Norman mercenary Strongbow wed the exiled Irish King of Leinster's daughter near Reginald's Tower. Not far from this medieval monument is another loved-up location – the Cliff House Hotel. Spectacular ocean setting aside, it boasts a Michelin-starred restaurant which uses vegetables grown in the kitchen garden.
7. Get Married, County Fermanagh
For a special dose of love, head to Florence Court. Sir John Cole first built a mansion here in the 18th century and named it after the woman he adored. Today, the vast Palladian mansion oozes romance and is a popular wedding venue, with the ornate Rococo decor, mountain backdrops and walled gardens sure to melt your heart.
6. Romantic Rambles, County Antrim
When Ronald John McNeil (1st Baron Cushendun to me and you) designed Cushendun, he ordered it to be built in Cornish appearance to please his Penzance-born partner, Elizabeth. Take a romantic ramble past the quaint cottages, neo-Georgian architecture and down to the sweeping beach, which is all the more stunning at sunset.
5. St Valentine Ring Blessing, County Dublin
Could there be anything as special as getting your wedding rings blessed by St Valentine? Inside Dublin's Whitefriar Street Church lie the relics of the patron saint of love, where you can get your wedding rings blessed beneath his shrine on February 14. Plenty of couples propose underneath his statue, too. Imagine telling that to the grandkids…