Carrick-a-Rede rope bridge
The creak of wooden slats in the rushing wind. The waves swirling beneath your feet. The salty spray in your nostrils. Can you handle Carrick-a-Rede?
The Carrick-a-Rede rope bridge has woven its way between Carrick Island and the County Antrim mainland for over 250 years. Swaying 30 metres above the ocean might not seem like the most relaxing way to undertake this 20-metre journey, but things have come a long way.
Back in the 1970s, the crossing comprised just one handrail and a handful of gapped wooden planks. Today, although there's a subtle shake to this sturdy bridge – just enough to thrill you – you're in far safer hands.
A fisherman's tale
So why, you might ask, does this bridge exist at all? There was method to the madness: generations of fishermen once relied on Carrick-a-Rede as the best spot for catching salmon.
After the fish's migratory patterns changed, the age of fishermen on the island came to an end in 2002. Today, their legacy is an isolated, whitewashed cottage perched on Carrick: the very definition of a precarious location.
The scenic drive to the rope bridge, the hike up to the bridge, and the views from the bridge itself were more than spectacular...

Kelsey S, TripAdvisor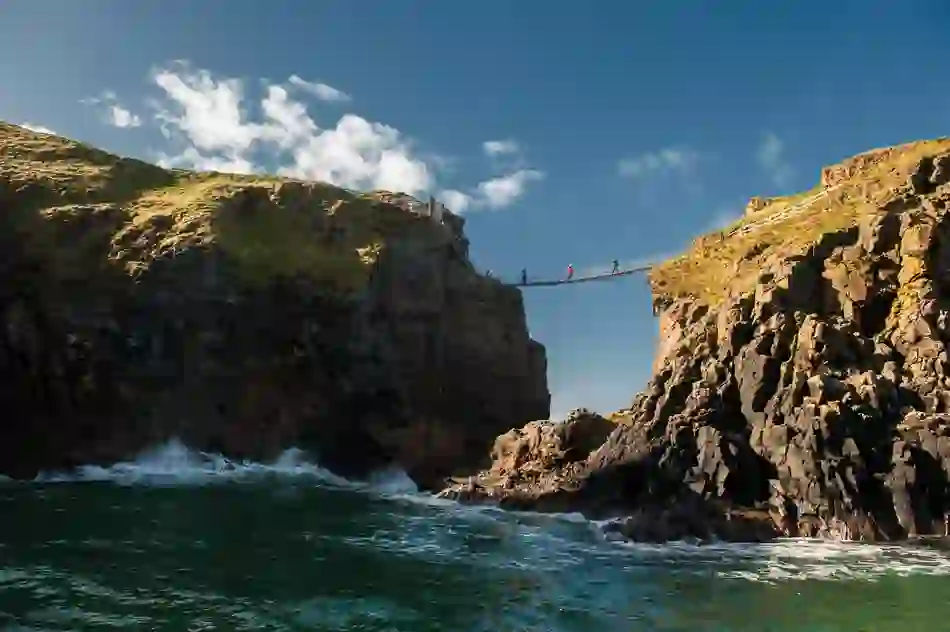 Crossing Carrick-a-Rede
In recent years, the bridge has become a focal point on the Causeway Coastal Route, which winds it way from Belfast to Derry~Londonderry.
However, crossing the bridge still requires some nerve. If you think you've got what it takes, pre-book to secure your spot! If you make it to the other side, you'll be rewarded by stunning views across to Rathlin Island and even Scotland. As well as that, you'll be a stone's throw from UNESCO World Heritage Site, the Giant's Causeway. Take it all in before you step back on the bridge – just make sure you don't look down!