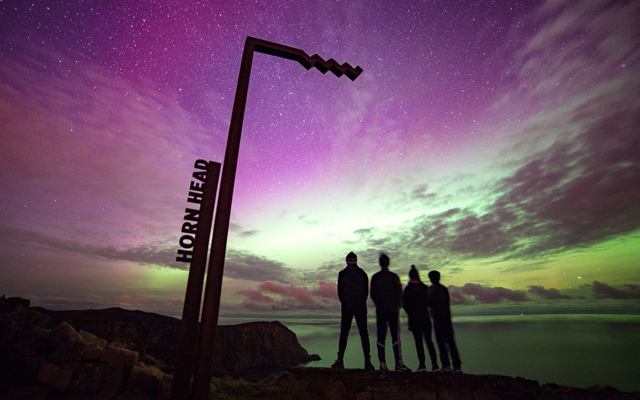 You're sitting in the dark on a quiet beach on the Inishowen Peninsula in County Donegal and then it happens... the night sky comes alive with rolling waves of pink, green and blue. The Northern Lights is putting on a show.
To see this amazing natural phenomenon, you need three things: the right solar conditions, clear skies to the north and no light pollution. That's why the Inishowen Peninsula has such a reputation as a great place to spot them. This remote and unspoiled landscape is Ireland's most northerly point (next stop – the Arctic Circle) and is well known for its dark skies. So follow the advice of these stargazers, light chasers and astrophotographers, get your camera, pick your viewing spot and wait for the perfect shot.
Martina Gardiner
Martina Gardiner is a professional photographer and videographer with a passion for night-time photography.
"It's often in the hope of a good Aurora show and a chance of clear skies that I take off into the night with my camera. Aurora or not, the night skies can be magical in Inishowen.
It was mid-April when I took the photo of this old boat under the Northern Lights. We had set off early that night and a few hours into our adventure, we arrived at the quiet little pier at Dunaff. The patchy cloud that had looked as if it would never leave lifted suddenly. The sky was completely clear and the Milky Way arched low over the northern horizon. It's often a bit of a waiting game for the perfect conditions but when it comes together it can be awesome."