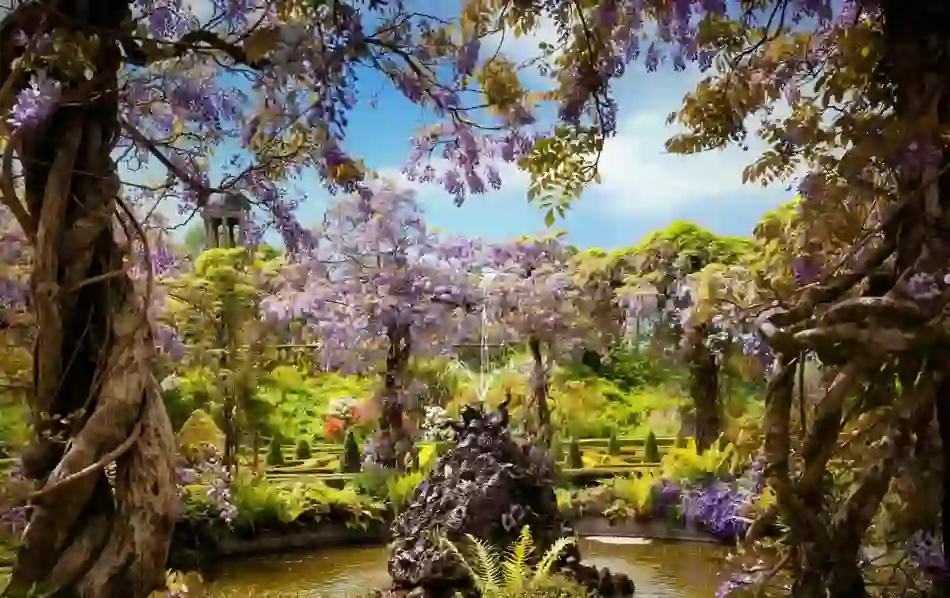 Gardens of Ireland
If gardens are your passion, you'll find a feast of sights and scents across the island of Ireland, from wild walks to island escapes and exquisitely curated formal spots…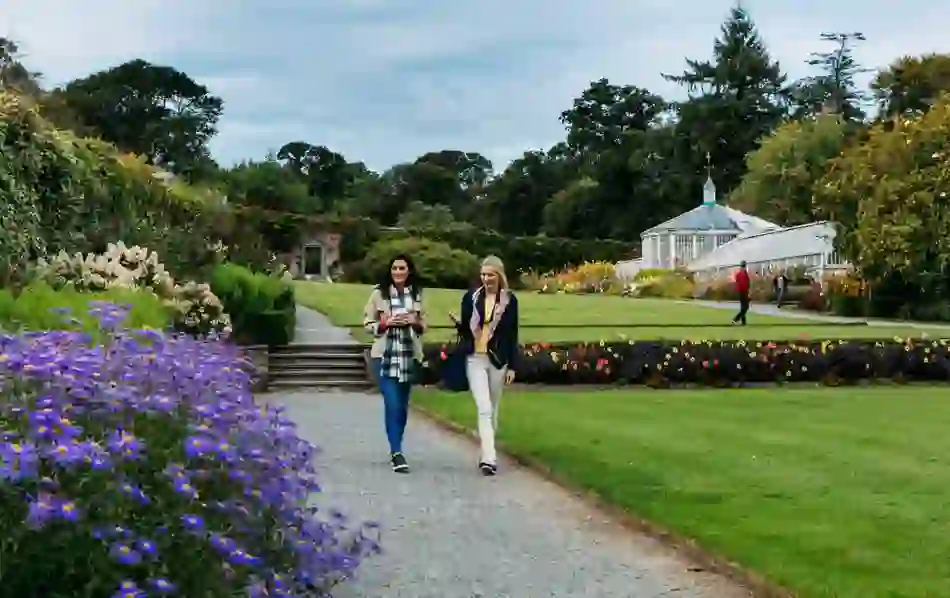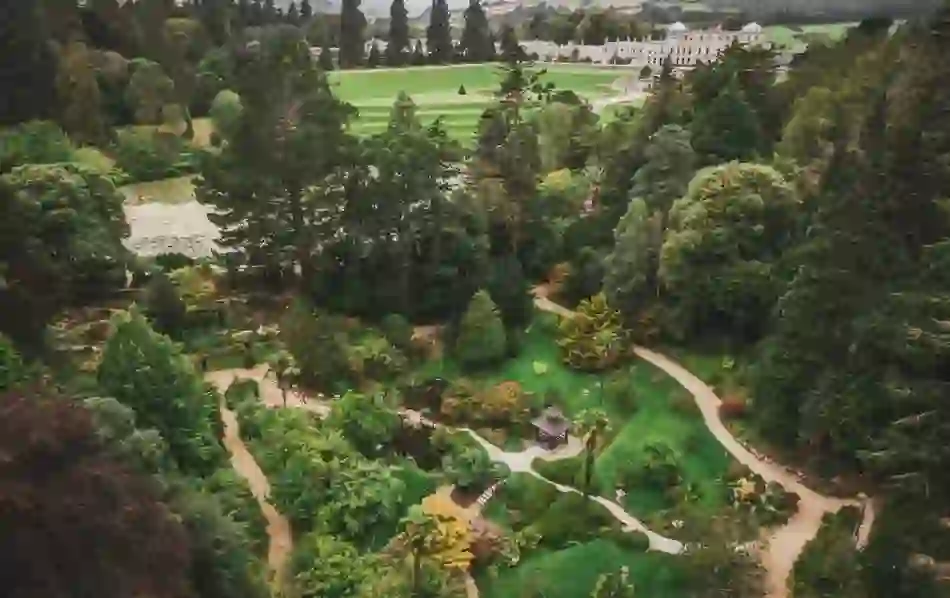 When people think of Ireland, they think of green rolling fields and majestic landscapes, but the island is also home to some magnificent gardens. With its high rainfall and mild, temperate climate, Ireland has the perfect conditions for cultivating a stunning diversity of plant life.
You'll find a garden for any taste across the island – pristine formal and walled gardens that echo a time long past; fun, quirky gardens that take influences from across the world; and gardens nestled into bustling cities.
So if you're a green-fingered gardening fanatic, or if you simply want to marvel at the beautiful flowers on display – you'll find something for all tastes on the island of Ireland...
The big hitters
The best place to start, naturally, is the most famous gardens. Many of these spots tend to be flanked by an impressive stately home that adds to the mystique.
Take Mount Stewart for example. This 19th-century house in County Down hosts grand, interlocked gardens that were planned by Lady Londonderry, who designed them according to her idiosyncratic and varied tastes. Thanks to the mild climate of Strangford Lough, she was able to cultivate an array of plants from around the world, enhanced with inventive planting schemes. Its current Head of Gardens, Neil Porteous has built on the lady's formidable legacy, layering his own innovative ideas over her powerful foundation.
Voted Number 3 in the World's Top Ten Gardens by National Geographic, Powerscourt in County Wicklow is full of surprises, from the Pets Cemetery to the life-sized statues of winged horses. But it's the plant life that makes it special. In spring, Powerscourt is an explosion of vibrant colours, especially late in the season when the azaleas and camellias are in full flower. Later in the summer, herbaceous plants such as roses and flowering shrubs bloom, and as the year winds to a close, it's the turn of daphnes and winter jasmine.
Other well-known gardens around the island include Mount Congreve in County Waterford, which houses the largest collection of plants in Ireland, and the National Botanic Garden at Kilmacurragh in County Wicklow, with its famous collection of conifers and rhododendrons.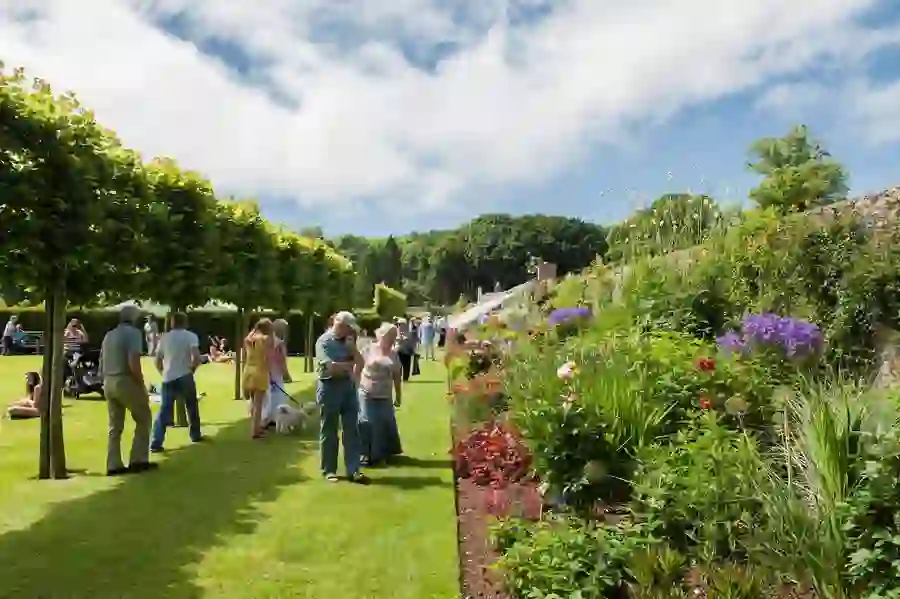 The secret gardens
While the grandeur of the formal garden is impressive, other remnants of the Big House era offer a more intriguing experience. Walled gardens were originally used to supply these large estates with fresh produce. As the estates declined, so too did the gardens and many fell into disrepair. However, generations of new owners have set about restoring them and now, there are about 8,000 walled gardens in Ireland – some dating back to 1600!
Nestled between looming mountains and a picturesque lake in Connemara, Kylemore Abbey boasts a walled garden that is nearly double the size of most others on the island. Its six acres house a range of old heritage varieties of annual flowers, vegetables (which are used in the onsite restaurant), perennials, trees, shrubs and herbs. Make sure to visit the restored Head Gardener House, which gives a fascinating insight into the lives of gardeners 150 years ago.
Smaller in scale but just as impressive is the walled garden at Glenarm Castle. With the gorgeous County Antrim countryside as its backdrop, this garden is bursting with colour throughout the year – look out for roses in May and June, and a range of herbaceous flowers appearing in early autumn. Glenarm also hosts a yearly tulip festival where you can enjoy the sight of over 6,000 tulips planted around the garden and attend various talks from expert tulip growers.
Something a little different
While formal and walled gardens are well worth your time, venture off the beaten track, and you'll find an exciting range of unique gardens all over the island.
Take Garnish Island for example – which is quite simply put, a garden island. Just off the coast of County Cork, Garnish is home to a variety of plants from around the world. Spots such as the Grecian garden host gorgeous, exotic flowers from Chile and New Zealand, while the walled garden hosts petunias, dahlias and rambling roses among others. And you'll find plenty of unique garden buildings, such as the Martello Tower and Bryce House, dotted across the island.
At the Irish National Stud in County Kildare, the serene Japanese Gardens take inspiration from the Japanese gardens of the early 20th century. They cleverly combine horticulture with philosophy as the garden traces the path of human life, from birth to death.
Looking for more quirky gardens to visit? Try the Antrim Castle Gardens, a 17th-century Anglo-Dutch water garden – one of the rare few to survive with its original features intact. Or the poison garden at Blarney Castle in County Cork, where toxic plants including wolfsbane and mandrake are grown, and signs warn curious visitors to keep their hands to themselves.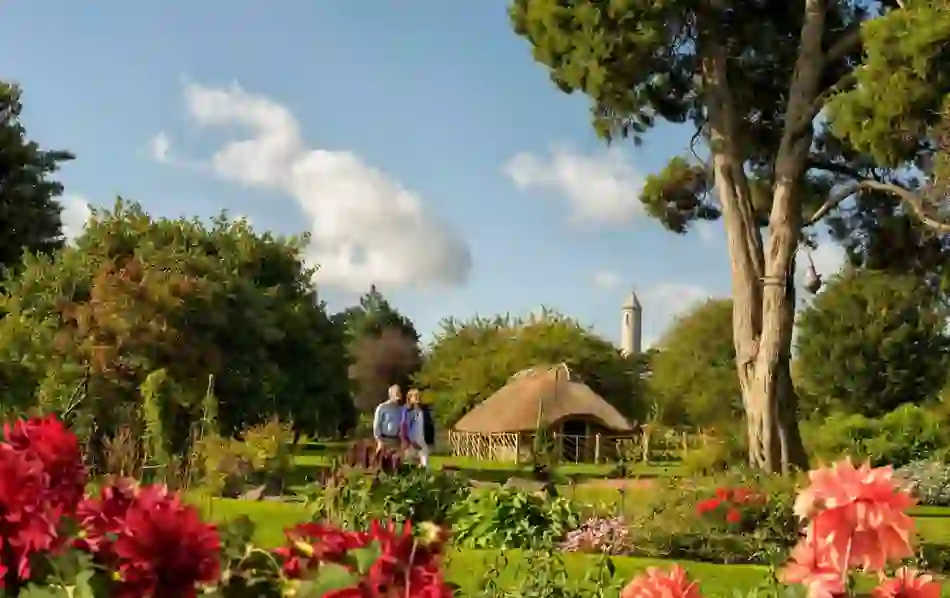 On the city's doorstep
Just 3km from Dublin's city centre, the Botanic Gardens are home to over 15,000 species of plants from around the world. Highlights include restored historic glasshouses and plants of impressive rarity – there are over 300 endangered species on display, six of which can no longer be found in the wild.
Belfast's Botanic Gardens is a historical landmark that features a range of unique ferns, plants and fruit trees. It's separated into two sections: the striking cast-iron Palm House and the Tropical Ravine, a restored Victorian building whose humid environment is suited to tropical and subtropical plants, as well as fruit such as starfruit, bananas and pineapples.
Rose enthusiasts should head to St Anne's Park in Dublin or the annual Rose Festival in Sir Thomas and Lady Dixon Park in Belfast, home to the City of Belfast Rose Garden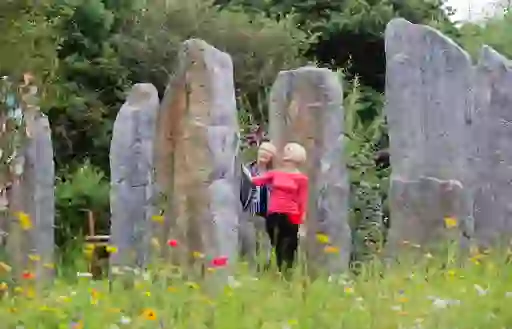 Garden trails and tours
If you want a bit of structure to your horticultural journey, there are plenty of self-guided garden trails around the island of Ireland. The Boyne Valley Garden Trail combines a thorough mix of popular gardens including Loughcrew House, as well as appointment-only gardens and other interesting locations such as garden centres and nurseries.
Connemara is considered one of the quintessentially Irish landscapes, with its beautiful and wild terrain – and it's got a garden offering that matches its hefty pedigree. On this trail, you'll find hidden gems such as Brigit's Garden, alongside pristine classics such as Ballynahinch Castle.
And if you want someone else to take care of all the details, book an organised garden holiday with a tour operator such as Garden Tours of Ireland or Adams and Butler. That way, you're free to relax and immerse yourself in nature.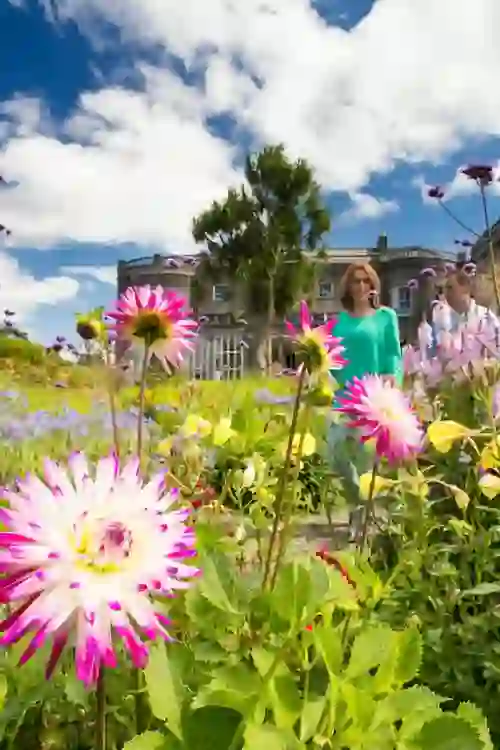 5 horticultural experiences in Ireland
Want to keep reading?
Here are some great articles to get you started