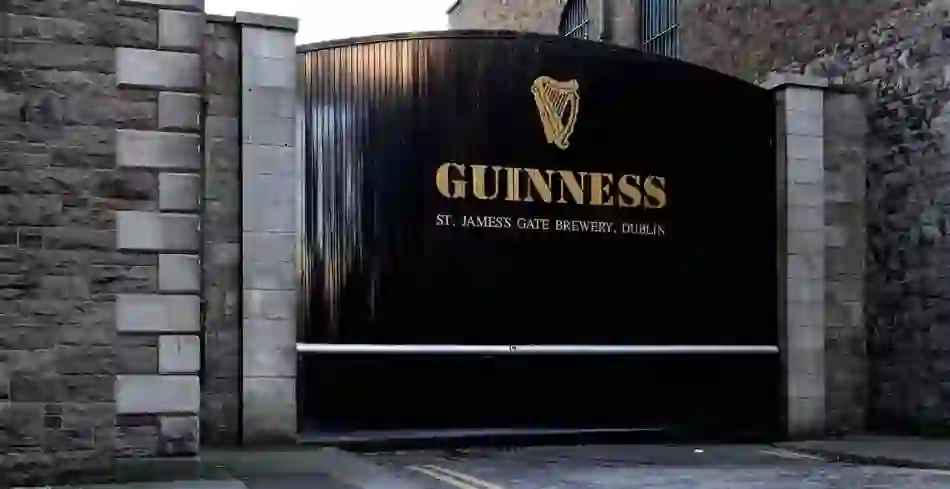 Guinness Storehouse
30mins from Dublin Airport
What is the Guinness Storehouse?
If you want to learn what exactly goes into a pint of the "black stuff" and the story of how this famous stout went from humble beginnings to being sold all around the world, then the Guinness Storehouse, the home of Guinness in St James's Gate in Dublin, is the place to start.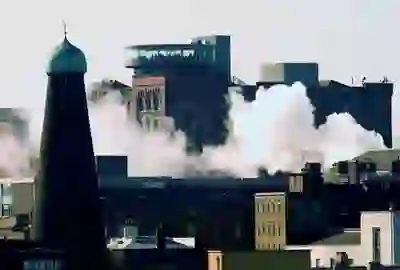 Arthur Guinness – a brewing legend
The story of Guinness goes back more than 250 years, when Arthur Guinness, from Celbridge in County Kildare, decided to set up a brewery. In 1759, he signed a 9,000-year lease at a site at St James's Gate in Dublin city centre. He built the Guinness brewery up slowly, and ten years later, started exporting barrels of stout by ship to England.
By 1868, St James's Gate was like a mini city, with a cooperage, barley maltings and even its own railway and fire brigade. The company built its own barges to transport barrels of stout along Ireland's waterways and hired scientists to perfect the stout.
When you arrive at the Guinness Storehouse and walk among the brewery buildings, the cobbled streets and tram tracks, and arrive at the famous black gates, the story starts to come to life. This is the largest stout brewery in the world and during a visit, you will take a journey through the life and story of this iconic beer.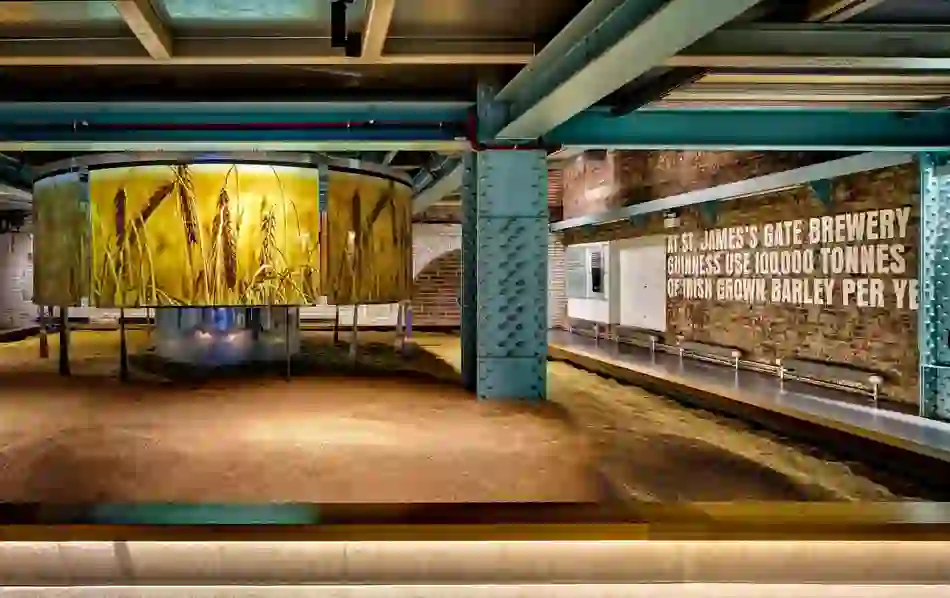 The Guinness stout brewing process
At the Guinness Storehouse visitor attraction, the self-guided tour starts with the basics of how Guinness is brewed. You will learn about the four ingredients that go into making the perfect beer – water, barley (which is mashed and roasted), hops and yeast – while you go along walkways of different levels, with waterfalls, hops growing behind glass and industrial pipes and fittings giving some of the sounds, aromas and atmosphere of a brewery.
Along the way, through audio-visual displays, you will learn about Arthur Guinness and his family, before visiting the roasting area to learn how the barley is milled, mashed, separated and roasted at 232°C for the perfect flavour, aroma and colour.
The storehouse building itself was built between 1902 and 1904 and was used as a fermentation house. During your visit you will see pipes, machinery and huge vats preserved from those times.
The fermentation area shows the final stage of the brewing process, when the yeast is added to the mix of barley, water and hops. A cooperage area tells the story of the skills of the barrelmakers.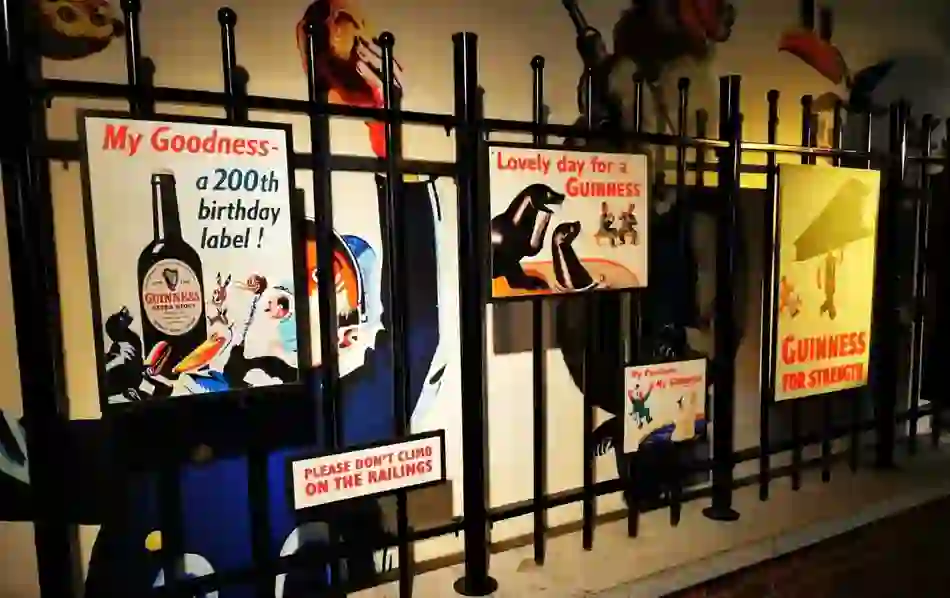 Telling the Guinness story
In 1929 Guinness started producing its famous colourful ads and pub signs, with the slogans "Guinness is good for you" and "My Goodness, My Guinness", featuring zoo animals including sea lions, penguins and of course the famous toucan. This exhibition is one of the most popular areas for visitors.
Clever advertising helped spread the story around the world, and in 2009, when Guinness celebrated its 250th anniversary, 50 million people around the world raised a glass to toast Arthur's Day.
Today, Guinness is the world's best loved stout. It is brewed in 50 countries and sold in more than 120 countries. It is estimated that 10 million glasses of Guinness are enjoyed every day around the world.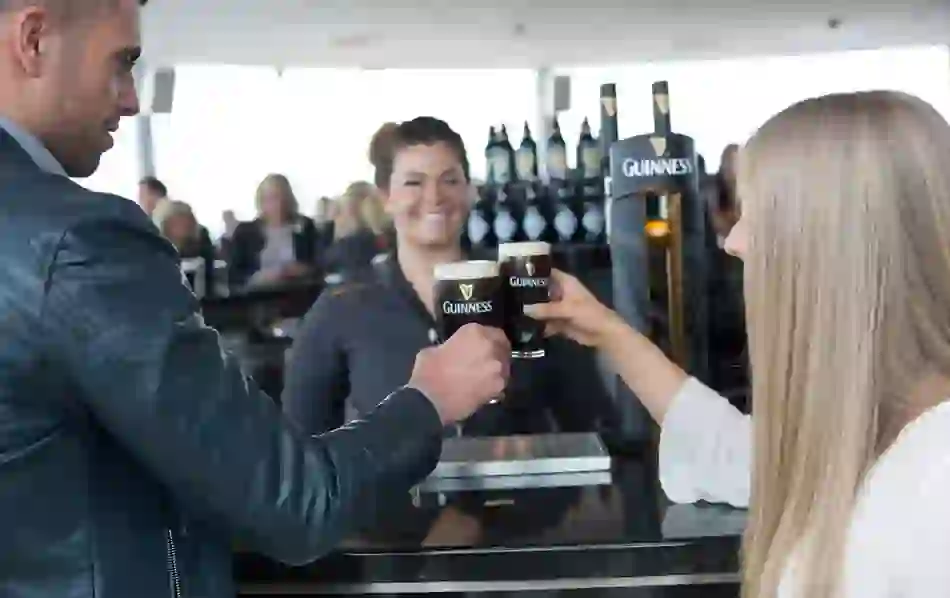 The Gravity Bar and Storehouse tours
There are three tour options to try at the Guinness Storehouse:
A basic self-guided Storehouse experience, which includes a drink at the Gravity Bar.
You can also add on a "Stoutie" option, a second pint with your selfie on the head, or visit the Guinness Academy, to learn how to pour the perfect pint.
A Connoisseur ticket gives you an exclusive tasting in the Connoisseur bar and a pint-pouring session.
Your visit will end at the top floor Gravity Bar, which has floor to ceiling windows with 360-degree views of Dublin city. The vista stretches as far south as the Dublin and Wicklow mountains, across Dublin Bay, and north to Howth peninsula, taking in landmarks such as St Patrick's Cathedral and the iconic Poolbeg chimneys.
Before you raise your beer glass to sip your creamy pint of Guinness, you will see how it is poured and allowed to settle halfway through. Experts have worked out that the necessary time for this "perfect pour" is 119.53 seconds.
Allow at least 1.5 hours for a visit to the Storehouse – but you can stay longer as there is a lot to take in, and there are cafés and bars on different levels if you need a break, and a gift shop of all things Guinness on the first floor.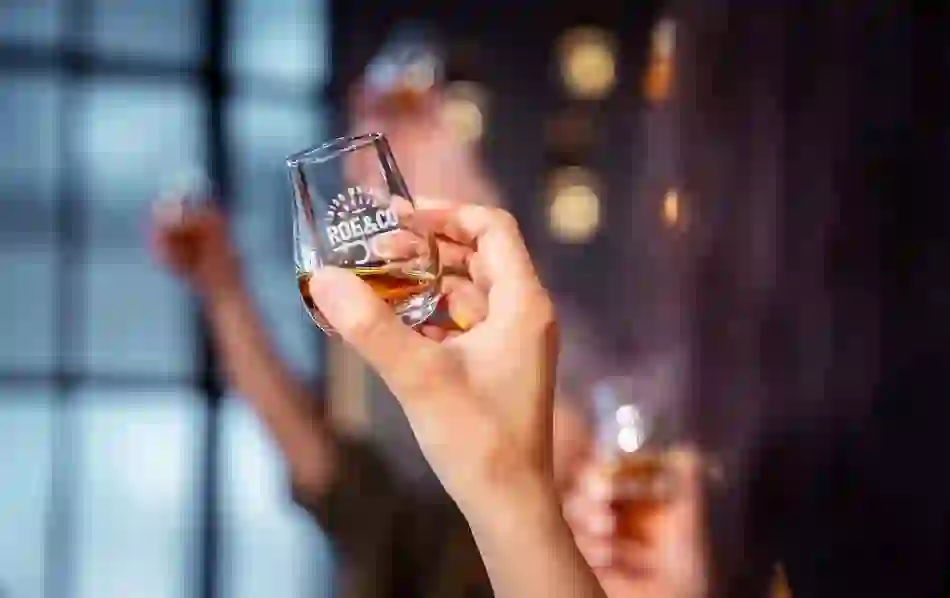 The Liberties
The Guinness Storehouse is in the historic Liberties area of Dublin, which was once home to many of the city's whiskey distilleries.
For things to do nearby, you might like to visit Jameson Distillery in Smithfield, or the Roe & Co or Pearse Lyons and Co, distilleries are both within walking distance. On the tours, you'll learn about whiskey distilling and the area's famous "Golden Triangle" of distilleries.
Within 20 minutes' walk of the Storehouse, you will find two of Dublin's most historic buildings – St Patrick's Cathedral, founded in 1191 and Christ Church Cathedral, which dates back to the year 1030.
Need to know
You're advised to book tickets in advance, but you can buy tickets when you arrive (expect queues at busy times).
Tours are self-guided and the Self-guided and Gravity Bar ticket includes a voucher for a pint of Guinness, another beer or a soft drink at Gravity Bar.
Children 18 and under must be accompanied by an adult.
The Guiness Storehouse is open seven days a week, from Sunday to Thursday, 10am to 7pm (last entry 5pm), and Friday and Saturday, 10am to 8pm (last entry 6pm).
To arrive by bus, take the 13, 40 or 123. The nearest Luas (tram) stop is St James's Hospital.
There is free parking in the visitor's car park on Crane Street, but spaces are limited.
The building is fully accessible and has lifts throughout.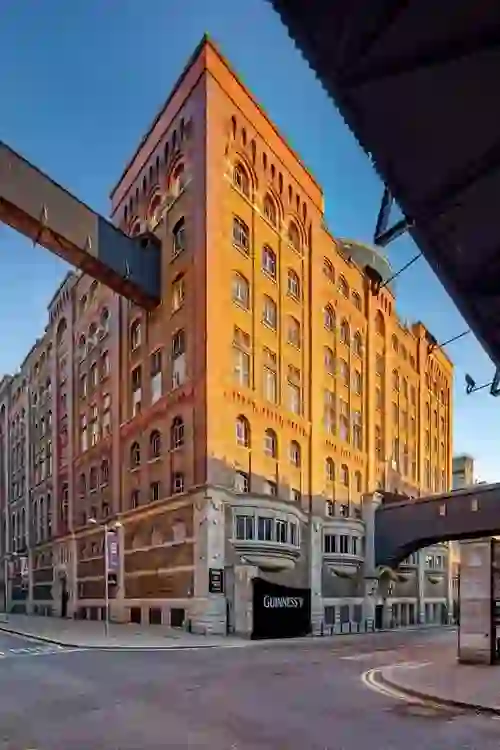 Your portable Ireland guide
Take your plans with you and get local offers while you're in Ireland. Discover new things nearby and access your saved places, even when you're offline.
Installing on iOS
0

Press the Share button

1

Select Add to Home Screen

2

Press the Add to Home Screen button