Rich steaming hot apple juice made from local organic apples, glistening oysters served with crisp white wine and an abundance of farmhouse cheese and local salamis – the Irish farmers' market is a bedrock of local community life. This is where you can try real authentic Irish street food with an artisan twist, as people picnic in the sunshine and snack on the go.
"Farmers' markets make an incredibly important contribution to the Irish food scene; local people growing and selling their produce is a completely different shopping experience that reconnects people with food," reveals renowned celebrity chef and cookery school owner Darina Allen.
The bottom line is that when you buy something at a farmers' market in Ireland, chances are that the person who's grown it is nearby, if not right in front of you. "Hours can be spent wandering from stall to stall meeting proud local producers who can tell where and when your vegetables were picked, and how to cook them to perfection," says Grace Cox from LoveIrishFood.ie. "You might start out with a small bag, but you'll find you can leave with it filled to the brim."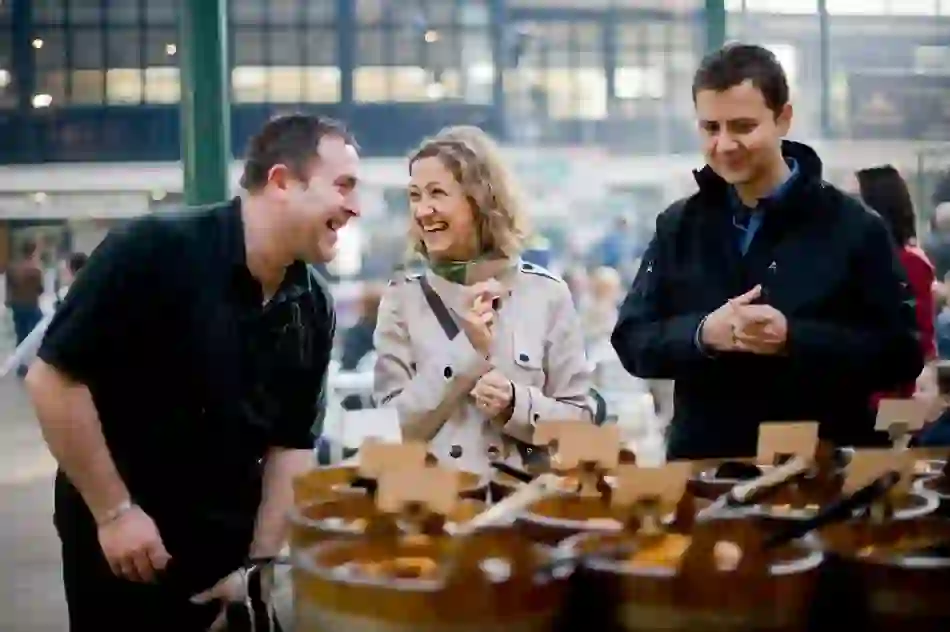 Craft stalls often sit alongside food, with natural soaps, handmade jewellery and art becoming a common feature as the original concept of a farmers' market has grown. The good news is that all around the island, on any given day, there's a market going on, whether in a big city Victorian space or a small village gathering. Either way, you can expect a heady buzz of scents, sounds and tastes.
Feeling hungry? We've got five to get you started
1. For history AND artisan food, Cork's elegantly vaulted English Market, one of the oldest of its kind in the world (1788) is not to be missed. Nor is the artisan food hotspot of Midleton Farmers' Market, about 22km east of Cork city. Darina Allen's own Ballymaloe Cookery School has a stall here, and you'll also find Frank Hederman's award-winning smoked salmon.
2. Built in the late 19th-century, Belfast's award-winning St George's Market is a gourmet treasure trove and an eclectic mix of traditional and modern life in the city. There's been a market here since 1604, but this one dates from 1890 and takes place every Friday – Sunday morning.
3. Naas Farmers' Market in County Kildare is on every Saturday from 10-3pm, and includes organic produce from the Wicklow hills, fresh breads, farmhouse cheeses, and sweet treats from ChocOneill Chocolates.
4. Tyrone Farmers' Market in Dungannon gets things going on the local gourmet scene on the first Saturday of every month, with 15 local stalls.
5. Head to the historic Grattan Square for the Dungarvan Farmers' Market in County Waterford every Thursday until 2pm, with Crepe Cuisine, Barnawee Foods and Barron's Bakery.
Feeling hungry? We've got five to get you started