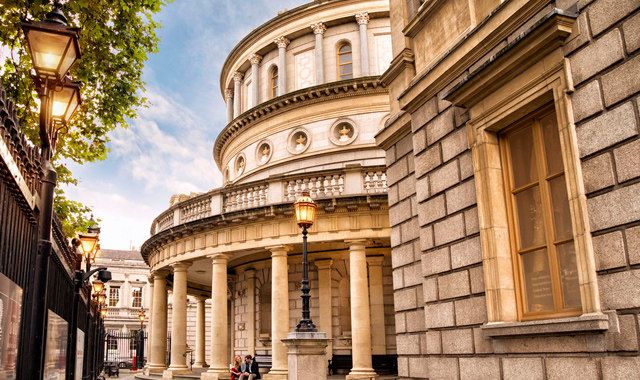 10. Free Museums
Ireland loves history and art, so it's no wonder we have so many museums displaying both. The best part? All are free to enter. From Caravaggio works in Dublin's National Gallery to mummies in the Ulster Museum, there's a museum to suit all tastes.
9. Explore Game of Thrones Territory
Northern Ireland is known as Game of Thrones Territory for good reason – it's home to more real-world Westeros locations than anywhere else in the world. The Iron Islands, Essos, the North, Dorne – explore them all, for less than a Gold Dragon.
8. Dublin Festival Season
Dublin's festival scene is stacked, all year round. Not only that, many events at each cost absolutely nothing. See what's happening at TradFest (January), the St Patrick's Festival (March) or the Bram Stoker Festival (October) and get your revel on without spending a cent.
7. Chase the Northern Lights in Donegal
Green, pink and purple streaks illuminate the night sky over the Inishowen Peninsula as the Aurora Borealis puts on its dazzling light show. On clear nights this unspoiled corner of the Wild Atlantic Way is a great place to catch the natural phenomenon. 
6. Park Life in Cork
Pack a picnic and kick back in Fitzgerald Park, 18 acres of riverside trails, manicured gardens and an awesome skate park. In summertime, you can catch free outdoor movie screenings here. For the rest of the year, drop into the museum and see some Stone Age relics.
5. Stone Circles in Tyrone
Discovered during the 1940s but dating back to the Bronze Age, the purpose of these seven stone circles has baffled archaeologists for decades. Some suggest a burial site, others a solstice marker. Whatever the reason, it's seriously impressive.
4. Lough Gur in Limerick
A little slice of paradise in Ireland's Ancient East walking around the grounds of Lough Gur's Heritage Park is guaranteed to blow the cobwebs away. Ramble along the nature trail, home to almost 100 species of birds including cormorants, barn owls and kingfishers.
3. Swimming in the Sunny South East
Brought your swimsuit? We hope so, because Ireland's waters are exceptional. The sunny south east coast has pristine beaches on which to swim, stroll or admire, including Curracloe which was used in the iconic opening sequence in Saving Private Ryan as well as Brooklyn.
2. The Walls of Derry
Derry-Londonderry is one of the only remaining walled cities in Europe and a walk around its medieval walls give you a totally different perspective of this historic city. Get there early to watch the sunrise – just watch out for the cannons! 
1. Castle-spotting
Ireland is home to more castle ruins than you can count and no matter where you are on the island, you'll find one to snap. Get started with the Rock of Dunamase (Laois), Castle Roche (Louth) and Dunluce Castle (Antrim).