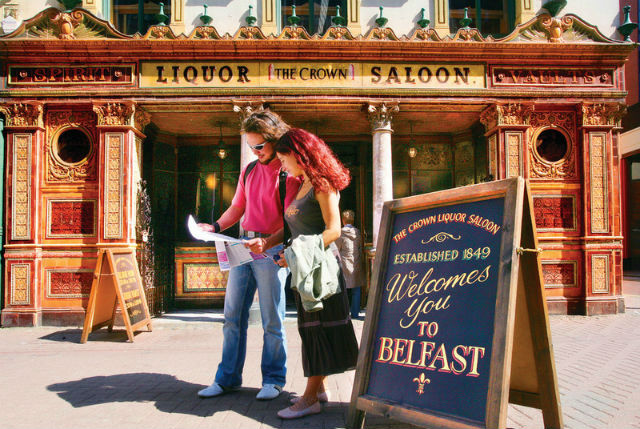 The Crown Liquor Saloon
Beaming bright and magnificent on the corner of Great Victorian Street, this colourful "gin palace" was decorated by the same Italian craftsmen who worked on Belfast's many new churches of the 19th century. Come early to grab a snug, where you can converse and drink in private, and admire the beautifully crafted panelling and stained-glass windows with a drink of your choice.
Sunflower
A tavern has stood on Sunflower's corner for over 100 years. You'll notice it immediately thanks to the security cage on its front door – a relic from Belfast's past maintained as a part of the city's history. This pub shines when it comes to their selection of local and artisan craft beers – one reason it won City Pub of the Year in 2015! Step inside for a real taste of Belfast.
Bittles Bar
Bittles Bar may be one of the most recognisable bars in the city, known for its distinctive "flat-iron" shape. Run by the Bittles family, this cosy and lively spot deserves special recognition for its impressive selection of whiskeys. Pull up a stool beneath the portraits of Ireland's most famous luminaries, sip on your favourite tipple and find out why this place used to be called The Shakespeare...