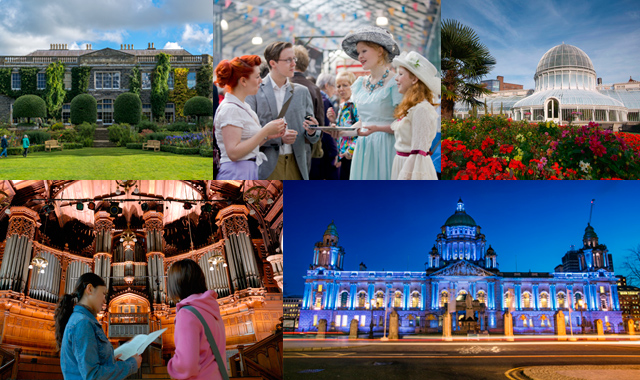 6. St. George's Market, Belfast
Anyone for some Portavogie prawns, bog oak sculptures or handmade bracelets? Since the 1890s, this marvelous covered market has been trading local artisanal goods and seasonal produce with the masses. A shopper's delight.
5. The Guildhall, Derry~Londonderry City
The Guildhall is spectacular, inside and out. Still used as a town hall, the red sandstone structure is complete with stained-glass windows and well worth a visit. Its centerpiece for over a century is an ornate pipe organ that dominates the stage.
4. Mount Stewart House and Gardens, County Down
Downton Abbey devotees, take note. The seat of the Marquess of Londonderry since the late 1700s, Mount Stewart sits on 900 glorious acres of stately elegance and manicured gardens. Lush, lavish and luxurious: this is how the other half lived, way back when…
3. Belfast City Hall, Belfast
A structure of royal proportions, the Baroque grandeur of City Hall was designed to commemorate Belfast being granted city status by Queen Victoria herself back in 1888. Can you guess why locals call it the Wedding Cake?
2. Grand Opera House, Belfast
Over the past 120 years, the Grand Opera House has entertained everyone from US presidents to WWI veterans. Its oriental architecture makes it one of the most unusual buildings in all of Northern Ireland. Stars to have graced the stage include Kenneth Branagh, Van Morrison and Pavarotti.
1. Botanic Gardens, Belfast
Back before cinnamon and bananas were corner store staples, they were the height of exotic treats – and they grew right in the heart of the Botanic Gardens. Take a peek inside the ornate, cast-iron Palm House and brush along the 150-year-old ferns for a real feel of Victorian Belfast.