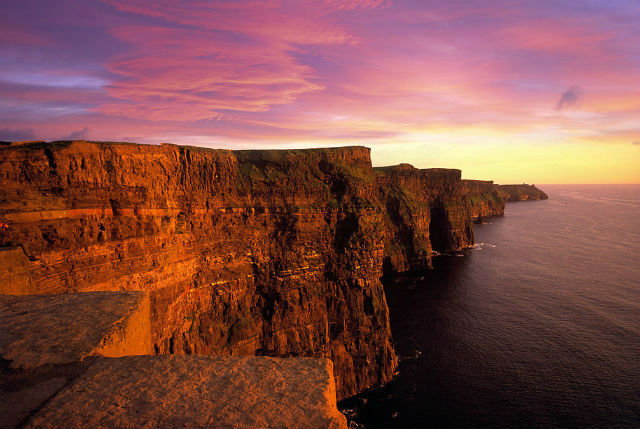 15. More Michelin Stars
Looks like Ireland's reputation as a delicious destination is alive and kicking! With 12 stars to our name – the newest awarded to Dublin's Heron and Grey – Ireland's culinary pedigree has us patting our backs and our bellies at the same time! Across the island, from Galway to Belfast, Dublin to Kilkenny, you're guaranteed a gastronomic delight.
14. The best place to spend Halloween
After USA Today named Derry~Londonderry the world's best spot to celebrate the spookiest time of the year, the city's festival has kept on growing and growing: a record-breaking 80,000 people attended the 4-day Halloween extravaganza in 2016. Zombie runs, ghost tours, fireworks and freakish family fun: this city has it all.
13. More hotels gracing Top 10 lists
Killarney stormed to 8th place in Trivago's Global Reputation Ranking of the world's best hotels, with Galway also featuring in the Top 100. Meanwhile, Condé Nast Traveler named Ardmore's Cliff House Hotel in their 10 Most Beautiful Clifftop Hotels list, and 4 of Ireland's resorts feature in its Top 25 Resorts in Europe. What can we say? Hospitality is in our nature!
12. The friendliest cities in the world!
Readers of Condé Nast Traveler voted Dublin the 3rd friendliest city on earth – and Galway wasn't far behind, at #6! If you've visited, you'll know what they're talking about: the locals LOVE a chat – and the longer your story, the better. The friendly face of this island has seen awards for our welcoming nature pile up, year after year. Will you be popping over for a cup of tea? Sure, it would be rude not to!
11. Europe's top hotels!
Ashford Castle, County Mayo, scored a spot in Condé Nast Traveler's Top 10 Resorts in Europe for its "crown jewel" of a spa; while TripAdvisor Traveller's Choice Awards named Harvey's Point one of the Top 25 Hotels in Europe. The Donegal hideaway is well used to plaudits: leading hospitality guru, Georgina Campbell, also named it Ireland's Hotel of the Year 2017. Phew!