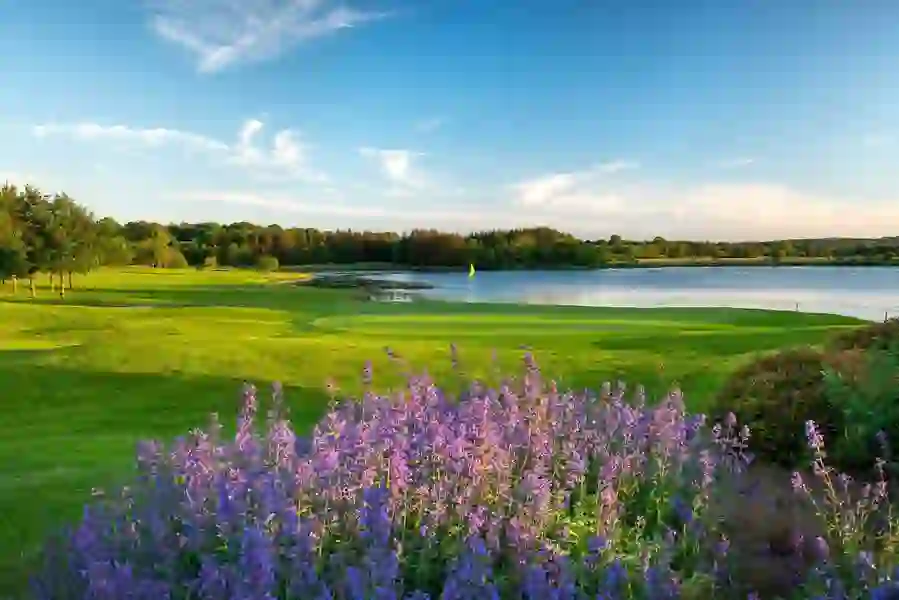 Golf in Ireland's Hidden Heartlands
Golfers refer to Ireland as "the green of dreams". Why? Because the landscape is covered in stunning golf courses! Sure, the island's rugged coastline is home to world-famous links, but venture off the beaten track into the lesser-spotted interior, and you'll uncover hidden gem parklands and championship courses nestled amid a serene world of lakes, rivers, and charming towns and villages.
Say hello to golf in Ireland's Hidden Heartlands. Expect plenty of tee times, reasonable green fees, friendly local golfers, and beautiful golf courses that are ready and waiting to take your breath away. Here are 12 of the very best...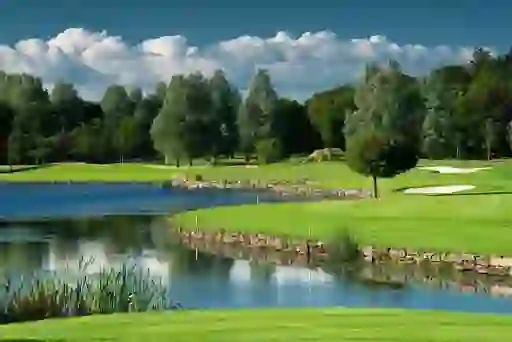 1. Slieve Russell Hotel Golf & Country Club, County Cavan
Relax and unwind in the luxurious surroundings of the four-star Slieve Russell Hotel Golf & Country Club. This lush 300-acre estate is home to one of only eight PGA National designated resorts in the world! The 18-hole championship course fits snugly around County Cavan's seemingly endless array of lakes and drumlins. Coming in at over 7,000 yards from the back tees, and having previously hosted European Tour events and the Irish PGA Championship, this course is not for the faint-hearted. But if you're up for the challenge, Slieve Russell is a must.
Off the course, don't miss Clough Oughter Castle, a fairytale castle on a small island in the middle of Lough Oughter.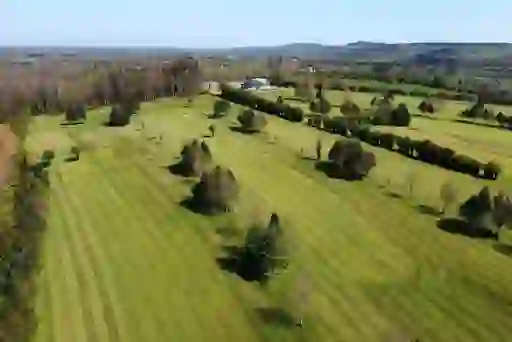 2. Strokestown Golf Club, County Roscommon
Established in 1995, Strokestown Golf Club is a nine-hole course in County Roscommon. With very affordable green fees and a reputation as one of the most scenic parklands in Ireland's Hidden Heartlands, Strokestown is a great option if you're looking for a quick round in the picturesque Irish countryside.
After your round, check out the nearby Strokestown Park, which is home to a historic house, pretty gardens, and the National Famine Museum – a powerful visitor attraction that sheds light on one of the darkest moments in Ireland's past.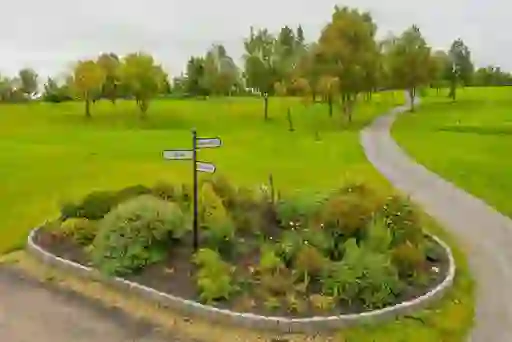 3. Ballinasloe Golf Club, County Galway
Fancy playing a round on a course that was founded way back in 1894? Then Ballinasloe Golf Club in County Galway is the one for you. It's one of the oldest golf clubs in this region of Ireland and there's an undeniable timeless quality in the air around the 18 holes. With numerous elevation changes on the course and several dogleg holes – not to mention a few tricky water features – strategic golfers will score well here.
Ballinasloe town itself is well worth stopping by, especially Fallon's Bar and An Táin Bar if you want to experience a traditional Irish music session as you sip a tasty pint of Guinness!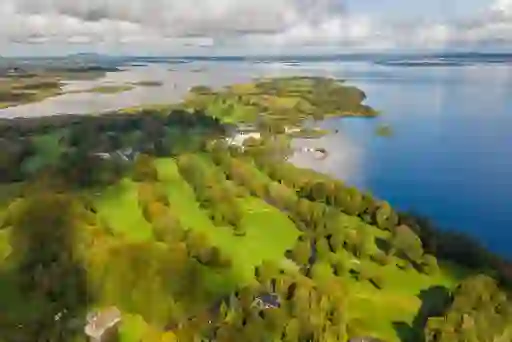 4. Athlone Golf Club, County Roscommon
Founded in 1892 and surrounded by glistening Lough Ree, Athlone Golf Club combines history and beauty to make one irresistible golf course in County Roscommon. This 18-hole parkland showcases golf in Ireland's Hidden Heartlands at its most beautiful – a vast lake, undulating fairways, dense woodland... chipping and putting your way around this beauty is a real pleasure!
After your round, head into Athlone town and pay a visit to Sean's Bar, which is one of the oldest pubs in Ireland, dating back to 900AD. Drink in the history... literally!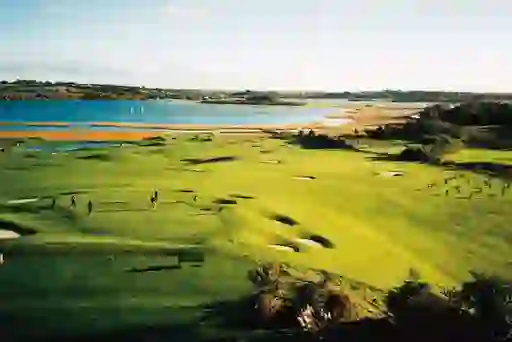 5. Glasson Lakehouse & Golf Club, County Westmeath
A cool and chic hotel and golf resort just up the road from quaint Glasson village, Glasson Lakehouse & Golf Club is an ideal destination for a golf break in County Westmeath. The award-winning parkland course is designed around the shores of Lough Ree, so you can take in the wonderful views of the surrounding countryside as you play. Golfing in Glasson... it just sounds right!
On the other side of the lake, Wineport Lodge is a delightful place to stay, with an excellent restaurant, cosy bar, and rooms that look out onto the peaceful waters of Lough Ree. Bliss.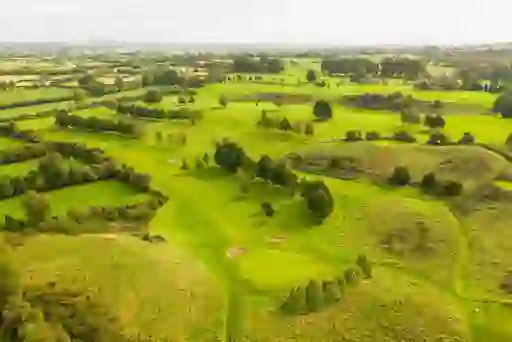 6. Mount Temple Golf Club, County Westmeath
Also in County Westmeath, Mount Temple Golf Club is renowned for its large links-type greens and undulating fairways. The club here boasts a fine course, a driving range and a clubhouse that was originally a working farmhouse and yard! As such, the place has bags of character and warm hospitality is guaranteed. Best of all, the course is playable all year round, so whenever you visit, make sure Mount Temple is on your golfing bucket list.
Dún Na Sí Amenity & Heritage Park is close by. Dún na Sí is Irish for "the fort of the fairies" and it's here you can explore Ireland's ancient traditions, heritage and folklore.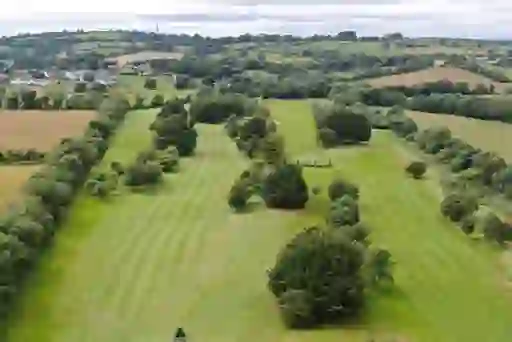 7. Moate Golf Club, County Westmeath
Founded in 1900, Moate Golf Club has been a central part of the community in County Westmeath for well over a century. The 18-hole parkland course bills itself as a fair test for all levels of golfer. Golf in Ireland is legendary for continuing the fun from the course to the clubhouse afterwards. We call it carrying the "craic" on to the 19th hole, and the "Par 3" restaurant at Moate is a great example of this. Serving up quality food for breakfast, lunch and dinner, it also has a fully stocked bar with a balcony overlooking the back nine. It's the perfect place to relax and unwind after a fun round.
Clara Bog Nature Reserve is only a 20-minute drive from here. Bog land covers vast swathes of Ireland's Hidden Heartlands, and this patch might just be the most scenic. The nature reserve is home to many wildlife species, which you can see on a stroll along the looped timber boardwalk trail.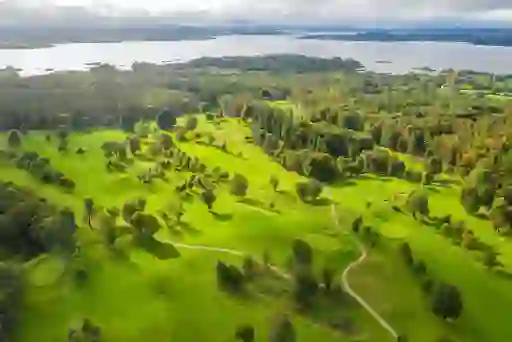 8. Portumna Golf Club, County Galway
Portumna Golf Club in County Galway can be found deep in Portumna Forest Park, where the mighty River Shannon enters Lough Derg. And yes, it's as beautiful a setting as it sounds! One feels a real sense of being immersed in nature here. Perhaps it's the mature trees that change with the seasons or maybe it's the odd squirrel, duck or wild deer you'll encounter as you make your way around the course! Add to that a fine restaurant on-site that serves up local beef and homemade desserts, and you've got one club that's not to be missed.
Just a short hop from the course, you'll find Portumna Castle and Gardens. Mixing medieval and renaissance architectural styles to vivid effect, it's a one-of-a-kind landmark which enchants all who visit.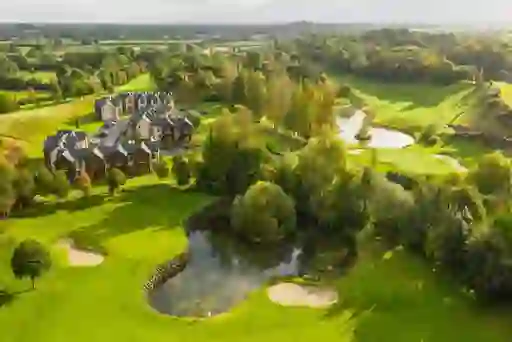 9. Esker Hills Golf Club, County Offaly
Follow in the footsteps of Irish major winner Shane Lowry and play a round on his home course – Esker Hills Golf Club in County Offaly. But the famous associations don't end there. This challenging inland links-type course was designed by legendary Irish golfer Christy O' Connor Jnr. With lakes, sweeping valleys, and natural sandhills, you won't know whether to grab your club or camera first! It's one of the more popular clubs in the region, so book your tee times well in advance.
Don't miss Clonmacnoise while in Offaly. The ruins of a cathedral, round tower, high crosses, churches and much more here comprise one of Ireland's most famous – and most important – monastic sites.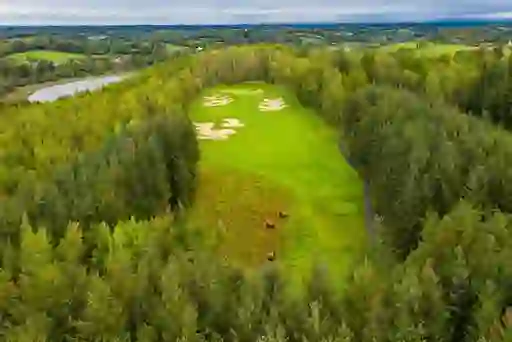 10. Farnham Estate Spa & Golf Resort, County Cavan
Add a little luxury to your golfing trip at Farnham Estate Spa & Golf Resort, a four-star beauty set across 1,300 acres of rolling meadows and ancient forest in County Cavan. The stunning parkland course covers 500 acres of the estate and comes complete with a golf pro shop and a modern clubhouse. The front nine is a gentle challenge while the back nine ratchets up the difficulty, as holes cut through dense and rugged woodland. It's a unique course that was designed by one of Europe's leading golf architects, Jeff Howes, who has worked in the past with golf legends such as Jack Nicklaus and Seve Ballesteros!
Escape into nature at the nearby Killykeen Forest Park, which boasts a number of woodland walking routes, cycle tracks, and picnic areas.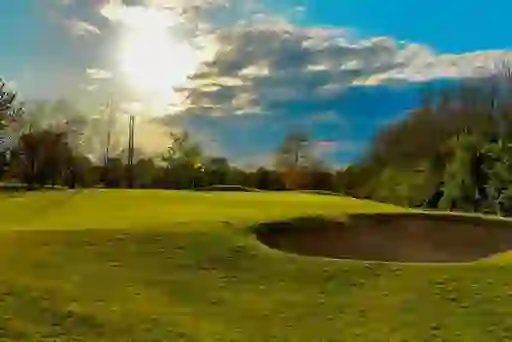 11. Roscommon Golf Club, County Roscommon
Established over 100 years ago, Roscommon Golf Club promises an 18-hole championship course that caters for all golfers, from those with a high handicap right down to players playing off scratch. Several water features, numerous bunkers and mature trees all add to the fun and challenge on the fairways. Visitors are more than welcome and there are lots of tee times at good prices throughout the year. At smaller clubs like this, the emphasis is on the personal touch, and the club always hopes to leave golfing tourists with good memories and a desire to return one day!
Don't miss Roscommon Castle which is just on the other side of town. It's one of the more uniquely shaped castles you'll come across in Ireland, with a quadrangular layout, rounded bastions at the corners, and a double-towered entrance gate that has been standing tall since 1269.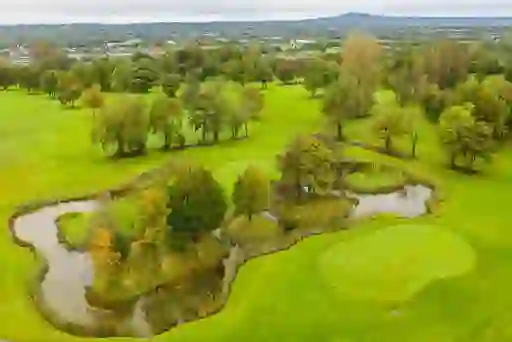 12. County Longford Golf Club, County Longford
County Longford Golf Club is located in – you've guessed it – County Longford. Founded in the late 1800s but completely redesigned in the early 2000s, the club mixes heritage with a modern course to great effect. The par 72 course is over 6,700 yards long, and with buggy hire, a pro shop, a clubhouse, and a bar on-site, it's one of the most complete clubs you can visit in the region. The signature 18th hole is a true test for golfers, as you approach the green over water on a long par 5. Sounds epic? Get booking your tee times today!
Meandering through the Longford countryside nearby is the Royal Canal. Be it by canoe, barge or cruiser, why not enjoy a slow travel adventure through rural Ireland? Peace and tranquility on the water – this is the essence of a holiday in Ireland's Hidden Heartlands.
Golf in Ireland's Hidden Heartlands
Plot your journey through some of Ireland's finest courses...