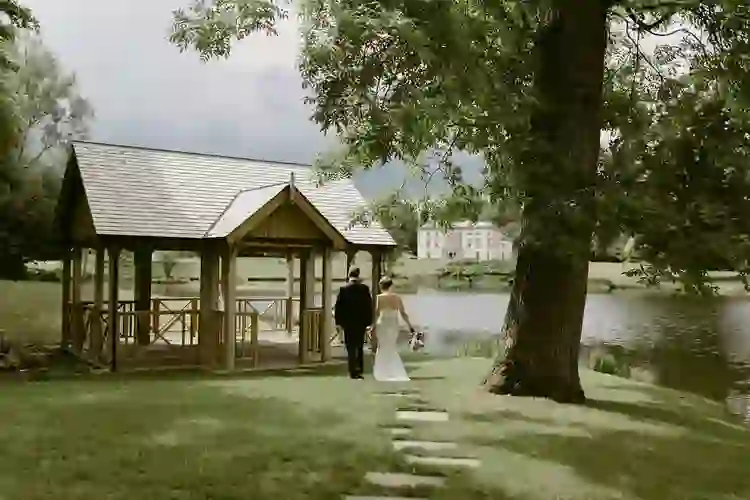 The perfect wedding venue
Oak woods draped with strings of fairy lights, majestic castles overlooking glassy lakes, and gracious country houses that seem tailor-made for celebration. Getting married in Ireland is a special experience. The beauty of the landscape provides an exceptional backdrop to venues and locations that are unique, full of character and set the scene to perfection.
Whether you're seeking full rustic romance with a bohemian barn-style wedding, dreaming of medieval glamour in a centuries-old castle or playing lord and lady of your very own manor, Ireland has something to suit. All you need to say is "I do".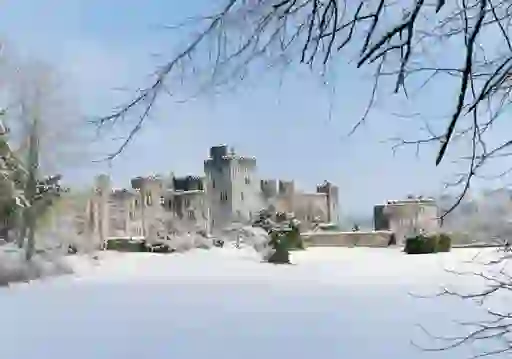 Castles
Tapestry-draped banqueting halls, vast oak tables and flickering candlelight – a castle wedding in Ireland is the stuff dreams are made of. And nothing signifies romance quite as perfectly as turrets, towers and antique four-poster beds! No wonder celebrities such as Rory McIlroy (Ashford Castle, County Mayo) and the Beckhams (Luttrellstown Castle, County Dublin) chose to marry in an Irish castle. Set within secluded estates, perched on the edge of rippling lakes or standing strong along the Wild Atlantic Way, Ireland's castles are surrounded by the kind of scenery that will give your wedding a real sense of enchantment.
For a taste of pure luxury in five-star surroundings, Ireland boasts some of the very best castle hotels in the world. Grandeur, beauty and history infuse properties such as elegant Dromoland Castle in County Clare; Adare Manor in County Limerick; sumptuous Ballynahinch Castle set in what Oscar Wilde described as the "savage beauty" of Connemara; and the 17th century Ballygally Castle Hotel surrounded by sea and mountains in County Antrim.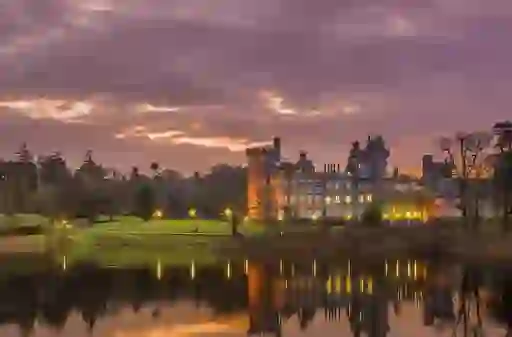 Intimate, private-rental castles allow you to tailor your wedding to your own particular style and are a great choice for couples who want a touch of exclusivity. There's 13th century Cloughan Castle in County Galway, with panoramic mountain views and sweeping woodlands; lavish Bellingham Castle in County Louth, perfect for small weddings with a select group of friends and family; Belle Isle Castle in County Fermanagh on its own private island; and there's the imposing Crom Castle, surrounded by lake, parkland and wood in tranquil Upper Lough Erne, County Fermanagh.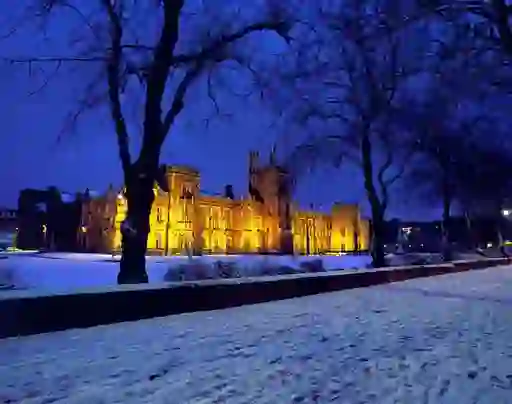 Historic beauties
Hidden down cobbled lanes, nestling in lush countryside and gracing 18th century city squares, you'll find historic buildings dotted all over the island of Ireland. Step inside these structures and you'll be whisked away into an otherworld of character and elegance, with a very Irish sense of style.
You can give your ceremony a dose of gravitas by tying the knot in grand spots, such as the iconic Guildhall in Derry~Londonderry or the grand hall of Queen's University Belfast. Maybe Dublin's gracious Merrion Hotel, which comprises four beautifully restored 18th century townhouses is more your style? You can revel in a palatial mansion such as Killruddery House in County Wicklow, surrounded by some of the most exquisite gardens in Ireland. Or opt for the stunning Carriage Rooms at Montalto Estate in County Down, which dates from the 1700s and is set on 400 acres of idyllic countryside.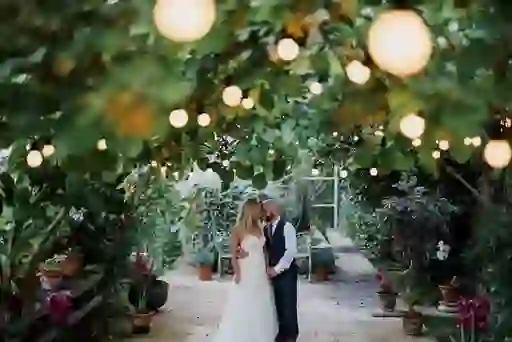 If you're looking for something unique, check out some of the idyllic locations that combine amazing buildings with wonderful guest accommodation, from courtyards, to manor house bedrooms, to converted stable lodgings. These locations have something for everyone and you can enjoy the ceremony, relax at dinner, dance the night away and still get a good night's sleep, all in the same spot!
Discover Westport House in County Mayo, where you can opt for the historic house or the Farmyard, which includes a quirky loft venue, the Cliff at Lyons in County Kildare, complete with 17th century courtyard and old mill, and the characterful Larchfield Estate in the lush County Antrim countryside.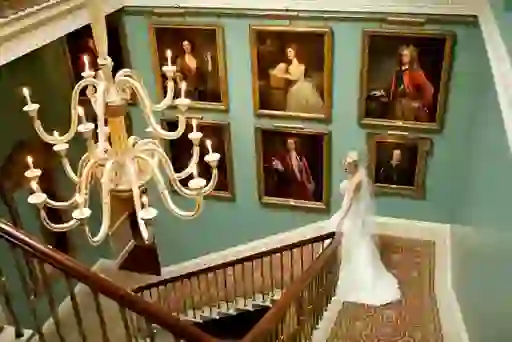 Country house chic and rustic romance
A country house wedding allows you to envelop yourself in Ireland's effortless romance. It's also a great way to bring a touch of creativity and quirkiness to your day, with everything from relaxed, barn-style venues to candlelit tables laid out under a canopy of trees.
There are so many incredible country houses to choose from, and lots of ways to ensure your wedding retains a "boutique" style that will wow your guests. Ballyfin, deep in quiet County Laois in Ireland's Ancient East, was voted number one resort hotel in Europe by Travel + Leisure magazine. This glorious 19th century mansion is filled with lavish touches, including intimate dining rooms, grand salons and spectacular gardens in sight of the Slieve Bloom Mountains. Magnificent Borris House in County Carlow was the ancestral home of the Kings of Leinster, and offers delightful grounds, the 16th century Granary Barn, and a rustic ballroom. Want to get out into nature? Opt for a stunning marquee set in a four-acre walled garden at Drenagh House in County Londonderry.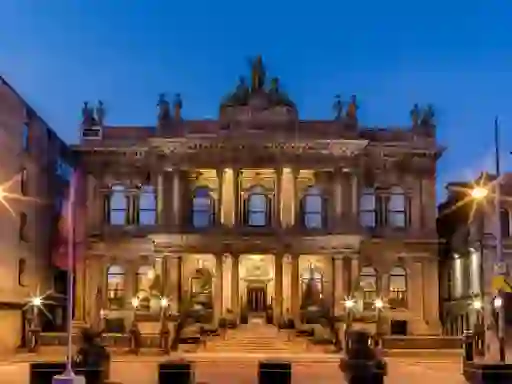 Quirky
The great thing about getting married in Ireland is that you get to think outside the box. You can have a Celtic hand-fasting ceremony at an Early Christian round tower, then head to a local pub for a cosy reception. Say your vows in Dublin City Hall, then enjoy dinner in a cool restaurant or luxury hotel, such as The Shelbourne.
For creative couples, the sky is the limit – with a wonderful array of venues from the roof garden at the opulent Merchant Hotel in Belfast to the rustic pier at the lakeside paradise of Harvey's Point in County Donegal. Like the sound of a romantic woodland ceremony? Try the gorgeous Ballyvolane House in County Cork. And for the ultimate festival-style wedding: a lakeside tipi-tent reception and outdoor campfires in the midst of Finnebrogue Woods in County Down. It doesn't get more romantic than that.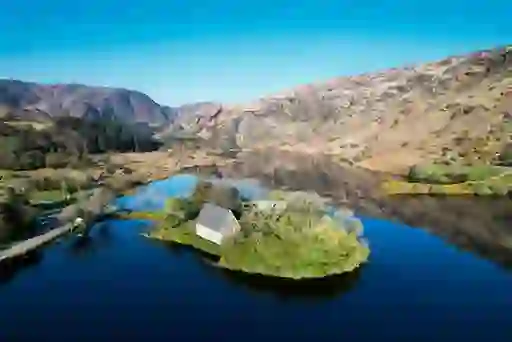 Hidden gems for smaller ceremonies
It's not always about a big event. For couples renewing their vows, eloping or looking for a more intimate ceremony, Ireland offers an exciting array of smaller venues, steeped in history and radiating charm.
Sitting jewel-like on a small island with the soaring, rust-coloured hills and mountains of the Gougane Barra National Park surrounding it, tiny St Finbarr's Oratory in West Cork is an exquisite location to pledge your love and commitment. You can revel in the drama of the day with your very own production at 17th century Smock Alley Theatre in Dublin. Or enjoy a Celtic-themed ceremony in the quaint thatched Roundhouse at Brigit's Garden in County Galway.
If you're after a venue with a truly epic backdrop, it has to be Dunluce. The jaw-dropping location of these iconic castle ruins, perched on the edge of a cliff with the Causeway Coast stretching out on either side, will make you feel like you're on your very own film set! If you're feeling elemental, the centuries old Dunseverick Castle on the wild and rugged Causeway Coast will provide a fitting backdrop for even the most passionate of love stories.
Finally, because the perfect venue doesn't always include accommodation for your guests, you can find a wonderful array of places to stay around the island from Ireland's Blue Book, Hidden Ireland and Original Irish Hotels.