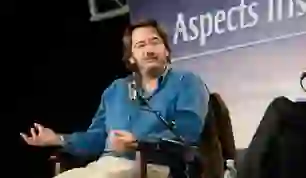 "I love literary festivals," says multi-award winning Irish crime novelist Tana French, "because you're surrounded by people interested in the same things."
Heavyweights of the book world
Perhaps the biggest literary festival in Ireland is Listowel Writers' Week in late spring in County Kerry. Established in 1970, it has attracted international heavyweights such as JM Coetzee, Kazuo Ishiguro, Lionel Shriver and Germaine Greer to its relaxed atmosphere.
In fact, it's the mixture of talent and fun that creates the magic.
Pubs, pints and meeting readers
Playwright Michael West says, "Listowel is great because everyone likes books, of course, but they like to talk even more, so these household names go from pub to pub having deep chats with readers over a pint."
For something offbeat, the Flat Lakes Festival in Monaghan is an anarchic mix of literature, music, performance and weirdness. It was set up by Pat McCabe, author of The Butcher Boy, and last year American playwright and actor Sam Shepard turned up last-minute with his guitar and gave a reading.
"It's all a bit seat-of-the-pants," says Michael West, but that's its charm. "You'll see big Hollywood stars get up, read something out and then wander around seeing what else is going on."
New festival, old location
That feeling of homespun fun characterises one of Ireland's newest festivals, the Big Oak Festival in Derry-Londonderry, which offers a mixture of poetry slams, comedy and theatre along the River Foyle.
By contrast, the five-day Aspects Literature Festival in Bangor has had James Naughtie, Ardal O'Hanlon and Colin Bateman along for readings and talks. Aspects also offers plenty of practical help for aspiring writers, including workshops from Oscar-nominee, director Tim Loane.
Literary minds think alike
"It's like a mini holiday," says French. "Crime writers tend to be the most cheerful people you'll meet," she says. "I think it's because whenever they have a dark thought they get it out on paper, so they're great fun when they come to the pub!"
Like the sound of that? Try these…
April
Cúirt International Festival of Literature, Galway city: Cúirt is renowned for its great atmosphere and is one of Ireland's largest, with around Irish and international 60 authors appearing annually.
May
Dublin Writers Festival a high-calibre collection of international and Irish writers appear in venues around the city, with last year's authors including Richard Dawkins, Alain de Botton and Mario Vargas Llosa.
June
Belfast Book Festival, Belfast: poetry slams, live music, book talks and free events take place in Belfast's Crescent Arts Centre, as well as venues such as the Black Box, Ulster Museum and the Linen Hall Library.
July
John Hewitt International Summer School, Armagh: established in 1987, this annual festival celebrates the life and work of renowned Northern Irish poet John Hewitt.