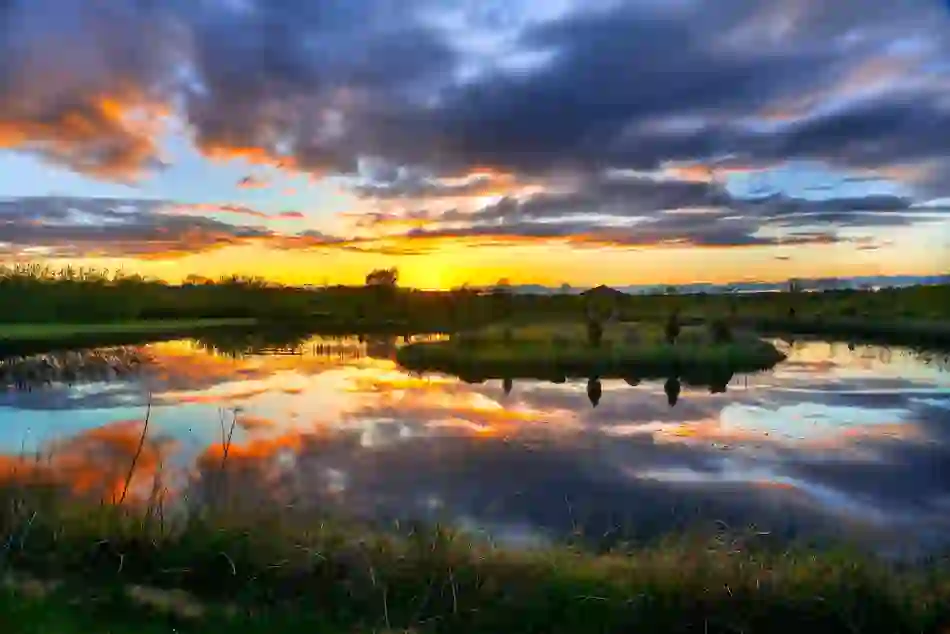 Where to stay in Ireland's Hidden Heartlands
Planning a trip to Ireland's Hidden Heartlands? Spread gloriously across 11 counties, each one has its own story, secrets – and sensational places to stay.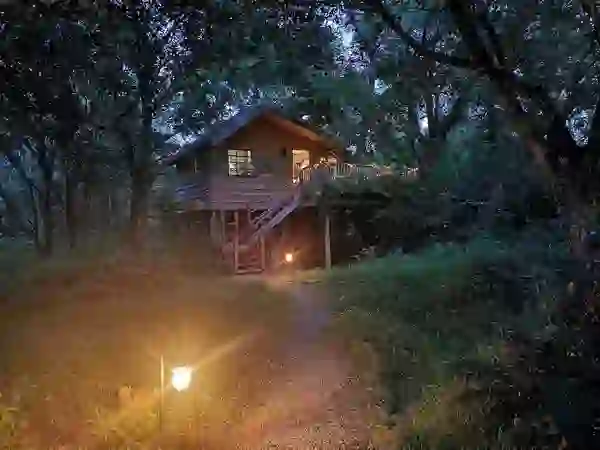 1. Glamping hotspots
Glasson Glamping, County Westmeath
This family-run farm is an absolute gem. Visitors can choose to stay in everything from a wagon, to a pod, to a shepherd's hut – and then, of course, there are the brightly painted double-decker buses. A communal kitchen, large family bathroom and games room are available to all visitors, while the owners have also created a "wellness walk" that weaves through the farm.
Teapot Lane Glamping, County Leitrim
If you want to find the "glam" in "glamping", the adults-only Teapot Lane resort is the place for you. A romantic treehouse, cosy cabin and even a geometric dome are just some of the options available to visitors, and each one comes with access to the woodland dining shelter, communal barbecue and shower area. Keep an eye out for the furry friends who call this place home: wild deer, foxes and badgers are all known to pass by!
Willowbrook Glamping and Hideaways, County Roscommon
Set on the idyllic banks of the River Lung, Willowbrook offers guests the choice between one of its three funky yurts, "Arabian Nights Hideaway" or "Enchanted Forest Room". Extra treats include a private, wood-fired hot tub, and access to the Willowbrook Natural Healing Clinic, where you can avail of acupuncture, massage and even Tai Chi classes.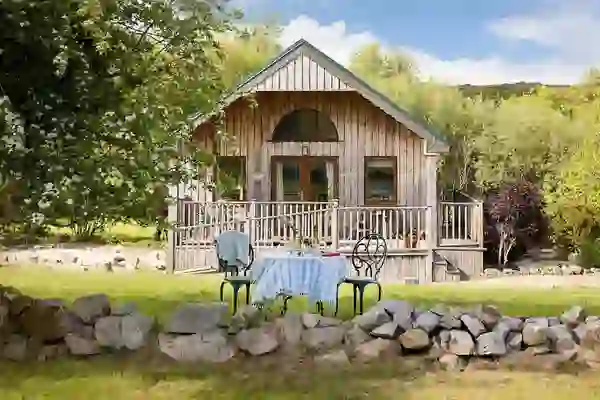 2. Eco accommodation
Trinity Island Lodge, County Cavan
How many eco retreats can say they sit on their own eco-friendly island? Trinity Island Lodge is certainly a rare find: a small, 150-acre island on the banks of Lough Oughter, mostly populated by native Irish trees and wildlife. Once a stone granary, the Lodge is now powered by solar panels and a wind turbine, and has been awarded the EU Flower eco accreditation as a sustainable eco-tourism project. Come ready to explore the great outdoors or take to the water, as this is the ideal spot for fishing, canoeing and boating.
Ard Nahoo Eco Retreat, County Leitrim
Perhaps one of the best-known eco-friendly spots in Ireland, the award-winning Eco Retreat and Yoga School of Ard Nahoo has something for everyone. Its three self-catering cabins – each named after a native Irish tree – are comfortably decorated, while the outdoor hot tub and detox sauna add an element of luxury. Sustainably sourced timber, hemp insulation and natural paints all helped Ard Nahoo earn its EU Flower, along with multiple Irish awards for going green. Though the accommodation is self-catering, vegan food can be ordered from a local chef: supporting local businesses and the environment all at once has never been so delicious!
Crann Óg Eco Farm, County Galway
This small-scale eco farm is a labour of love for its owners, Marion and Flor, who have kept it going for over 30 years. Embracing a principle of giving more to the land than they take from it, the couple operates organically, and lets out an off-grid wooden cabin to visitors who want to experience this way of life. Yoga, meditation and conscious dance classes are all on offer; but even just being here on the wild bogland is enough to bring peace to your soul.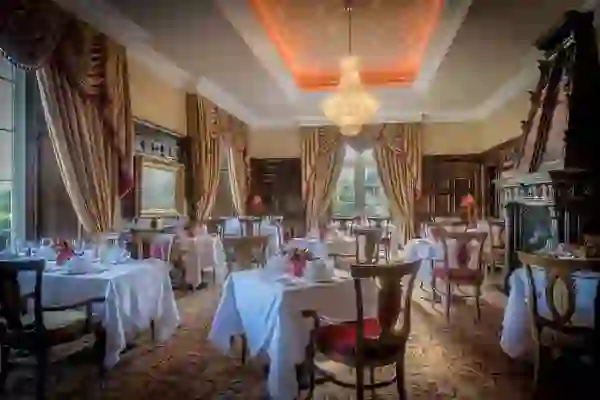 3. Castle hotels
Kinnitty Castle Hotel, County Offaly
Tucked at the foothills of the Slieve Bloom Mountains, Kinnitty Castle is blessed with 650 acres of pristine parkland, just ripe for exploration. Its distinctive Gothic façade gives the building an alluring, mysterious air; and once you step inside, the castle delivers on its promise of luxury, history and splendour. The 37 bedrooms are all unique, but equally opulent: think high ceilings, roll-top baths and stone walls bedecked with tapestries.

Kilronan Castle Estate and Spa, County Roscommon
Considering its storied history spanning 6th-century saints and an unfortunate series of financially challenged heirs, it's a miracle Kilronan Castle is still standing at all. In fact, just 15 years ago, this model of old-world elegance lay in ruins. Rescued in 2006 by a father-son team, Kilronan has been reborn as a four-star hotel with its feet firmly fixed in Irish history. Best of all? After a bracing day spent ambling along the walking trails in the surrounding countryside, you can warm up and wind down in the award-winning spa.
Cabra Castle, County Cavan
With its crenellated towers, cross-shaped windows and ivy-draped walls, Cabra Castle is exactly what you'd picture an Irish castle hotel to be. There are actually two castles here: the hotel, built at the start of the 19th century; and the original, now ruined castle, destroyed during the Cromwellian War. Its remains can still be seen beside the old Wishing Well in nearby Dún na Rí Forest Park, along the banks of the River Cabra.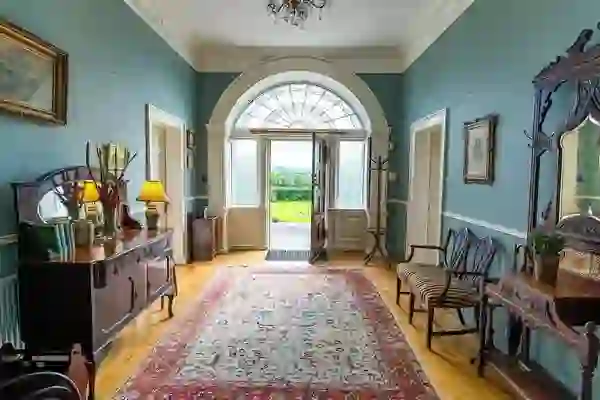 4. Cute Bed & Breakfasts
Augherea House, County Longford
Dating back to 1775, this magnificent converted Georgian coach house is set on spacious grounds on the outskirts of Longford town. Guests rave about the peace and quiet, and the friendliness of owners Matt and Mary, who live next door in the main house. Praised for its particularly delicious breakfast, this is the perfect spot to fuel up for a day's cycling along the nearby Royal Canal Greenway, or spending the day on the River Shannon.

Lissanisky House, County Tipperary
Built in the 18th century on the site of the medieval O'Meara Castle, Lissanisky House sits prettily on 10 well-kept acres. You can rent the whole house for an exclusive private stay, to really make you feel like a lord or lady of the manor. Visitors to the house are in for some tasty treats, too, thanks to the trees in the property's Victorian walled garden: apples, pears, plums, quince and even hazelnuts make an appearance on the menu! Beyond the food, the house has a fascinating history, with previous owners including Dr Barry O'Meara, Napoleon's doctor during his exile on St Helena.

Sea View House, County Clare
From the moment you arrive at The Lodges at Sea View House in Doolin, it's clear you'll have plenty to see and do. Each lodge makes the most of its natural beauty, with views of the Atlantic Ocean outside your window. And with attractions like Doolin, Cliffs of Moher and The Burren just moments away, you might be tempted to spend barely any time at all in your lodge – but don't forget to give your private hot tub a visit!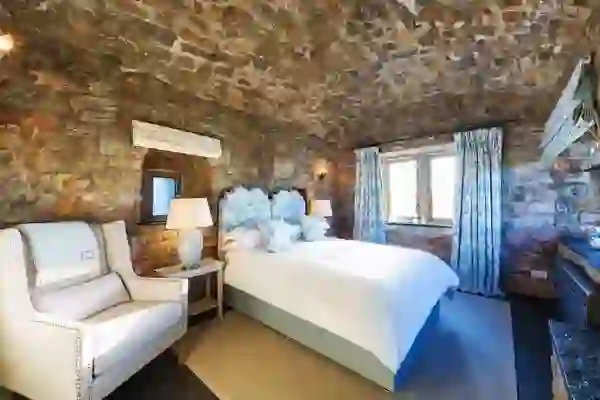 5. Self-catering accommodation
Cloughan Castle, County Galway
Cloughan Castle has loomed large on the County Galway skyline since 1239. Once home to Walter de Burgo, Earl of Ulster, it was rescued from disrepair in the 1970s by the Burke family, and today is a seven-bedroom fairytale escape from the outside world. Sympathetically decorated, it remains plush and comfortable, its old-world charm accompanied by all the mod cons you could need.

Carnakilla Lakeshore Cabins, County Westmeath
Each built by hand with native Irish timber, the cabins at Carnakilla are a cosy work of art. Created by their carpenter and craftsperson owners, every one is decorated in soft, natural, locally made fabrics and furnishings, and heated by wood-burning stoves. A stone's throw from the shores of Lough Ree, visitors here can enjoy a day boating on the water, before cooking dinner with the local organic vegetables delivered right to Carnakilla. What more could you ask for?
Anne's Grove Miniature Castle
Crossing the threshold of this 19th-century miniature medieval castle is quite literally like stepping onto a Disney film set. It was designed in 1853 to impress those who were visiting the main house, and now you can stay here for a short break. It has a gothic design, wood burning stove, and a patio, where you can dine al-fresco on a balmy summer evening or start your day with a hot coffee. Cosy features, curved arches, towering ceilings, and a spiral staircase make a stay here simply unforgettable.