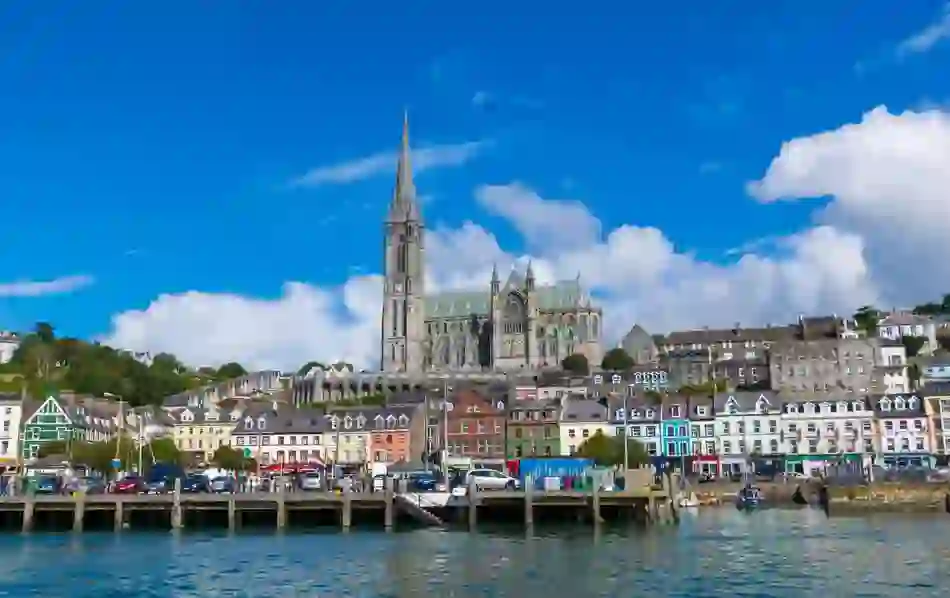 Discover colourful Cobh, County Cork
Cobh's enduring influence
A charming, walkable town, Cobh's tidy size belies its global impact. Cobh was ranked as one of the most beautiful small towns in Europe by Condé Nast Traveler. It was from here that the mighty RMS Titanic last set sail on her maiden voyage; a young girl called Anne Bonny left home and became a Caribbean pirate; and Ellis Island's very first immigrant, 17-year-old Annie Moore, began her journey.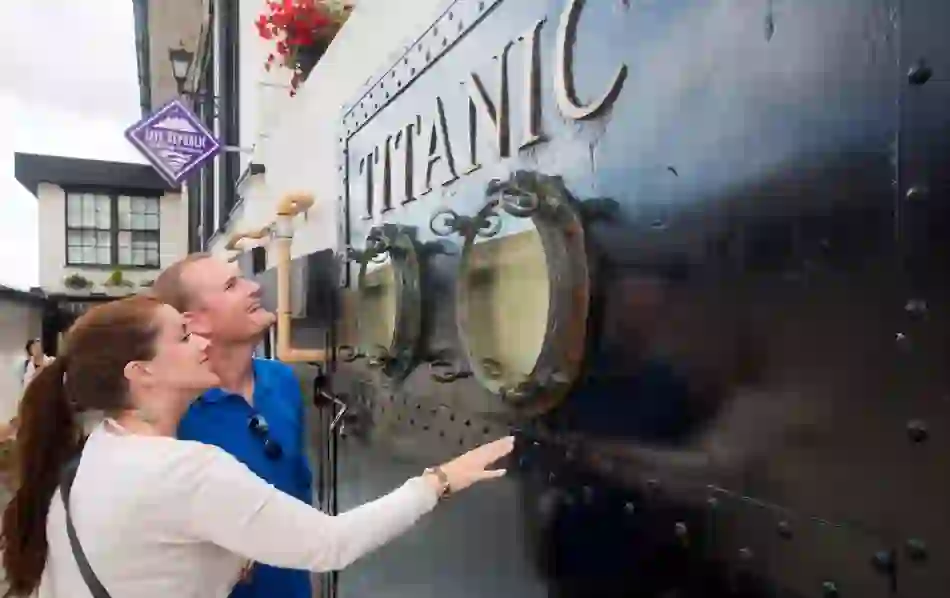 Cobh's Titanic legacy
Settle in to hear the unabridged version of Titanic's story, and its lasting impact on Cobh
Discover more
Greetings and goodbyes
A visit to this town simply isn't complete without a trip to Titanic Experience Cobh. Set within the original White Star Line ticket office, this exhibition tells the story of all 123 passengers who boarded the ship in Queenstown, as Cobh was then known, on the final leg of Titanic's ill-fated journey in 1912.
As one saw her steaming slowly, a majestic monster floating it seemed irresistibly into the harbour, a strange sense of might and power pervaded the scene.

The Cork Examiner, 1912
Today, the ocean liners that sail into Cobh are every bit as impressive as the "ship that launched a thousand dreams". As the world's second-largest natural harbour, as well as 2019 Cruisers' Choice Destinations Awards winner, an afternoon in Cobh watching the boats sail by is well spent!
Set in the restored 19th century railway station, the Cobh Heritage Centre is a must to learn all about the history and heritage of Cobh. Here, you can learn about the Lusitania wreck that Cobh residents witnessed, or the "forgotten Irish" and their journeys to penal colonies across the world, or even trace your own ancestors' journey on your genealogy search.
If you want to familiarise yourself with Cobh, the best way is to hit the streets. There are three walking trails for you to try that will take you in every direction around the town. The routes are helpfully signposted all along the way, and best of all, it's free!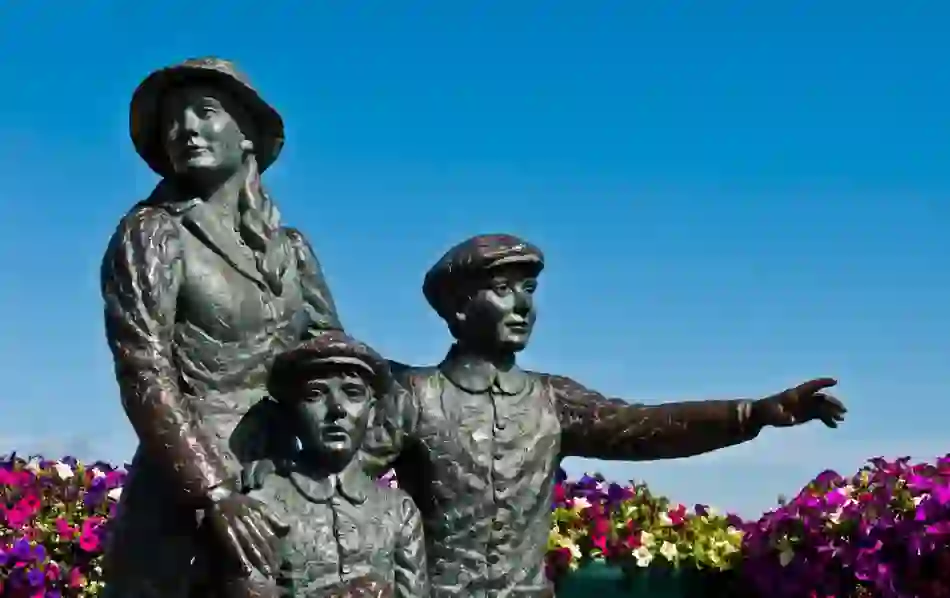 Famous faces
In the centuries following Ireland's Great Famine, no fewer than 2.5 million people – almost half the island's current population – departed Ireland from this very spot. On a cold December day in 1891, 17-year-old Annie Moore was just one of the intrepid millions who set sail for the US in search of a better life. After twelve long days spent at sea, Annie became the first person to reach New York via Ellis Island.
But almost two centuries earlier, another young girl with a far feistier spirit left Ireland behind from this same spot. Red-haired and roguish, Anne Bonny travelled all the way to the Caribbean in the early 1700s and became an infamous pirate during the Golden Age of Piracy.
Famous visitors to Cobh include revolutionaries Padraig Pearse and James Connolly, and double act, Laurel and Hardy, whose signature tune "Cuckoo Waltz" was played at St Colman's Cathedral upon their arrival in 1953. That's some welcome!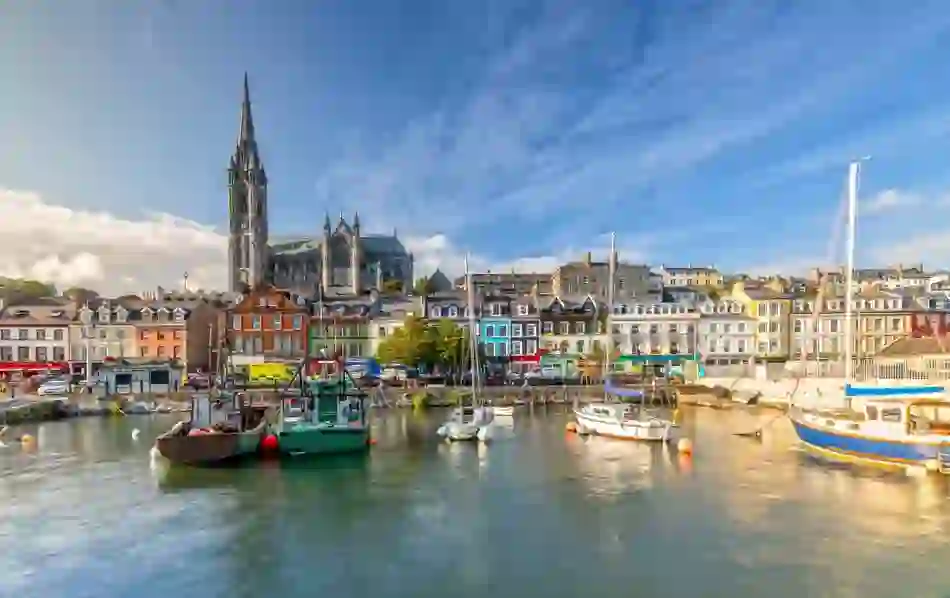 Unmissable views
Cobh's undeniable beauty makes it irresistible to budding photographers. A firm favourite is Bandon Hill, with the houses there locally known as "The Deck of Cards". From this steep hill, you have a bird's-eye view of the whole harbour and mighty St Colman's Cathedral – a magnificent, 49-belled building that's worth a trip all on its own.
Cobh redefines charming with its rows of candy colored homes along the water and towering cathedral standing sentry over the harbor.

Condé Nast Traveler
A little further out into the harbour is Spike Island. Once home to a 6th century monastery, then a star-shaped defensive fort, it was converted to a prison that closed in 2004. Today, visitors can take a ferry out to Ireland's very own Alcatraz and experience what life was like for the soldiers, convicts – and even the children imprisoned here in Victorian times. Once known as "Ireland's Hell", today it's an enjoyable day out, chock full of wild stories...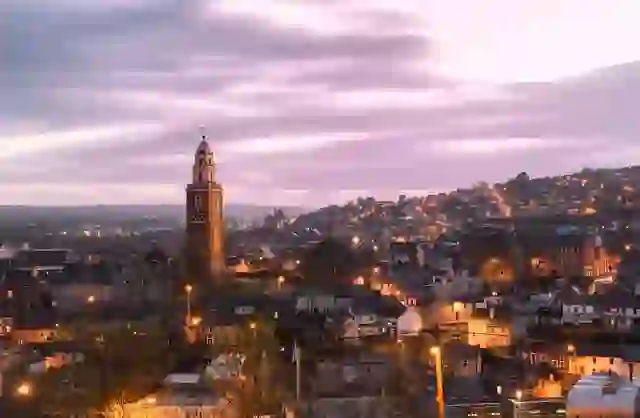 Cork city
There's a reason why the residents here call Cork city the "real capital of Ireland"
Discover more
Where next?
The best thing about Cobh is that it's a gateway to not only Ireland's Ancient East, but also the Wild Atlantic Way.
From Cobh, you can take the train or bus back to bustling Cork city. From the city, you can kiss the stone to get "the gift of the gab" at Blarney Castle, or go back east by bus to the sunny south east of counties Wexford and Waterford, or even take the train all the way back to Dublin.
You have a lot of options, too, if you want to explore the rugged Wild Atlantic Way. You can venture out further in County Cork, as the "Rebel County" is more than just its city. By bus, see the wilds of County Clare, the music scene of Dingle, Limerick city, or even bohemian Galway city! Or, wind through the countryside by train and stop at the beautiful Killarney National Park, and finish up in Tralee.
The only question left is: where first?
Want to see more?
Here are some great reads to get you started
More around County Cork
Discover these great things to see and do