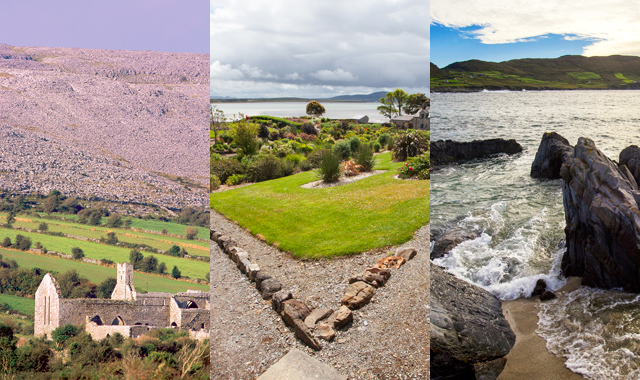 1 Meet and greet the king of Tory Island, County Donegal
When St Colmcille landed on Tory Island in the 6th century, he was helped by a member of a local family. Grateful, the saint made him king of the island. Since then, the regal line has been unbroken. Take the boat to the Irish-speaking island today and the king will be there to greet you!
2 180 varieties of potatoes at Lissadell House, County Sligo
Love the humble spud? You'll love Lissadell House, then! In the grounds, you'll find a staggering 180 varieties of potatoes – one of the largest collections in the world – lovingly tended in the Victorian kitchen garden. The most popular? The pink fir apple, a salad potato created in 1850.
3 Beach racing on Omey Island, County Galway
According to locals, "Omey eats cars," so beware if you take a vehicle to this small island in July for the Omey Races. Omey is a tidal island in Connemara, and at high tide the water is deep enough to cover a car. Other than racing, Omey is known for its rich monastic heritage, with a holy well and medieval church dedicated to the 7th century St Feichín.
4 The beauty of Corcomroe Abbey, Bell Harbour, County Clare
Legend has it that the stonemasons who built Corcomroe Abbey around 1205 were killed once they had finished to prevent them building a more beautiful church elsewhere. Rising from the valley of Glennamannagh, the abbey is one of the most soul-stirring sights in the Burren, and is where WB Yeats set his 1919 play The Dreaming of the Bones.
5 Ballydonegan beach, Allihies, Beara Peninsula, West Cork
Take a closer look at the gritty sand on the man-made beach at Ballydonegan – it's the result of 100,000 tons of crushed quartz washed down from the copper mines that thrived in the area 200 years ago.
6 An old Irish telephone box in Castletownsend, County Cork
Standing on one of the steepest streets of any town in Ireland, is an uncommon piece of the past – an old-fashioned telephone box. With its timber green frames, this historic "telefón" box in Castletownsend was preserved by the community to celebrate the past. And if your smartphone lets you down, you'll be glad to know it's in perfect working order.