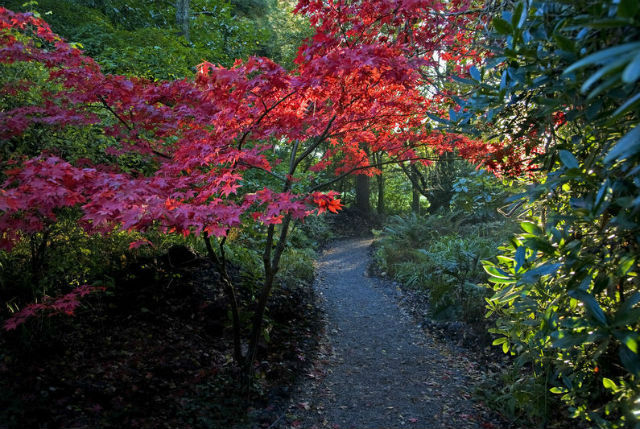 1: The Pursuit of Diarmuid and Gráinne
This tale of runaway lovers has it all: ancient warriors, sleeping potions and invisibility cloaks. Engaged to the elderly widower Fionn MacCool, Gráinne instead falls in love with Diarmuid, one of Fionn's warriors, and the couple elopes. Fionn, naturally, pursues them across the countryside, until Diarmuid meets a tragic end. Today, the landscapes they travelled still bear testament to this love story: in County Sligo, above the Gleniff Horseshoe looped walk, "Diarmuid and Gráinne's cave" was said to be the couple's last hiding place; while across the Burren, County Clare, the dolmens (megalithic tombs) dotting the landscape are called "leaba Dhiarmada agus Gráinne" or bed of the lovers.
2: The Claddagh – the original wedding ring
The Claddagh ring's evocative design, with two hands clasping a heart, is thought to have originated in the fishing village of Claddagh on Galway Bay. The villagers used this design as a wedding ring for over 400 years and, according to Thomas Dillon's in Galway – the original makers of the Claddagh ring and the oldest jewellers in Ireland – the ring's motif can be explained in the phrase: "Let Love and Friendship reign". Step into the bright red and yellow shop of Thomas Dillon on William Street, and they'll tell you the secret to wearing this precious symbol of love: wear the crown pointing towards your fingernail and your heart is taken; wear it out and you're yet to fall in love. Simple.
3: Modern-day matchmaking
Haven't found true love yet? Then Willie Daly's the man to meet! One of Ireland's last true matchmakers, since Willie started out 45 years ago he's set up an incredible 3,000 marriages. He's been helped by his 150-year-old lucky book, which has been passed down through his family for generations. Touch it and you'll fall in love, apparently! The spa town of Lisdoonvarna, County Clare, is where he brings together over 60,000 people for the annual Matchmaking Festival (August-October), now Europe's biggest singles event. It also includes an LGBT offshoot called The Outing. With dances, festivities and fun every day and night, even if you don't find love, you'll definitely have a good time looking for it.