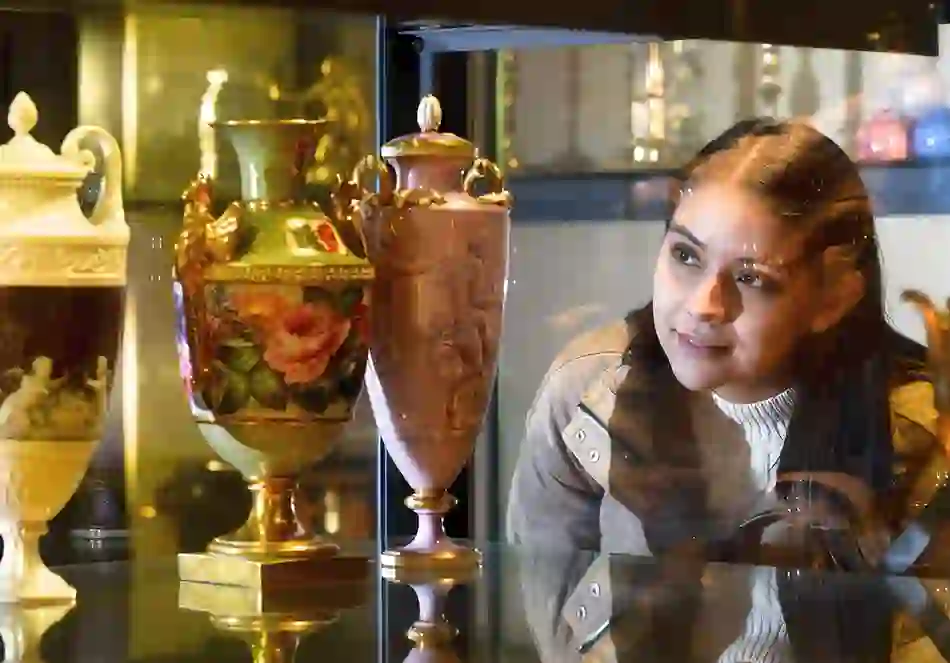 National Museum of Ireland
30mins from Dublin Airport
A visit to any of the four branches of the National Museum will give you insights into Celtic culture and Ireland's past that will stay with you long into the future.
You can admire gold jewellery from thousands of years ago or innovative 20th century jewellery designs. You can examine utensils from a rural Irish cottage or silverware that graced the tables of the finest mansions. You can see ancient axe heads or firearms from Ireland's fight for independence. There are rock samples, Iron Age artefacts, and even life-like exhibits of tigers and bears from the 1800s.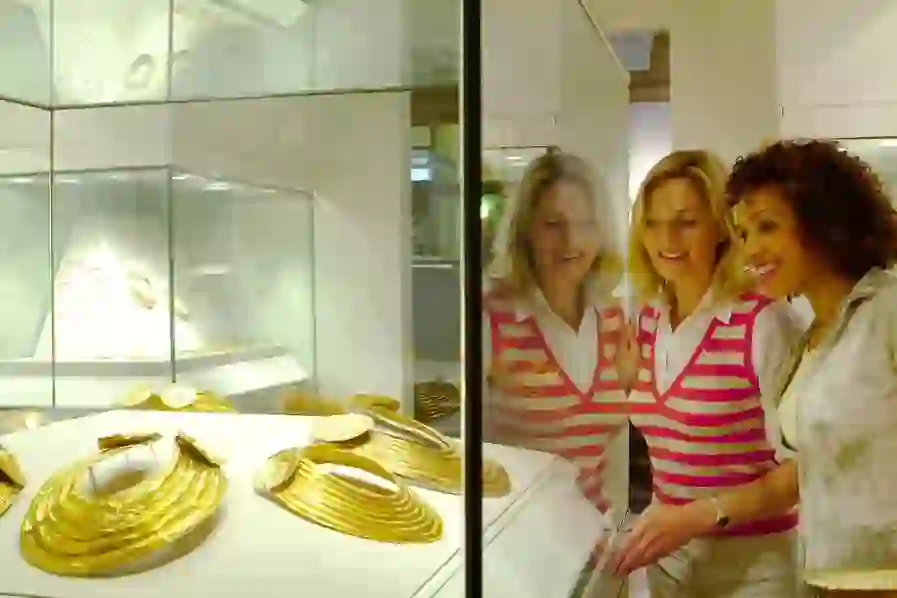 Museum of Archaeology
The first thing that wows visitors to the National Museum of Ireland – Archaeology on Kildare Street in Dublin city is the building itself. Built in Victorian Palladian Style, it has a magnificent rotunda with a domed roof and a row of marble columns.
It first opened in 1890 and inside, a large central space is surrounded by an ornate balcony, with mosaic floors underfoot – look out for the zodiac design on the floor of the rotunda.
The exhibits start with a selection of prehistoric finds, including stone tools from the earliest years of humankind. A flint axe from the years 400,000 to 300,000 BC was possibly transported here by moving ice.
There are ornaments dating back from the Medieval period, Iron age and Bronze age. Looking at a gold collar or earrings from 2200 BC, you might wonder who wore them and what their story was.
Many of the items in the museums were found in Irish peat bogs – often during turf cutting – and you can learn all about these amazing finds including ancient weapons, jewellery, and even human remains. Most famous of all are the bog bodies, such as Old Croghan Man.
There are pieces from Celtic art, such as the beautiful Ardagh Chalice or Tara Brooch, plus artefacts and art from the Viking age. There is also a collection on life in Medieval Ireland, with farming tools and objects from life in castles and manors.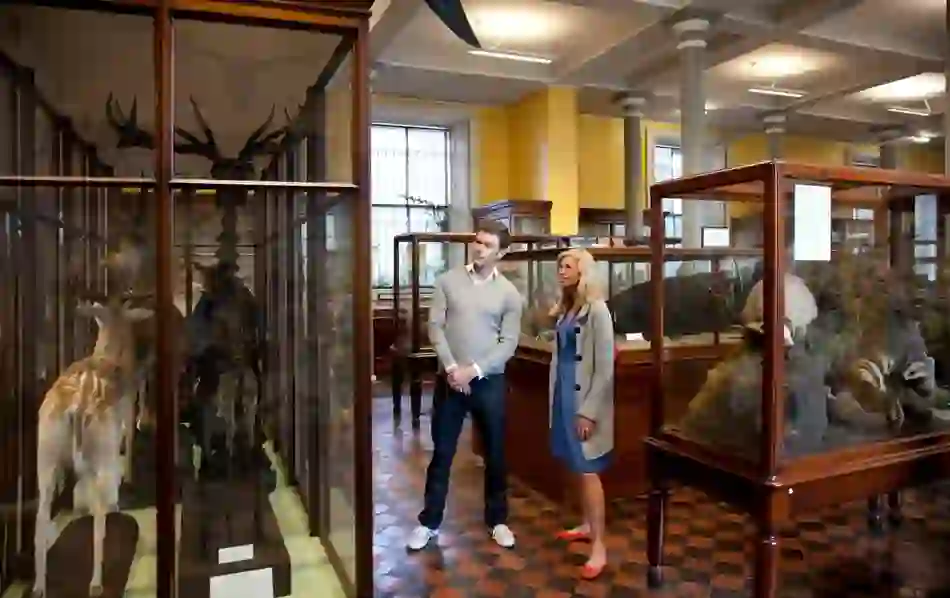 Museum of Natural History
The National Museum of Ireland – Natural History on Upper Merrion Street near St Stephen's Green, is another beautiful building in the Georgian area of Dublin. It was built in 1856 and little has changed since then – with more than 10,000 exhibits of all types of creatures, ranging from tiny insects to giant mammals.
As you enter the museum, you will encounter the skeletons of the giant deer, Megaloceros giganteus, which went extinct just after the last Ice Age in Ireland more than 10,500 years ago.
Glass cases display different Irish species, such as a family of playful badgers, which look remarkably life-like. They are preserved by taxidermy – where the body is preserved by stuffing and then mounting it, a method that was popular in the 1800s. There are so many taxidermy exhibits, preserved in a life-like state, that locals call the museum the "Dead Zoo".
There are foxes, otters, seals, rabbits and hares, and you can also see brown bears and wolves – two species no longer found in the wild in Ireland, plus birds, fish and whale skeletons. You can look into the huge jaws of an African hippo, examine the fur of a Bengal Tiger or count the stripes of an African zebra.
In the Wonder Cabinet full of curiosities, you'll find all sorts of things including the fossils of a Hyena's jawbone, a giant Irish deer's antler and a shark's tooth.
A visit to this museum gives a mix of fun, education plus a glimpse back into the past to show how Ireland's museums were in the 1850s.
Note: The museum is undergoing work and currently, only the ground floor is open.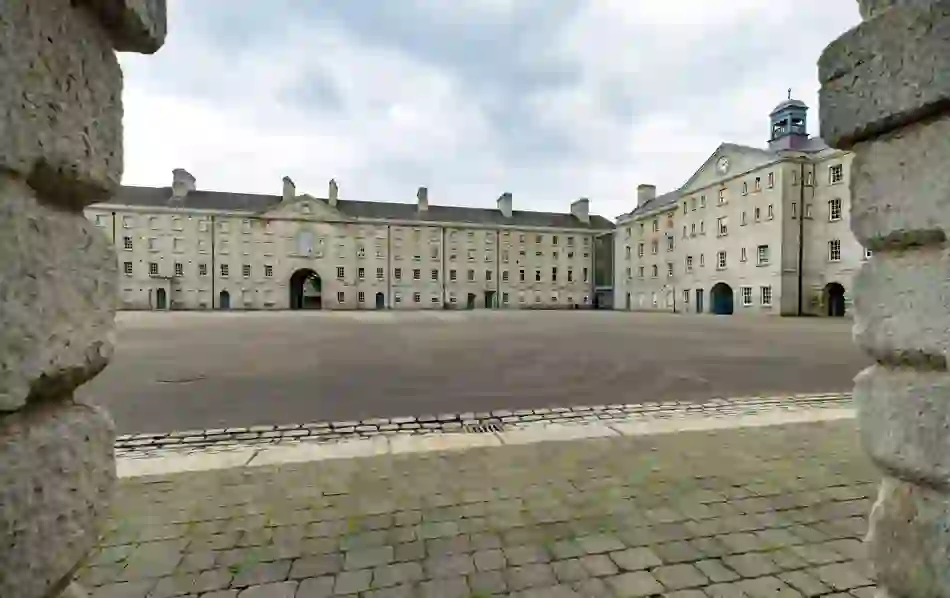 Museum of Decorative Arts & History
Across the River Liffey on the north quays, the National Museum of Ireland – Decorative Arts & History is located in one of Dublin's most impressive structures, Collins Barracks. Built in 1702, it was renamed Collins Barracks, in tribute to the revolutionary leader Michael Collins. The Irish Defence Forces left in 1993 and it became home to the museum in 1997.
Set in a series of stone buildings around different squares, the museum is divided into decorative arts and history collections. The decorative arts section has exhibitions on clothing, silver, ceramics, glass and furniture, while the history side focuses on Ireland's military history, particularly the fight for independence and formation of the Irish Free State.
Rather than covering everything in one visit, it's a good idea is to choose the exhibits that you would most like to see before your visit. You might focus on the exhibition on Irish coins and currency, or look for a highlight like the Fonthill Vase, an early piece of Chinese porcelain from the year 1300 or the Waterford Jug, a silver trophy from 1732.
There is also an exhibition about the life and work of Irish designer and architect Eileen Gray, who had a huge influence on the 20th century modern design movement and created iconic pieces like the adjustable chrome table and non-conformist chair.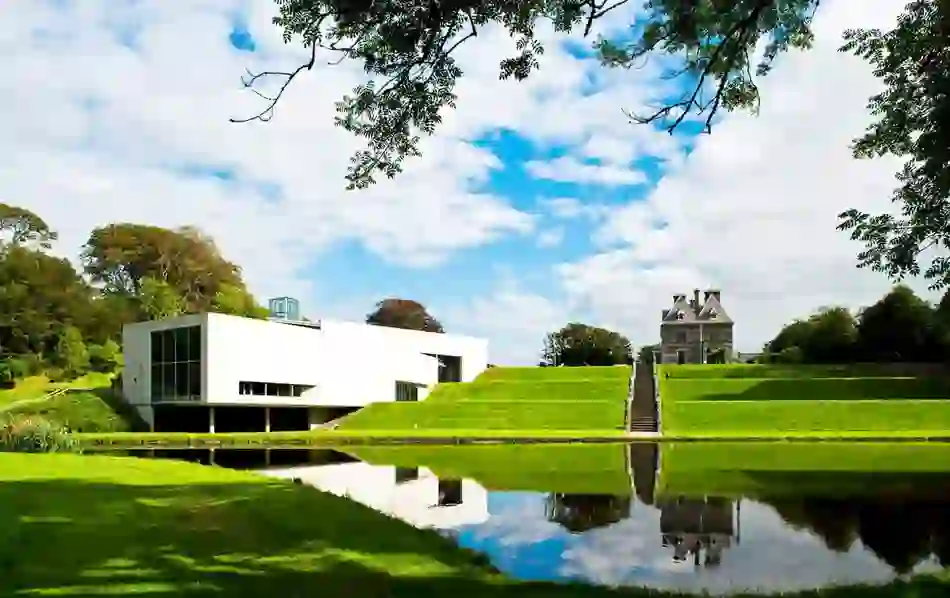 Museum of Country Life
The National Museum of Ireland – Country Life in Castlebar, County Mayo gives a fascinating insight into everyday life in rural Ireland in past times. Located in Turlough Park, the museum's Irish folklife exhibits explain everything from how cottages were built and how roofs were thatched, to the different furniture in a cottage, from cradles to dressers, plus the tasks of daily life in a household.
The exhibits show how people made a living from the land and sea, and the sometimes harsh conditions, with the traditional methods of farming, fishing and cutting turf and the importance of seasons.
Also on the site, you can visit two rooms of the mansion Turlough Park House. You can spend time on the grounds and walk around the lake. There's even a playground and picnic areas. The 10km Castlebar to Turlough Greenway connects the museum to Castlebar on a mostly off-road trail which runs along the Castlebar River.
Need to know
Admission to the National Museum is free and advance booking isn't necessary for individuals. Groups should email: bookings@museum.ie.
The National Museum of Archaeology has twice-daily tours of the treasures of Ireland. Some of the museums have virtual tours.
There is a café at the Museum of Country Life and a food truck at the Museum of Decorative Arts and History.
There is paid on-street parking or nearby car parks only at the Archaeology and Natural History branches. Parking at the Museum of Decorative Arts & History is pay and display. Parking at the Museum of Country Life is free.
All the museum sites are accessible by public transport. You can get to those in Dublin city by bus and/or Luas. The Museum of Country Life can be reached by bus from Castlebar Train Station.