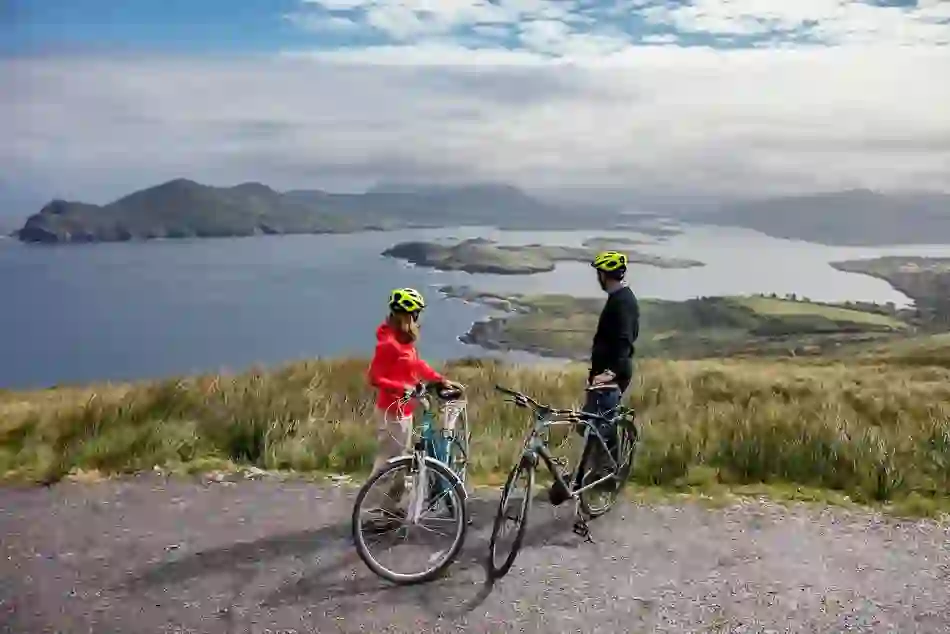 What you need to know: Cycling in Ireland
What makes cycling in Ireland so different? It could be the landscapes: off-the-beaten-track roads, steep hills and sloping valleys all contribute to the island's diverse terrain. Or it could be the size: being such a small island means you can go from rust-coloured bog to beautiful beaches and expansive national parks in no time.
Glide along the city street in Dublin, cruise the plains of the Midlands, or if you're really into a challenge, hit the Mourne Mountains or Connemara's Twelve Bens for more undulating terrain. Whatever type of bike ride you're into, your perfect trail is here.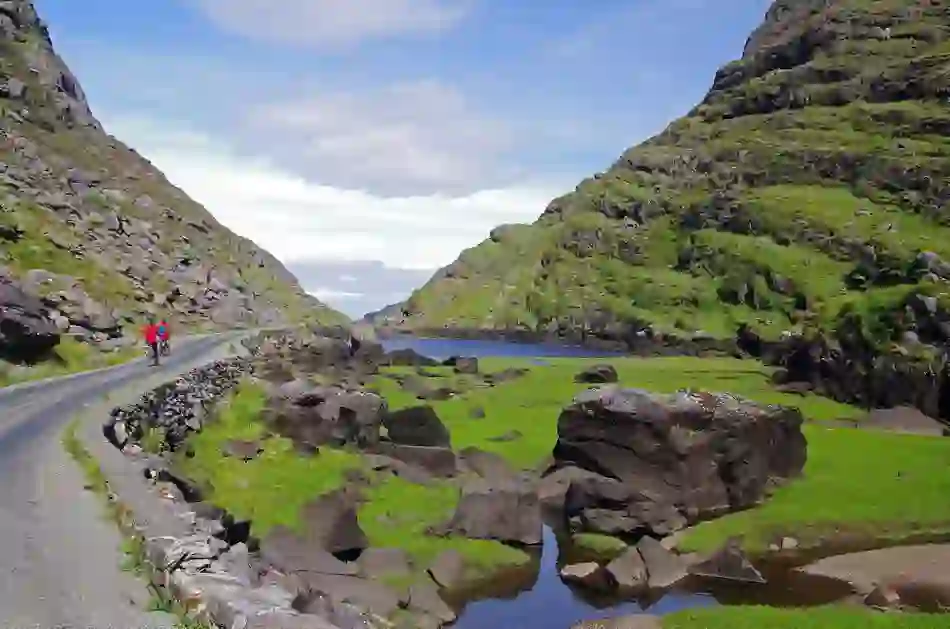 5 top tips
Always cycle with traffic on the left-hand side of the road.
City bike schemes are an easy way to travel around the cities.
A high-visibility jacket, helmet and good headlamp are recommended.
Bikes are allowed on public transport free of charge at off-peak times.
Some bike hire shops allow you to rent your bike in one location and drop it off at another.
Planning your cycling trip to Ireland
First things first. Are you going to go freewheeling or take a guided tour? Lots of tour operators will arrange for your bags to be dropped off at your hotel, hostel or B&B, so you can enjoy a hassle-free ride.
Of course, if you want to plan your own adventure, it couldn't be easier. Just hop on your bike, pick your route and off you go!
Choosing your bicycle
You can bring your bicycle with you to Ireland, but you might find that it's cheaper and easier to rent a bike when you arrive. There are plenty of bike hire shops around, and rental fees are reasonable.
Most bike shops will let you rent your bike in one location and drop it off at another for a small fee. Rental price generally includes lock, pump, puncture repair kit, mudguards and carrier; insurance cover is given with all bicycles hired.
There are lots of different bicycles available, so choose the wheels to match your adventure. If you're taking it easy on the road then you might like a hybrid bike, with flat handlebars and smooth tyres. If you're putting pedal to the metal, you want a racer!
Keen on off-roading? Get yourself a mountain bike, with knobbly tyres and excellent suspension. Of course, if you just want a leisurely cycle, certain tour operators supply electric bikes to do a lot of the work for you! Children's bikes are also available, but remember to book well in advance and ask about helmets, especially in high season.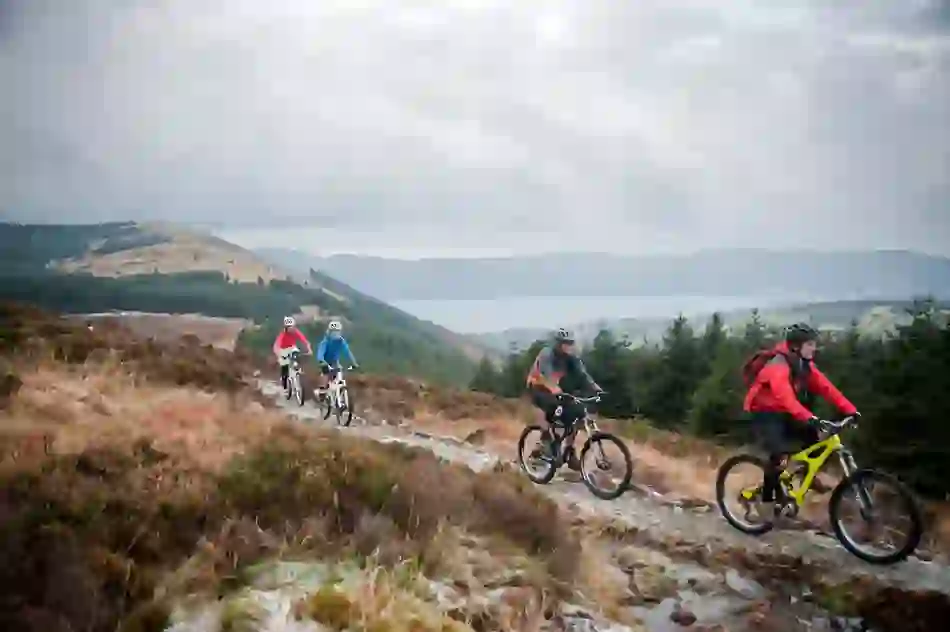 What you need
Irish weather is famously unpredictable, so pack gear for every eventuality.
A high-visibility jacket, helmet and good headlamp are recommended. It's always sensible to have a water bottle, waterproof gear, and extra layers to add on/remove as the temperature dictates.
And some sunscreen, just in case!
Cyclist safety
Always cycle with traffic on the left-hand side of the road. Be especially careful on busy roads, country lanes and narrow roads.
Make sure to lock your bike at a designated area as improperly parked bikes risk being removed. A good lock is essential, and have a puncture repair kit handy as there might be substantial distances between bicycle shops.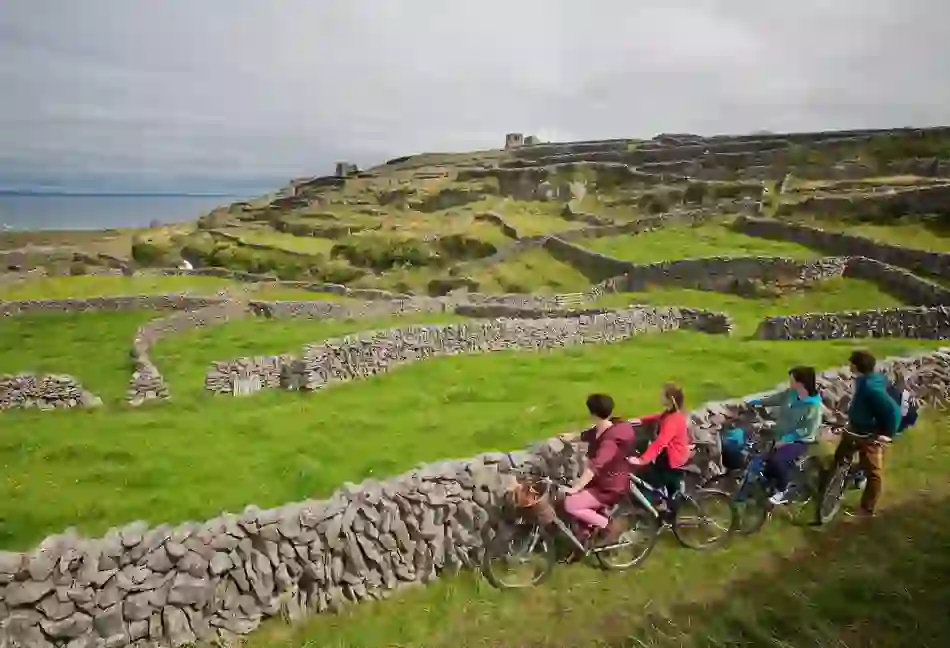 Activities on your cycling holiday
There's plenty of adventure to be had out of the saddle too. Ireland's valleys, peaks, beaches and bogs make it a walker's paradise. Or you can make a splash on the water: surf, scuba or cruise your way around Irelands' beaches and waterways.
Not to mention the incredible sights you'll see from the Giant's Causeway in County Antrim to Brú na Bóinne in County Meath. So if you want to get off the beaten path and meet the locals as you cycle along bike paths and cycle routes, or as you pass through tiny villages and bustling towns, a cycling holiday in Ireland might be perfect for you.