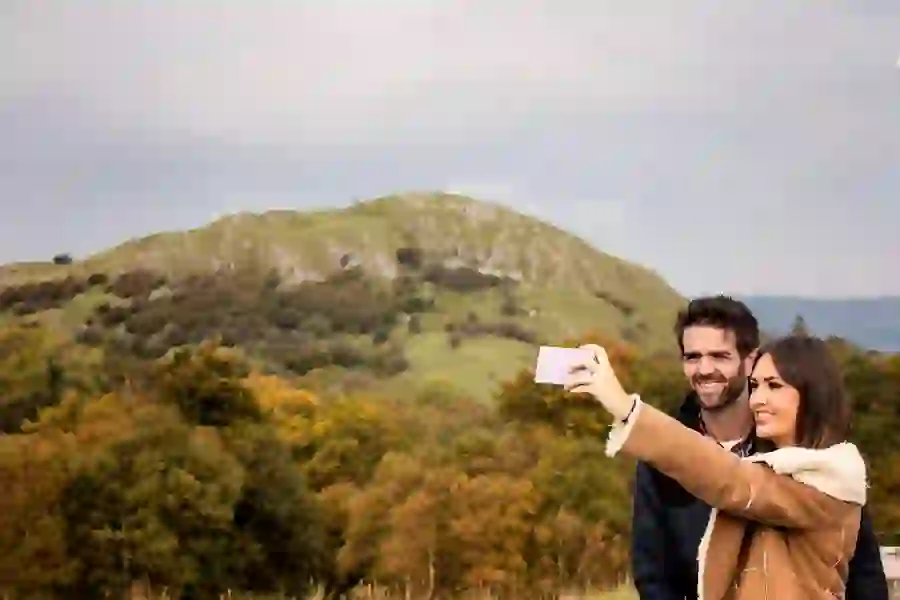 10 of the best places to take a selfie in Ireland
To take a great selfie, you need three things: good lighting, a nice background and a striking pose. In Ireland, we'll look after the first two if you can bring the third!
Whether you're a budding amateur photographer who's keen to capture the island's natural beauty or you're just taking a few silly pictures for your Stories, we've rounded up 10 locations where everybody will enjoy smiling for the camera.
Ready, steady... snap!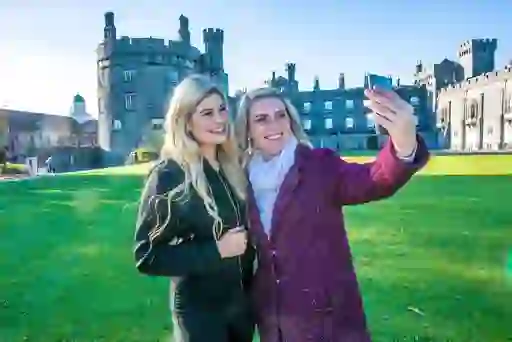 1. Kilkenny Castle, County Kilkenny
If you're looking to capture a fairytale scene, Kilkenny Castle in County Kilkenny is a dreamy spot to go for. This gem is the city's centrepiece along the "Medieval Mile".
There are lots of other types of castles in Ireland that you can check out, too. From cliff-top ruins to Anglo-Norman strongholds, there's a fortress to suit your aesthetic needs.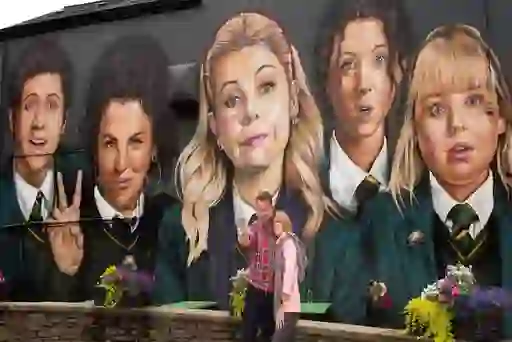 2. Derry Girls mural, Derry~Londonderry
Join Derry~Londonderry's most famous schoolgirls (and schoolboy) for a class photo with a difference. This fantastic mural in the heart of the Walled City is a must-see sight for fans of the hit TV show. Now, who are you going to pose like? We're going for Clare.
If you can't get enough of Erin and the gang, check out our homage to this excellent wee series.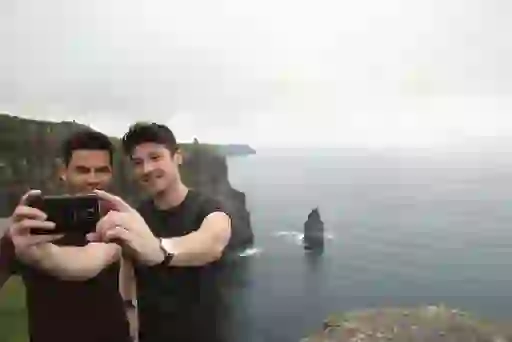 3. Cliffs of Moher, County Clare
A top tourist attraction on the island of Ireland, the Cliffs of Moher in County Clare are as dramatic as they are beautiful. This is one selfie you'll definitely want to post to the 'gram.
If you prefer your attractions a little more off-the-beaten-track, then take the time to explore further up and down the Wild Atlantic Way. Secret beaches, remote islands and windswept peninsulas await.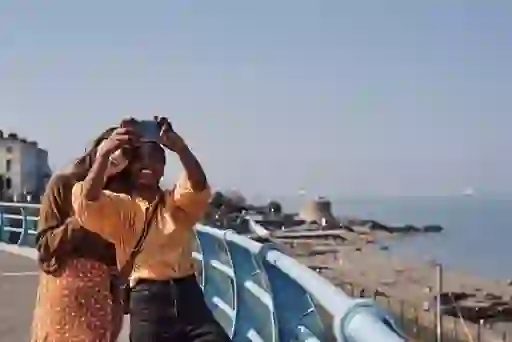 4. Dublin Coastal Trail, County Dublin
The Dublin Coastal Trail is a ruggedly picturesque stretch of coastline that runs from Skerries in north County Dublin to Killiney in the south. There are any number of lovely selfie spots along the route, from Howth Cliff Walk to the cute seaside village of Monkstown. Don't miss Seapoint Beach at the latter, it's a popular sea swimming location that features a Martello Tower down by the shore.
The best thing about this trail is how close it is to Dublin city! So after a long day of capturing seascapes on camera, it's just a short hop back into the city centre.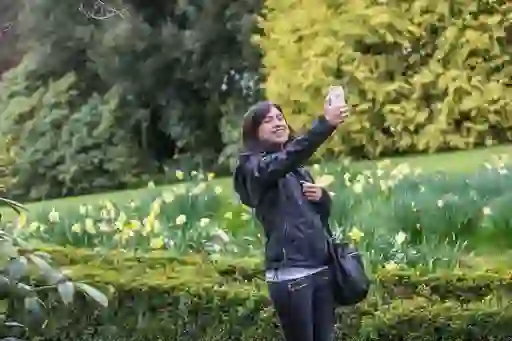 5. Altamont Gardens, County Carlow
Flowers and selfies go together like bacon and cabbage, so Ireland's gardens should be high on your list for capturing the perfect pic.
Altamont Gardens in County Carlow is a lesser-spotted gem. The 16-hectare estate is home to native and exotic species of plants and trees, such as Swamp Cypress and Giant Redwood. There's also a lake and a river walk at this hidden oasis in Ireland's Ancient East.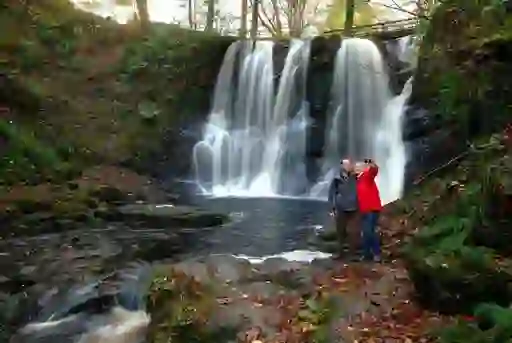 6. Glenariff Forest Park, County Antrim
Glenariff Forest Park in County Antrim is an enchanting mix of woodland, lakes, waterfalls and much more. The best spot for a selfie? Take your pick!
This is an area of outstanding natural beauty in Northern Ireland. Also known as the Queen of the Glens, Glenariff is one of the nine glens of Antrim, which are famed for their awe-inspiring landscapes.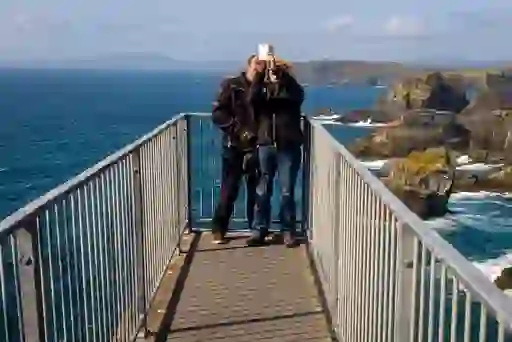 7. Mizen Head, County Cork
Say hello to the most southerly point of mainland Ireland! Mizen Head in West Cork stretches out into the Atlantic Ocean, offering some of the wildest views on the island.
The walk across the Arched Bridge to the Signal Station is not for the faint-hearted, suspended as it is high above the waves. Your reward? The excellent Mizen Head Visitor Centre, which features exhibitions, a café and a gift shop.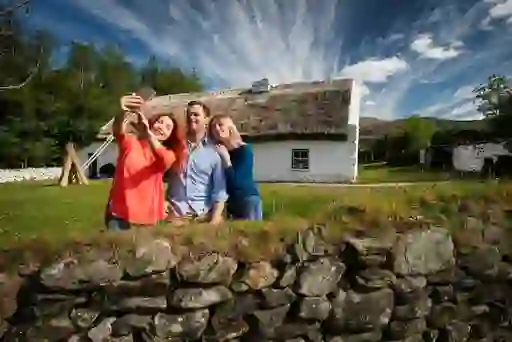 8. Killarney National Park, County Kerry
A tourist hotspot – and for good reason – Killarney National Park in County Kerry is arguably the most photographable place in Ireland. Everywhere you look, there's a perfect backdrop for a selfie: the lakes of Killarney, Muckross House, Torc Waterfall, thatched roof cottages, the McGillycuddy's Reeks, we could go on!
Our personal favourite spot? That'll be the mighty yew tree at the centre of Muckross Abbey. Was the tree planted after building the abbey or was the abbey built around the ancient tree? Nobody knows for sure...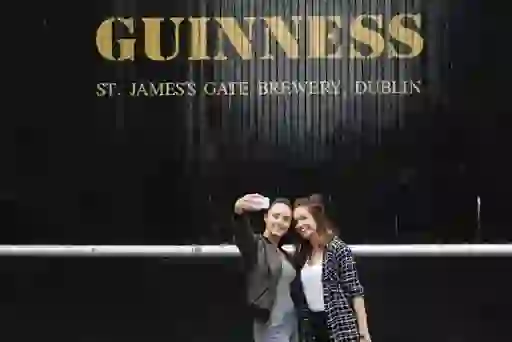 9. Guinness Storehouse, Dublin city
One for your Dublin bucket list for sure. St James's Gate at the Guinness Storehouse is an iconic sight. Get a snap before heading into the home of Guinness for the best pint of "the black stuff" you'll ever have.
Top tip: head to the Gravity Bar on the seventh floor for stunning panoramic views of the city. It's another unmissable photo opportunity. We'll raise a glass to that!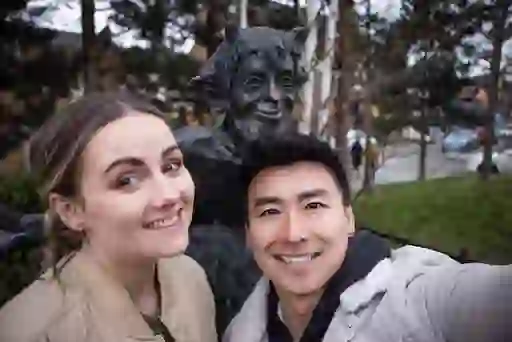 10. CS Lewis Square, Belfast city
If you're a fan of The Chronicles of Narnia, you can't visit Belfast without stopping by CS Lewis Square, a public space commemorating the author of these classic books – and one of Belfast's most famous sons. Take a picture with not one, not two, but SEVEN bronze sculptures from The Lion, The Witch and The Wardrobe, including Aslan and Mr Tumnus.
The city's Street Art Walking Tour is also a great option if you want to discover and capture Belfast's thriving art scene.