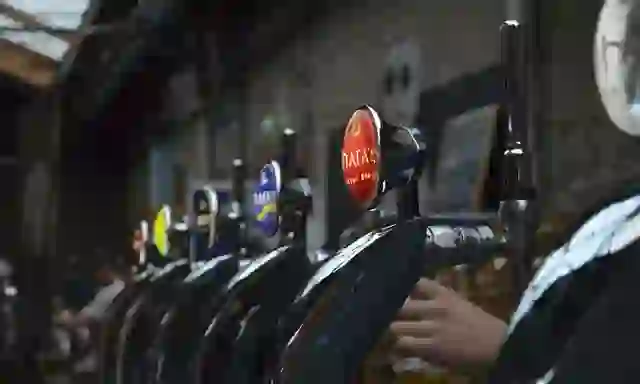 8 of Ireland's best brews
Ireland has a history of brewing beer dating back 5,000 years – legend has it that even St Patrick had his own brewer! But why is beer so popular here? As Maudeline Black of Blacks of Kinsale puts it, "In Ireland, we can't grow vines but we do grow fantastic malt, which is the key ingredient to making beer."
This, combined with our fresh water and the patience of the brewers, allows the fine ingredients to work their magic. And the results are pretty magical! Quench your thirst with some of the island's best brews.

The oldest independent brewery in Ireland, Hilden's doors were opened in 1981 by the parent of the current boss, Owen Scullion. Its 11 core beers, including Belfast Blonde, Headless Dog, Twisted Hop and Barney's Brew, can be found in lots of establishments, but surely the best place to try them is the Tap Room restaurant in the courtyard of Hilden House itself, formerly the home of a rich linen baron. Check out the Hilden Beer and Music Festival every August, too. It's been going strong for over 30 years, and is a rip-roaring place to sample Hilden's 35 beers and ciders.
Those craft brews should come with a warning: may cause taste buds.

Erica Reed, Blogger


Since setting up in the pretty seaside town near Cork in 2013, Blacks of Kinsale just keeps winning awards. The husband-and-wife team produces KPA, Model T Stout, The Session IPA, 1601 Lager, Black IPA and High Viz Double IPA. Kinsale, of course, is the beginning and end of the Wild Atlantic Way, and is rightly famous for its laidback, artistic vibe and fantastic food, particularly fish. Take a wander, have a great meal and enjoy the local brew. Brewery tours are seasonal, so check in advance.

Having created comfy, buzzy Mickey Finn's pub from a café on the family holiday park near Avoca and Glendalough, Ashley and Leigh Williams were often asked by visitors for a local beer. So they made some, using their own well water: Helles, St Kevin's Red, Weiss, Black 16 Stout, Hopknut and Gingerknut are so popular that one evening the pub even ran dry. Luckily, it's now stocked all over the island, but if you're in this part of Ireland's Ancient East, definitely come for a tour, stay for the hooley and dine out in the Brewery Bistro Restaurant.

Built on the site of a 13th century monastery – with a well of water said to have healing powers – Franciscan Well is a part of the fabric of Cork city. Its World Beer Award-winning brews are sold across the island, so look out for Rebel Red, Friar Weisse, Blarney Blonde and Shandon Stout. Or just head straight to the brew pub and settle in for a session.
I only have this level of patience for my family and for brewing.

Shane Long, owner of Franciscan Well

With the number of traditional musicians and party lovers who have long flocked to Galway, it's no surprise that the city is home to one of the island's first brew pubs. The core beers – Full Sail, Bay Ale, Althea and Buried at Sea, a chocolate milk stout – are sold all over, but in the seaside streets of Galway you can taste the inspiration.

Established in 1996 on the family farm in County Down, Whitewater produces some wonderful brews with names rooted in this beautiful region. Between them, Maggie's Leap IPA, Bee's Endeavour pale ale, Ewe Rebel IPA, Belfast Black stout, and Hen, Cock & Pigeon Rock ale (named after three peaks in the nearby Mournes) have won fistfuls of awards, and the brewery has just had to move to bigger premises. All the more beer for its legions of fans to enjoy, we say!

Keen to break free of traditions, Pokertree might have an irreverent approach – they even named a beer in honour of Kurt Cobain – but they take their brewing seriously. Besides Kurt's hefty Dark Nirvana, the range includes the rich Seven Sisters Treacle Oat Stout, beefy Red Earl Pale Ale and delicate Ghrian Golden Ale – pretty well something to suit every beer fan – made from local malted barley. Lipsmacking and delicious.
There is no love more sincere than the love of great beer.

pokertreebrewing.co.uk