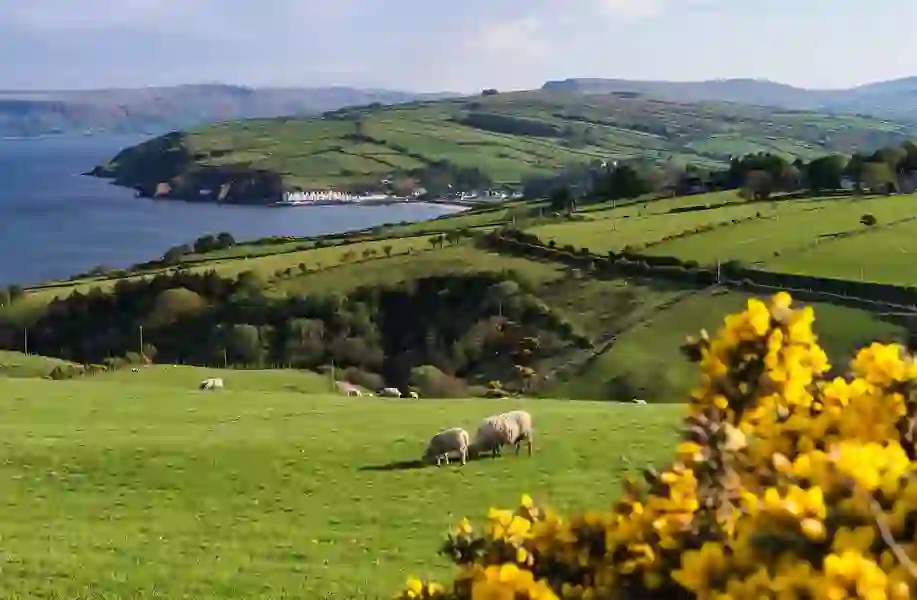 March on the island of Ireland
Spring is well and truly underway in Ireland. Lambing starts on farms around the countryside, gardens begin to pop with colour as flowers bloom, and one of the world's BIGGEST parties rolls into town – none other than St Patrick's Day.
Fancy seeing cute little lambs gambolling around picturesque green fields? Like the sound of strolling through world-renowned gardens? And how about celebrating Paddy's Day in style with the locals? Then, bucket list at the ready, here are our top travel tips for visiting Ireland in March...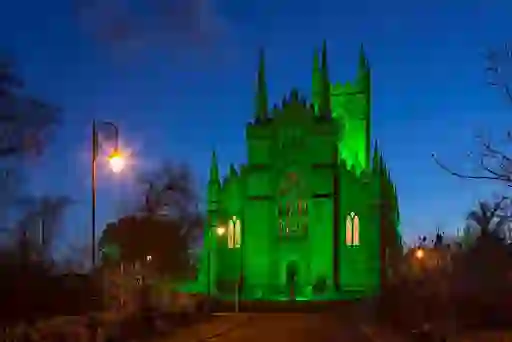 The home of St Patrick
St Patrick's Day is 17 March, a day when the island pays homage to one of its patron saints. And thanks to an Irish diaspora all over the world, it's one of the few national days that's marked around the globe.
If you'd like to follow in the footsteps of the man himself, there are some great destinations to check out. Climb ancient Slemish Mountain in County Armagh, where a young Patrick worked as a slave herding sheep. Explore glistening Lough Derg in County Donegal, where St Patrick is said to have hunted the last snake in Ireland. And pay a visit to Down Cathedral in County Down, a revered site where the remains of St Patrick were buried after his death in 461AD. Discover more legendary St Patrick sites here.
For a full road trip itinerary, check out our St Patrick's Country trip idea. And if you can't make it to Ireland for the big day this year, then bring a little bit of St Patrick's Day to you with these tasty St Patrick's Day recipes. Or take our fun St Patrick's quiz to see how much you really know about the famous saint.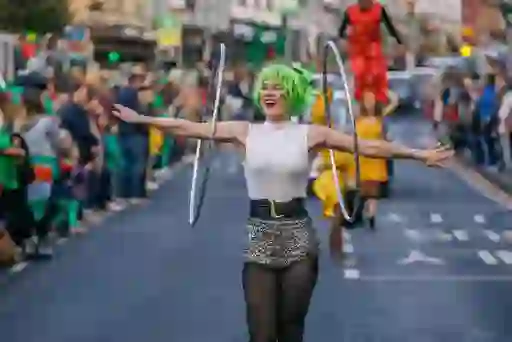 St Patrick's Festivals
If raising a glass to toast St Patrick at a traditional music session in one of Ireland's pubs is more your kind of thing, Ireland has got you covered! Festivals and parades take place all around the island, from Belfast to Cork and every colourful town and village in between.
The big one is St Patrick's Festival in Dublin, which this year sees the return of the lively Festival Quarter, transforming the city streets into an extravaganza of live music, DJs, Irish food and drink, art installations, pop-up performances and much more. Then, of course, there's the St Patrick's Day parade itself, as thousands of performers, dancers and marching bands wind their way through the city past famous landmarks, creating a spectacle you'll never forget.
In Northern Ireland, the Home of St Patrick Festival takes place in Armagh, where St Patrick's legacy runs deep. A vibrant showcase of culture, song and dance is guaranteed, in spectacular locations such as St Patrick's Cathedral.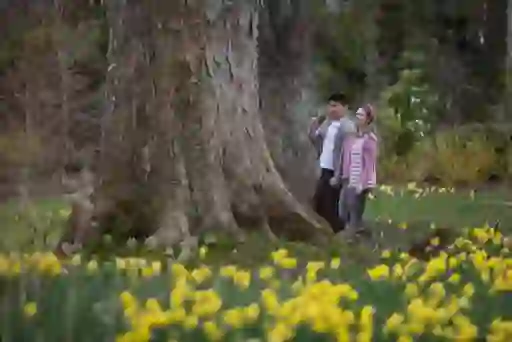 Spring in Ireland
The gardens of Ireland come into their own in spring and provide a quiet alternative to the hustle and bustle of St Patrick's Day festivities. Flowers bloom and the grass shimmers an exquisite green after the spring rain, making our grand gardens places of beauty, peace and tranquillity.
For the "wow" factor, head to Powerscourt Estate, House and Gardens in County Wicklow, a county so pretty that it's nicknamed "the Garden of Ireland". The pristine estate here was voted number 3 in the World's Top 10 Gardens by National Geographic! Belfast's Botanic Gardens are another treat for the senses, containing exotic tree species, unique plants and the must-snap Palm House, a gorgeous glasshouse made from curved iron in the mid 1800s.
Lesser-known gems include Altamont Gardens in County Carlow, a beautiful 16-hectare estate that strives for a balance of nature and artistry. In County Down, Rowallane Garden is home to a refined walled garden, café and tea garden, as well as an Instagram-worthy bookshop in Rowallane House.
Late March also sees the start of the lambing season in Ireland. With their cute faces, woolly bodies and gentle demeanour, sheep have become one of the island's unofficial symbols. To get up close and personal with these adorable creatures, why not visit a sheep farm? Glenshane Country Farm is stunningly located at the foot of the Sperrin Mountains in County Tyrone. Choose from two memorable tour experiences – Sheepdogs at Work and Shepherd's Life.
Farms that are open to the public are dotted all around the island, so wherever you're staying, a friendly and furry face is never far away!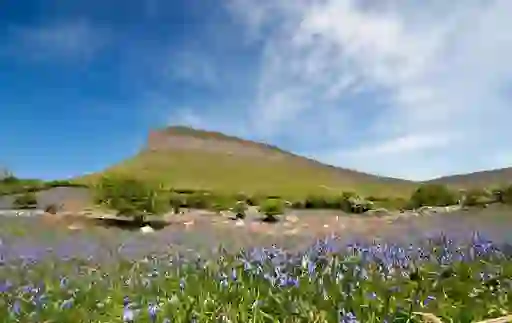 March in Ireland travel tips
Weather on the island of Ireland in March can be a mixed bag. It's mostly sunny with some clouds, but you can definitely expect a refreshing spring shower or two!
The temperature ranges from 3° to 12°, so bring a range of clothes and be prepared to layer up or down accordingly. Sure, being caught out by the Irish weather is practically a MUST on a visit here.
To whet your appetite for a trip, take a look at these 6 stunning images of Ireland in spring.