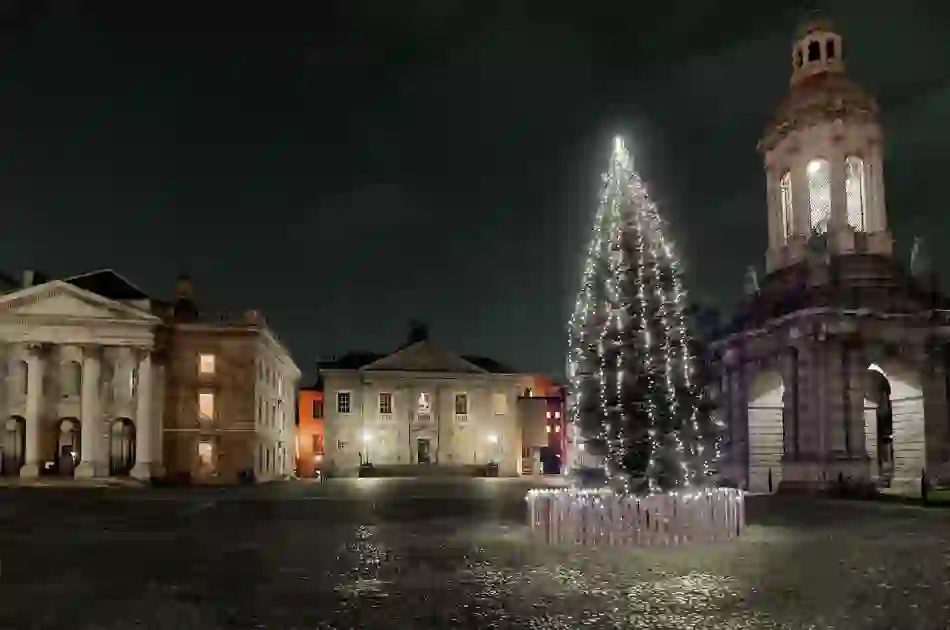 Ireland in December: things to see and do
December is a magical time of the year in Ireland. Nothing beats frosty mornings, warm pubs, carol singers and bustling streets thronged with twinkling lights and busy shoppers.
From cosy retreats to festive excursions and the epic New Year's Eve celebrations in Dublin, there's no place like Ireland in December.
So, check out these December travel tips, get that planner out and start booking tickets!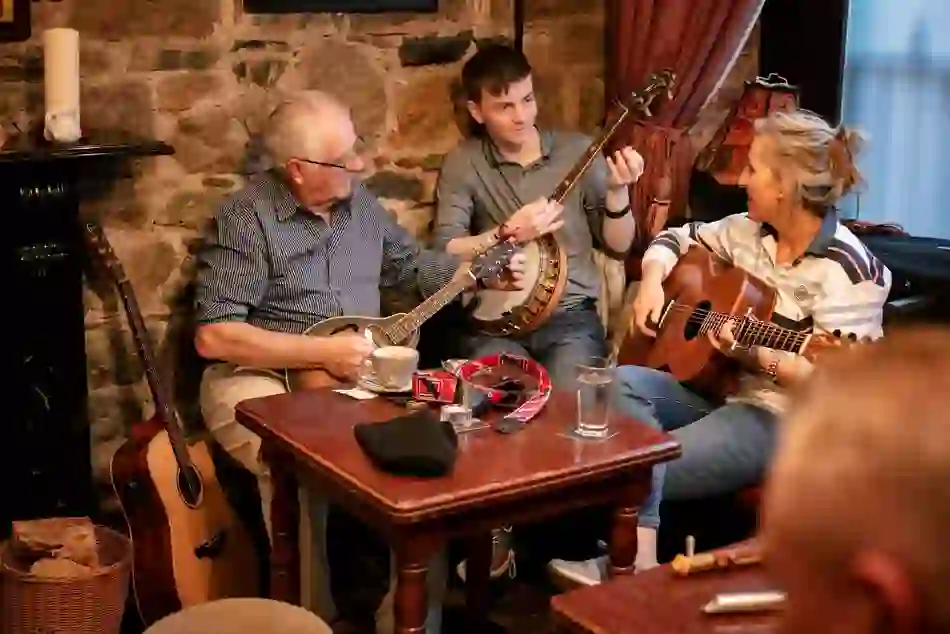 Traditional music sessions
As nights draw in, Ireland's pubs hum with music, as the tunes flow in front of an open fire. Enjoy traditional tunes at The Cobblestone in Dublin, pop into An Spailpín Fanach in Cork or pull up a stool at the Duke of York in Belfast.
Handel's "Messiah" was first performed in Dublin at the New Music Hall on April 13th, 1742. The performance involved choirs from St Patrick's and Christ Church Cathedrals. Jonathan Swift, Dean of St Patrick's Cathedral, was initially opposed to the use of his singers but relented when it was explained the performance was for charitable purposes. And the rest is history. In December, you can experience this incredible piece of music for yourself in venues across Ireland, performed by the fantastic Irish Baroque Orchestra.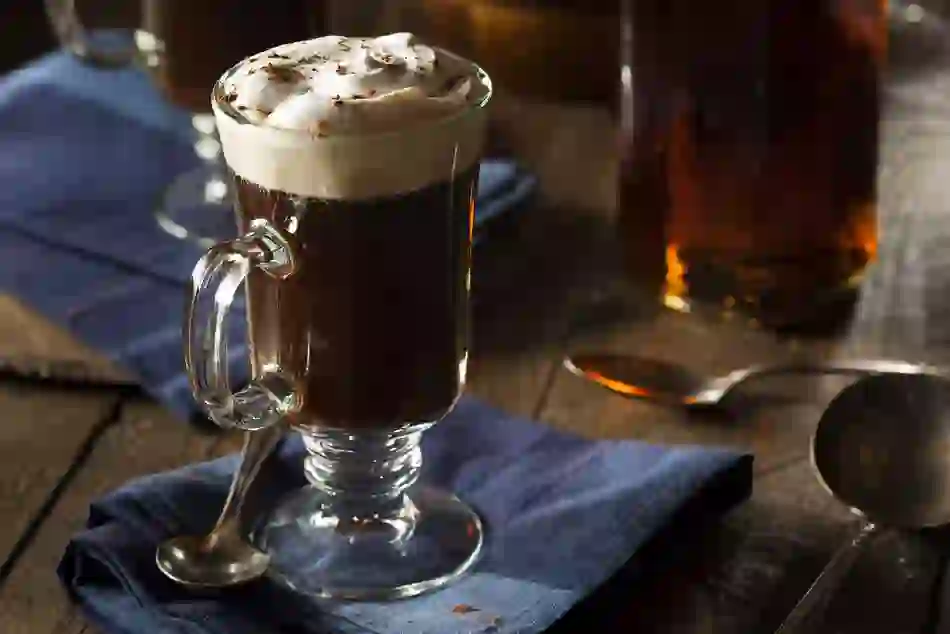 Winter experiences
In the midst of Brú na Bóinne (the Boyne Valley) in County Meath, lies the megalithic marvel of Newgrange. During the winter solstice, the inner chamber of this ancient Neolithic structure is illuminated by the morning sun in a magical spectacle witnessed live by only a select few each year. And thanks to a simulated demonstration, visitors can experience this unique light show all year round.
Ireland's castles look picture-perfect during the winter season. Enjoy roaring fires, lavish costumes and roasted meats at the Game of Thrones®-inspired Medieval Banquet at Castle Ward in County Down.
Take in the massive Trim Castle in County Meath in the sharp winter light, or cosy up beside the fire in the Prince of Wales bar in five-star Ashford Castle in County Mayo with the perfect Irish winter accompaniment: hot whiskey.
And then, of course, there's the winter rite of passage: trying a decadent Irish coffee, made with Irish whiskey and cream. Nothing warms the soul on a brisk winter evening like this iconic drink.
Garavan's in the heart of Galway city was named 2019 Whiskey Bar of Year and is renowned for its Irish coffee. In Dublin, head to The Brazen Head, one of Ireland's oldest pubs, for the ultimate traditional Irish experience. In Belfast's sophisticated Harlem, an Irish coffee is a perfect finish to a delicious bistro lunch.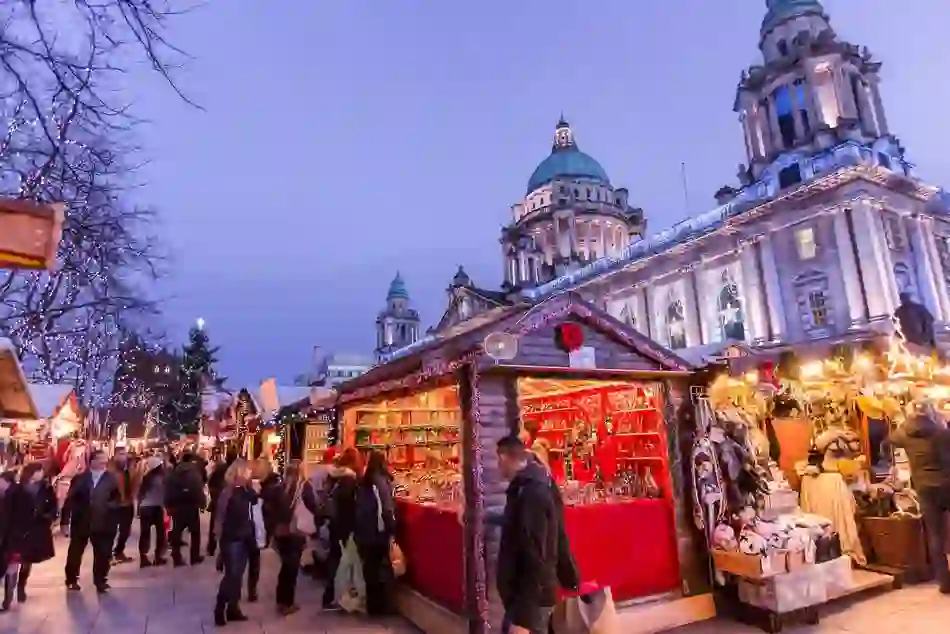 Christmas markets
Christmas markets in Ireland are all about that famous welcoming atmosphere.
The Belfast Continental Christmas Market is perfectly placed in front of its festively decorated and perennially handsome City Hall. In Dublin, a sense of magic and merriment fills the air on Grafton Street and Henry Street and the Dublin Castle Christmas Market offers up tasty treats and trinkets.
The Winterval Waterford festival hosts a traditional Christmas market in Waterford city with plenty of food, crafts and entertainment. Hop on the Winterval Express train and enjoy storytelling in Reginald's Tower.
In Galway, Eyre Square turns into a winter wonderland for the Galway Continental Christmas Market. Come for the gifts, stay for mulled wine, hot chocolate, and live music. Bring comfy shoes for the dancing, and an appetite to taste treats from the food chalets.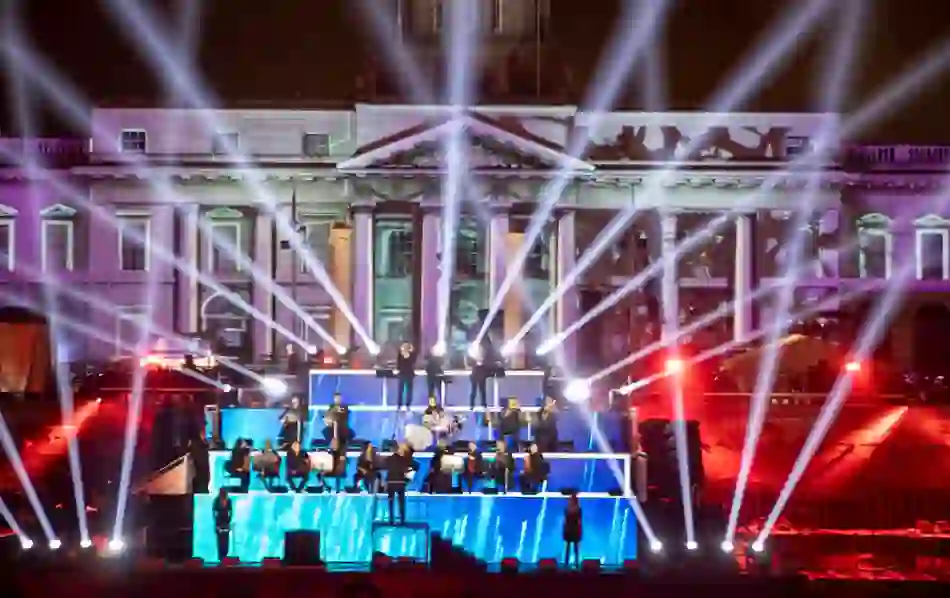 Ring in the New Year
New Year's Festival Dublin is the biggest celebration across the island, filled with great music and dazzling light shows.
Taking place across four fun-filled days, the festival welcomes visitors from all over the world who come to join the locals as they ring in the New Year. Iconic attractions like the Guinness Storehouse, Trinity College Dublin and EPIC – The Irish Emigration Museum are illuminated with fabulous light displays.
Highlights include two spectacular midnight moment countdown events on New Year's Eve – a family-friendly matinee performance and an evening event at Dublin Castle.
In the heart of the city, as we count down the final moments of 2023, experience a spectacular choreographed visual and musical display, with top Irish musicians rocking out at Dublin Castle. Expect street performers, delicious food and a spectacular fireworks display that will light up the midnight sky.
Celebrations continue on New Year's Day with an afternoon of live music at Dublin Castle and Meeting House Square, featuring food, music and street performances.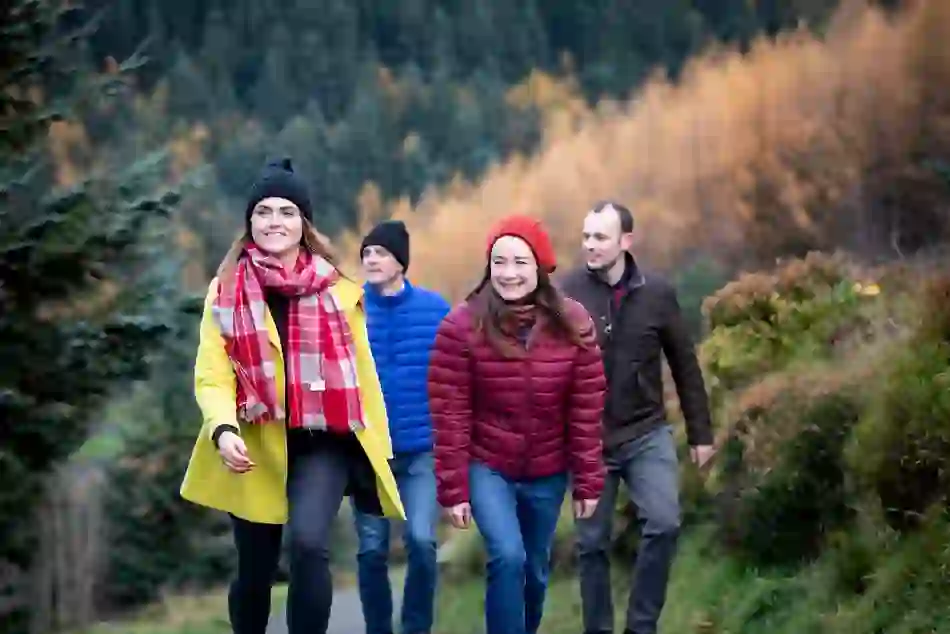 December travel tips
The weather on the island of Ireland in December is usually cloudy with some wet periods but there's also some lovely sunny days with a winter chill in the air. The average temperatures are 7° to 9° Celsius, so mornings and evenings can be cool but snow is quite rare.
If you're wondering what to pack for a December trip, just remember that you should expect all four seasons in one day! In other words, a little planning goes a long way. Layers are your friend, so be sure to bring an assortment of long-sleeve tops, as well as heavier items such as cardigans and jumpers. Keep snug with woolly hats, scarves and a winter coat, and don't forget waterproof jackets for exploring the great outdoors.
The good news is – Ireland knows how to do cosy! Stop by a charming café for some hot chocolate, relax by an open fire in a traditional pub with a warming Irish coffee or sit down for a tasty homemade meal. And remember, Ireland's warm welcome is sure to warm your heart throughout your stay!