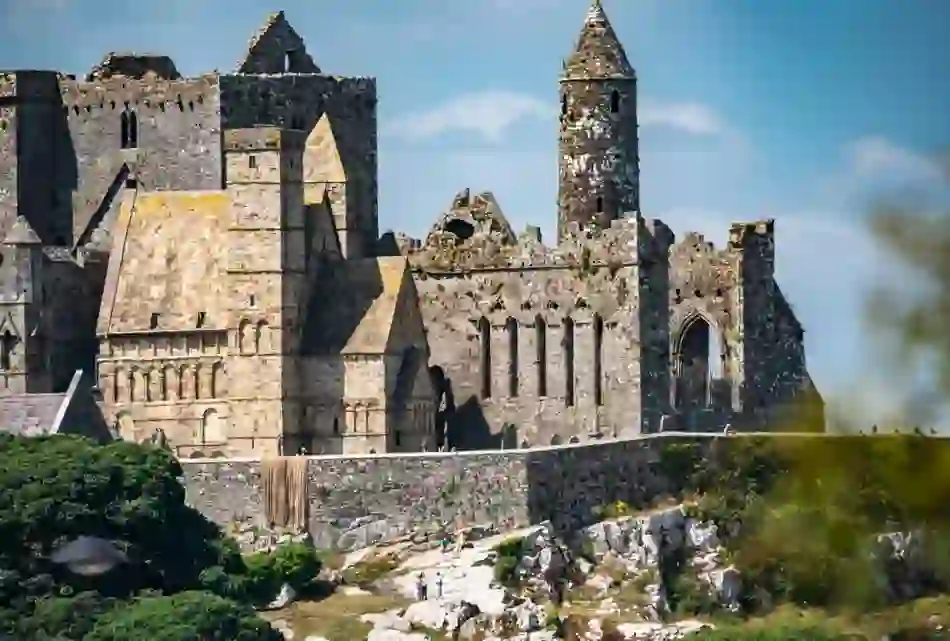 Cormac's Chapel – the Rock's masterpiece
A group of 20 or so visitors are lightly crammed into the dark damp of Cormac's Chapel at the Rock of Cashel in County Tipperary.
The guide's hand directs all gazes to the gilded images running up the archways. Whirring de-humidifiers reinforce the atmosphere of fragility. Here in this chamber, experts are tenderly wrestling 800-year-old frescoes back from the hands of time. Gold-headed saints, hands layered over sapphire blue, and robes of blood red strain to be seen against hundreds of years of decay.
These brush-to-wall images are the earliest of their kind on the entire island.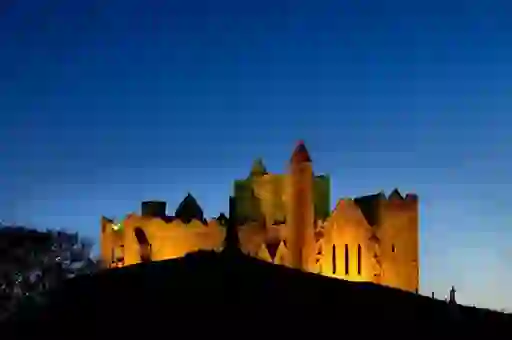 Ireland's art history
The chapel came to being in the 12th century. Commissioned by the King of South Munster, Cormac Mac Cárthaigh, this sandstone church has earned pride of place in Ireland's art history.
According to Tipperary artist Philip Ryan, the importance of the Cormac's Chapel frescoes can't be overstated: "The visual arts in Ireland at this time were dominated by sculpture, architecture and crafts. The painted image was more or less confined to the illumination of manuscripts. Fresco painting is extremely rare in Ireland and the murals in Cormac's Chapel are an integral part of our art history."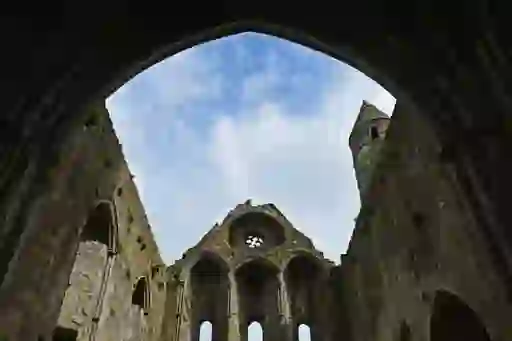 Masterful preservation
For Philip, should the tender care continue, even more of the art may expose itself:
"Da Vinci's The Last Supper was in a similar state and was restored after nearly 500 years of neglect. It's not fanciful to think the same could be done here in Cormac's Chapel."
While the frescoes may be gingerly making their way back, there's more in Cormac's Chapel to demand your attention.
"The undoubted highlight of the Rock is the early-12th-century Cormac's Chapel," according to Lonely Planet, "an exquisite gem of Romanesque architecture with beautifully carved doorways and the precious remains of colourful wall paintings."
Nordic invaders
Lurking at the back of the room is a hint of Ireland's Viking past. The vast sarcophagus is said to have housed the body of Cormac's brother: Tadhg Cárthaigh. It's thick, substantial and on its freeze is an elegant carving in the Scandinavian Urnes style.
The decoration shows two beasts, intertwined, and the scene is said to depict eternal life. Eternal life on a sarcophagus and art reborn on the walls – in the dark damp of Cormac's Chapel, there's magic.