Yep, 5,000 years. That's older than Stonehenge. It's older than the great Egyptian pyramids, too. And five millennia later, it hasn't lost any of its wonder.
But first things first: Newgrange can't be visited directly. If you're driving, set your course for the Brú na Bóinne Visitor Centre as opposed to Newgrange itself. Here, you'll find an interpretive centre where you can buy tickets, and proceed by shuttle bus for a guided tour of Newgrange and of the nearby passage tomb at Knowth. If you don't have a car, don't worry – day tours can be arranged from Dublin.
Arriving at the iconic tomb is a wow moment, to say the least. Standing outside the 80-metre mound, shored up with spiral-engraved kerbstones and white Wicklow quartzite, a guide reveals the myths and history behind the monument. Newgrange may have been designed as a tomb or a temple but in spite of the knowledge that archaeologists have garnered from the site since its discovery, it continues to surprise and intrigue.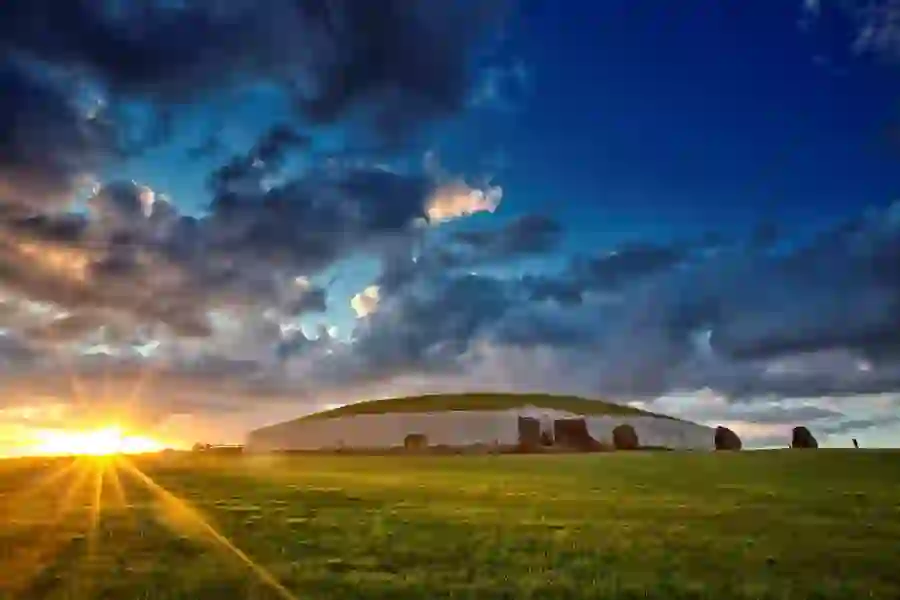 Let there be light...
Once the scene has been set for you as a visitor, you'll step inside the passage tomb itself, squeezing through standing stones carved with spiralling rock art and graffiti dating back to the 1800s (before Newgrange was taken into State care). Ducking under beams of wood, you'll emerge into the cool confines of a cruciform-shaped chamber, like a stony igloo squirreled away within a hill.
This inner sanctum is where a lucky few (chosen by lottery from thousands of applicants annually) huddle together to witness the annual winter solstice illumination in December. In this moment, when megalithic engineering and nature come sensationally into sync, a shaft of light can be seen snaking 19 metres up the passageway, ultimately bathing the chamber in light. You'll get goosebumps…
If you're not one of the lucky ones, don't fret. All visitors are treated to a simulated solstice, with an orange beam of light artificially showcasing the effect. It's a tantalising taster – little wonder legend suggests that this was the site where mythological hero Cú Chulainn was conceived.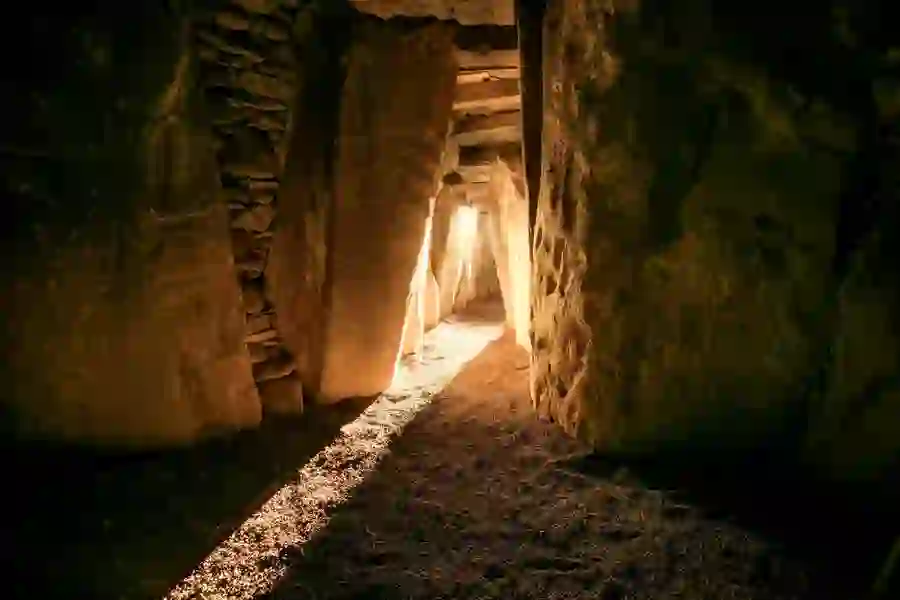 Ancient secrets...
Newgrange isn't the only passage tomb in Ireland, of course. In fact, it's not the only passage tomb at Brú na Bóinne. Together with nearby Knowth and Dowth, Newgrange was declared a UNESCO World Heritage Site in 1993. Not bad for a site that once looked destined to become a quarry!
Not far away, near Oldcastle, County Meath, you'll find a lesser-known cluster of passage tombs. Spotted around a handful of hills at Loughcrew are several cairns also dating from around 3,200BC. Because they're more obscure and harder to get to, the Indiana Jones effect is all the more titillating.
If you get the sense that you're being watched here, you may well be right. Some 60km away, atop of Slieve Gullian in County Armagh, the passage of another tomb points directly back towards Loughcrew. Slieve Gullian's two cairns lie on either side of a summit lake, with the southern tomb said to have a winter solstice alignment at sunset. On a good day, the views stretch as far as Dublin Bay.