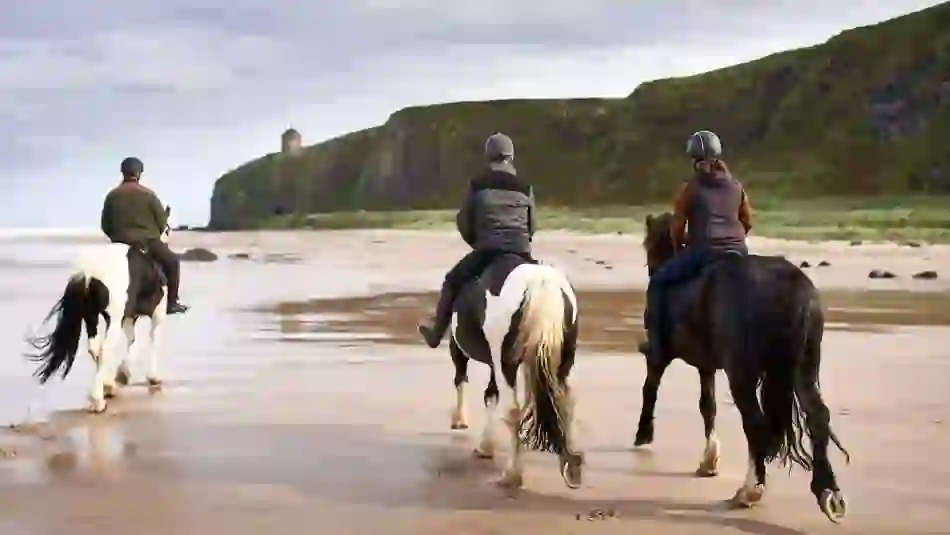 Take it easy: sustainable trips in Northern Ireland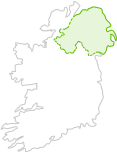 Northern Ireland
It's time to enjoy the moment, to take your time, to step away from the rush and bustle. Northern Ireland is one of the best places in the world to experience slow travel and a laid-back adventure, where you'll meet local craftspeople, connect with heritage and culture and enjoy incredible natural scenery. With charming little villages, soft green meadows, shimmering lakes and vast stretches of sandy Atlantic beaches – we've got six great ways to get away from it all…

1. Great Foyle Wild Camping, Canoe and Slow Food Experience
The gentle slap of water against the canoe, the rustle of riverbank reeds and the scenic weave and bend of the river – peaceful moments abound when you take to the River Foyle with Great Foyle Wild Camping, Canoe and Slow Food Experience. This historic waterway flows between counties Londonderry and Donegal, and through the ancient walled city of Derry~Londonderry, where the Causeway Coastal Route meets the Wild Atlantic Way. As well as immersing yourself in the gentle flow of a tidal river, you'll learn about local heritage and wildlife, before enjoying a unique pop-up slow food experience. Local chef Darren Smith is on hand to show you how to prepare and cook the very best of local ingredients including Foyle fish and shellfish, as well as vegetables from a nearby community garden.

2. Natural Connections Tour
Heather-flecked hills, coffee-coloured bogs and views that stretch out over a patchwork of startlingly green meadows – the Sperrin Mountains possess an untamed beauty that feels as far away from the ping of phone messages as it's possible to get. The two-day Natural Connections Tour gives you the chance to be guided through one of the island's most beautiful mountain ranges by a local ecologist and archeologist who will uncover some of the secrets of this mysterious landscape. Food-wise, you're in for a treat with a visit to a traditional farm, lessons on how to make Irish soda bread and scones, and meet-ups with local artisan producers.

3. Horseback Riding at Beech Hill

It's hard to think of a more peaceful way to experience the green fields of County Londonderry's Faughan Valley than on horseback. Amid a surrounding landscape of pretty ponds and quiet pastoral woodland, Beech Hill Country House makes an elegant base for exploring this delightful part of Northern Ireland. After enjoying a three-course dinner, lovely walking trails around the grounds and luxurious overnight accommodation in this 17th century country house, it's time to jump into the saddle. Glimpse wild deer darting through the woodland, enjoy tales of local characters from your guide, and be charmed by the beauty of this special part of the island.

4. Scullion Hurls

Part of the point of slow travel is to really immerse yourself in the culture of the land. Well, when you hold a hurl in your hand, you're not just connecting with local culture, but with thousands of years of history. Hurling is one of the oldest field games in the world – believed to date back to the Celts, and a visit to Scullion Hurls in Ballymena, County Antrim is an ideal way to learn about this ancient game. The Scullion family have a special dedication to carefully producing each individual wooden hurl for the popular fast-paced sport – some sliotars (hurling balls) have been recorded to travel at over 150kmph during a game! Listen to the traditions, facts and history of the game before taking home a souvenir from Scullion's gift shop.

5. Ursa Minor Bakehouse

Self-taught bakers Ciara and Dara's beautiful Ursa Minor Bakehouse in Ballycastle, County Antrim, focuses on seasonal and local produce. Step downstairs from the café, and you'll find a little museum dedicated to the couple's story, or book in for a tour and the team will show you the techniques to create unique, hand-shaped loaves that look, taste, and smell delicious. And best of all, you can take some bakes away with you as you enjoy some walking trails along the breath-taking Antrim Coast.

6. The Steensons
You could travel the world searching for landscapes as visually rich as the Glens of Antrim. These nine undulating valleys are the creative source from which The Steensons create entire ranges of exquisite jewellery. As Goldsmith and Director Dan Spencer attests, the impact of this Area of Outstanding Natural Beauty on their designs is substantial, and watching the goldsmiths at work offers an incredible insight into the creative process. Fans of the HBO series Game of Thrones® are in for a treat, too, as The Steensons are master crafters of the crowns worn by the late King Joffery and his bride Margaery, as well as other fantastical pieces for the show. Admire the replicas at The Steensons gallery and purchase your own piece from the Game of Thrones® Jewellery Collection.