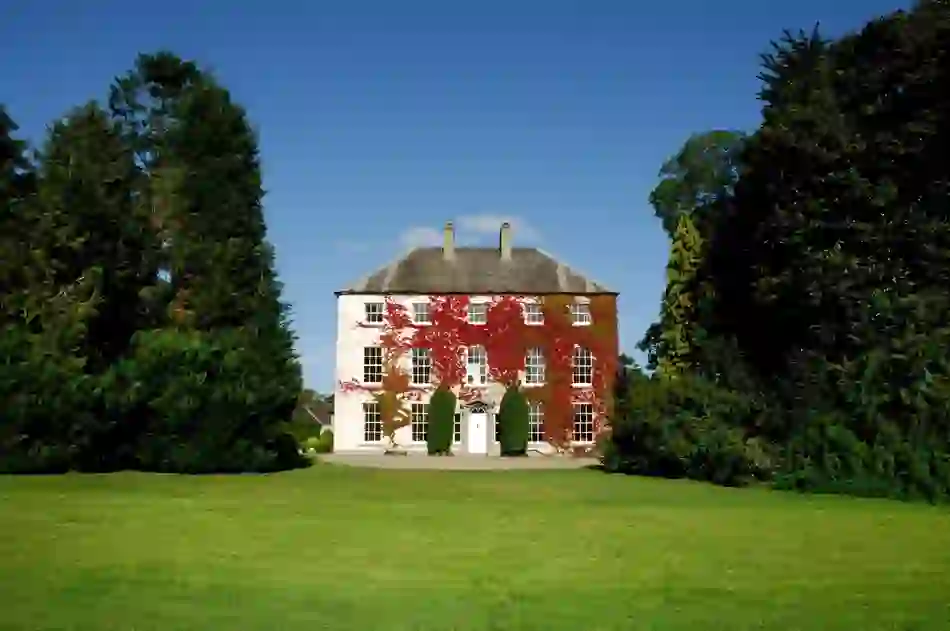 Luxury holiday rentals on the island of Ireland
Ever dreamt of spending time by the ocean or in the heart of the Irish countryside in a truly unique, exclusive setting? We have selected five of Ireland's most exceptional rental properties where you can unwind in peaceful bliss or reconnect in a romantic hideaway. With an entire heritage home at your disposal you can also just gather friends and family in any of these remarkable locations to host a special occasion – the choice is yours. From medieval castles with a team on hand to cater to your every wish to farm-to-fork experiences on Ireland's magnificent lakelands – these properties will guarantee a memorable stay and leave you dreaming about your next Ireland escape.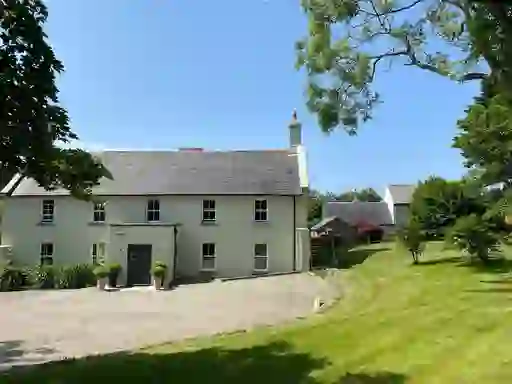 Dunowen House: a private ocean retreat on the Wild Atlantic Way
Perched on the southern rung of Ireland's Wild Atlantic Way is Dunowen House, a secluded 18th century farmhouse which can be rented exclusively for group gatherings or as a retreat from the demands of everyday life. The only other guest is the ocean breeze that carries the scent of pine across a meadow to this sturdy County Cork residence, which is a member of Ireland's Blue Book.
Dunowen's double-stoned walls have many tales to tell. Former owner Noel Redding, bass guitarist with the Jimi Hendrix Experience, brought a flavour of rock and roll from the 1970s. It's a chapter in the house's history that's curated by current owners Kela and Stephen Hodgins who have added discrete artwork inspired by the era, woven through the elegant furnishing of their sensitively restored property.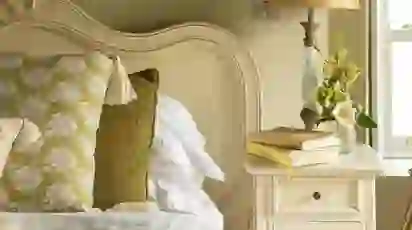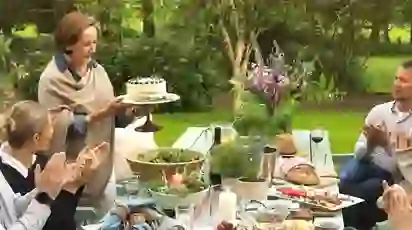 Dunowen House makes for an elegant retreat, filled with thick timber beams, open fires, ornate stone baths and solid sash windows which draw in the fresh sea air to its six spacious bedrooms and, as Kela explains, that's been the anchor of their property from the beginning.
"We love sharing with guests our local knowledge of the coastal gems, from secret beaches and swimming spots to the places where you'll spot whales, dolphins and basking sharks. We might share our favourite spots for crab sandwiches and pints too!"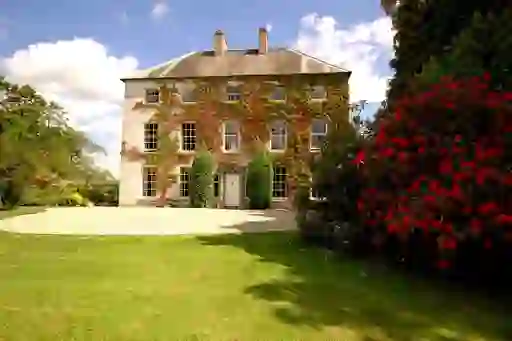 Newforge House: a country house stay in the lush Armagh landscape
For the ultimate indulgence for a special occasion, an exclusive rental of a heritage property like Newforge is the ticket to a truly memorable experience, Tucked into the rich County Armagh countryside this perfectly symmetrical Georgian farmhouse, a member of Ireland's Blue Book, is surrounded by fertile land and bountiful harvests.

Dating back to 1785, the property and its land have been nurtured and maintained by the Mathers family for six generations – so they know a thing or two about helping guests make the best use of time while in the area.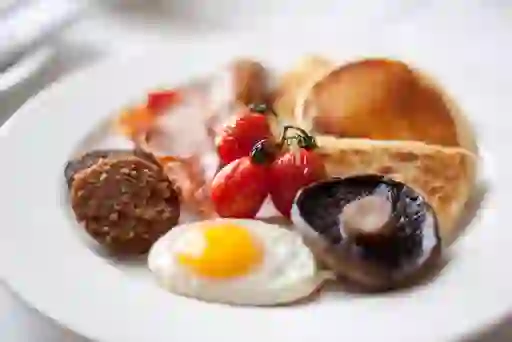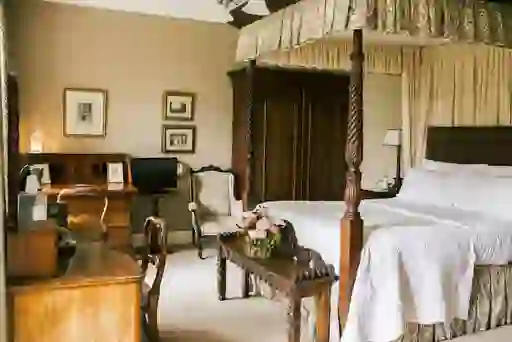 Six individually decorated rooms boast views of the orchard or the surrounding moors and meadows. They are furnished with a strong accent of heritage and quality, with muted shades and an elegant collection of antiques that have been passed down through the centuries.
For gourmands, the food at Newforge will be a highlight. It's locally sourced from the farm's own orchard and gardens and owner John Mathers drafts a fresh seasonal menu daily. For those who wake with an appetite, the breakfast is legendary.
John is proud of their efforts at providing a sustainable tourism model at Newforge. "We have our own vegetable garden, soft fruit garden, orchard and a polytunnel. We keep hens in the orchard, which give us a year-round supply of eggs for baking and breakfasts." He also knows the locality intimately and is happy to share that knowledge with guests.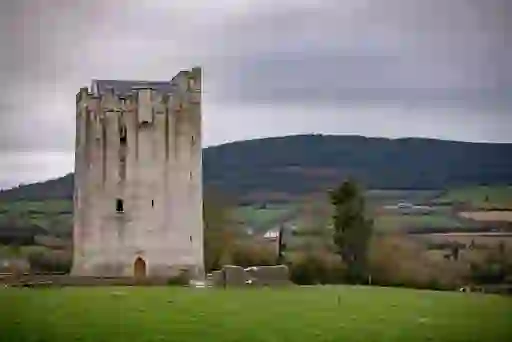 Tubbrid: a luxurious medieval castle in Ireland's Ancient East
Tubbrid Castle towers over the lush County Kilkenny landscape on the sleepy Slieveardagh Hills, in the heart of Ireland's Ancient East. In the past, it made a perfect hideaway for 15th century noblewoman Margaret Fitzgerald, who regularly slept in the tower's uppermost reaches to take refuge from marauding invaders. There are sixty-four limestone steps to the battlements, and if that isn't enough to take your breath away; the commanding view across hills and valleys to three surrounding counties will surely have you gasping.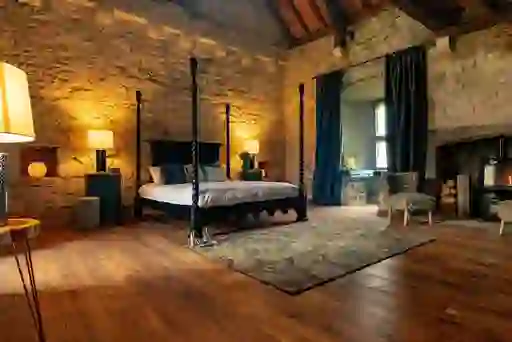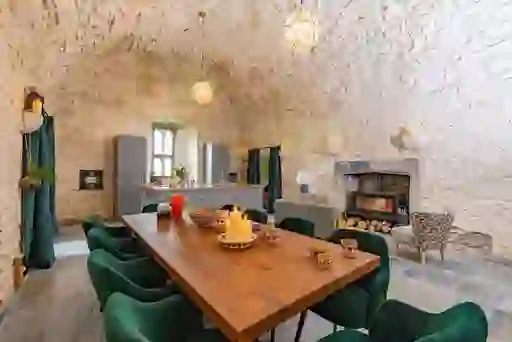 But Tubbird Castle has more to offer than panoramic views – as owner John Campion, who operates the property with his mother Helen, points out. "Visitors have exclusive use of the entire castle and stay in three bedrooms, each named for an important figure in the castle's history – which includes a King of Ulster and my father, John Campion Snr, who first envisioned the renovation project."
A fully-equipped kitchen allows guests to cook up a storm and they can then feast at the Great Hall's oak banquet table, sleep in a four-poster bed under a vaulted ceiling or relax in a deep bath looking out on the Slieveardagh Hills. If the day is chilly, guests can laze in front of a log-fired stove where the reinstated original fireplace dates from 1596, or sip a morning coffee ensconced in a window seat overlooking fields and woodland.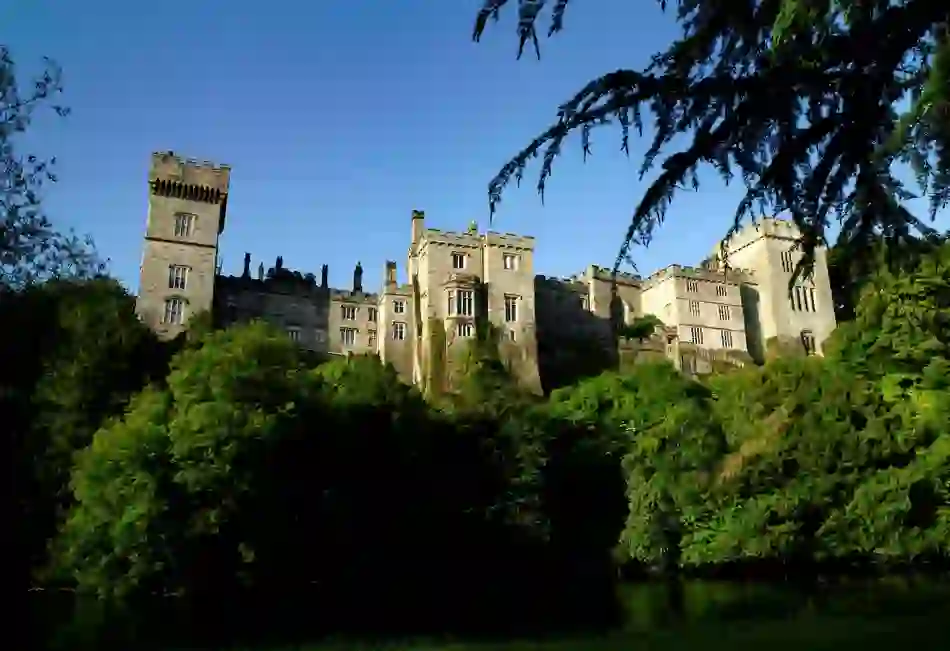 Lismore: a historic castle with a prestigious legacy in County Waterford
Forged by fire and brimstone, through almost a millennium of turbulent history, Lismore Castle's illustrious past is only overshadowed by its magnificent architecture. Its sturdy, thick stone walls, once scarred by Cromwellian warfare, shoulder a vast turreted roof that dominates the skyline from a craggy outcrop along County Waterford's Blackwater River. In the evening, when it's floodlit, the castle appears to almost float over its setting at the foot of the Knockmealdown Mountains, just on the fringes of pretty Lismore village.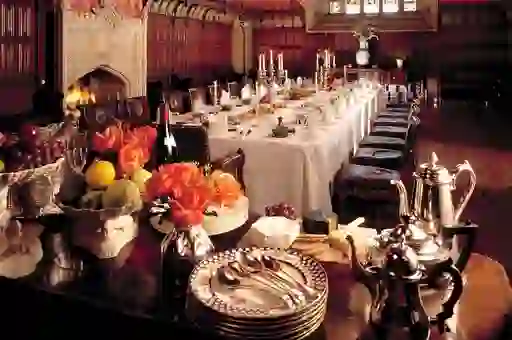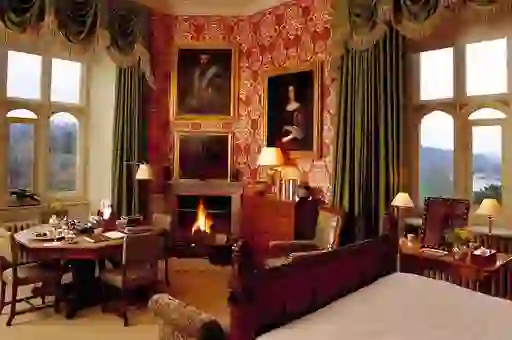 Inside the interior is full of Gothic splendour – wrapped around a courtyard – with fifteen bedrooms and fourteen bathrooms facilitating up to 30 guests. Today the castle is owned by the Duke of Devonshire, who lays on a full castle experience and his personal team are on hand, with decades of practice in the art of fine service. At the helm is Denis Nevin, the chief butler who makes sure that the experience and service filter throughout the castle – to its great hall, by fireplaces, when you take afternoon tea in the drawing room or read a book in the Duke's own study.
For the ultimate indulgence, organise a feast in Pugin Hall – it's the ultimate dramatic Victorian backdrop – with full formal service and Denis is there, to ensure everything runs smoothly. He's also the resident expert on both the castle's history and the local area; an informal concierge who can advise you on activities and arrange each day to your liking, as well as entertain you and your guests with tales of Lismore village's past.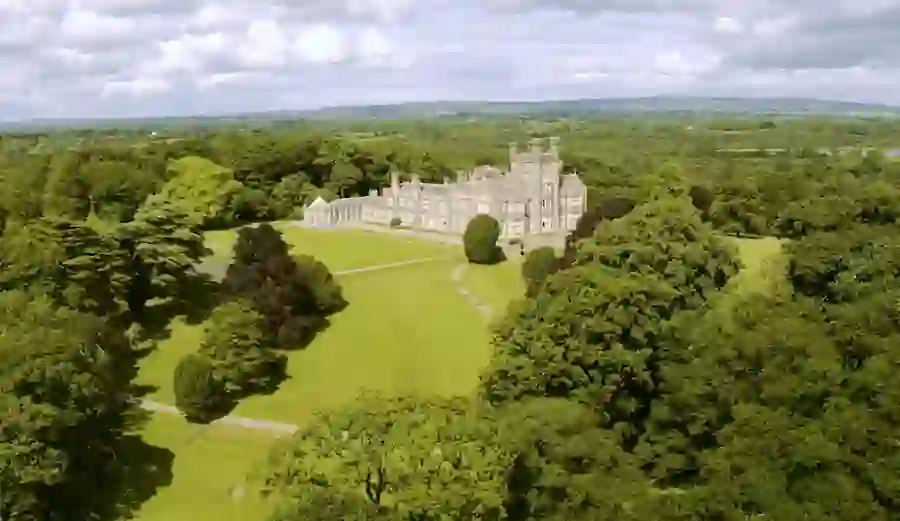 Crom Castle – a characterful castle on the shores of Lough Erne
Set deep in the heart of County Fermanagh's Lakelands, on the shores of Lough Erne, Crom Castle is an impressive baronial mansion that looks like it has plucked straight from a fairy tale. The West Wing can be rented exclusively and offers an impressive collection of bedrooms facilitating up to twelve people.
The owners, the Crichton family – Earls of Erne, have lived on the estate for several generations. In that time, they have formed the backbone of the local community. John and Harriet Crichton, the current Earl and Countess of Erne have a crew on hand to ensure that you will experience genuine Irish hospitality.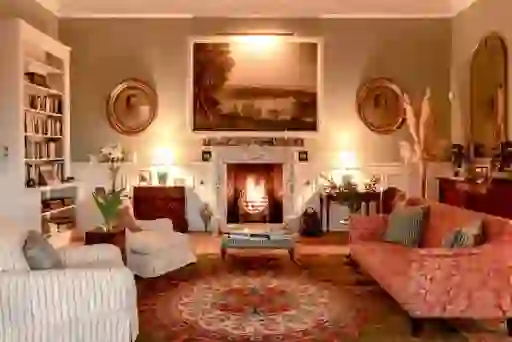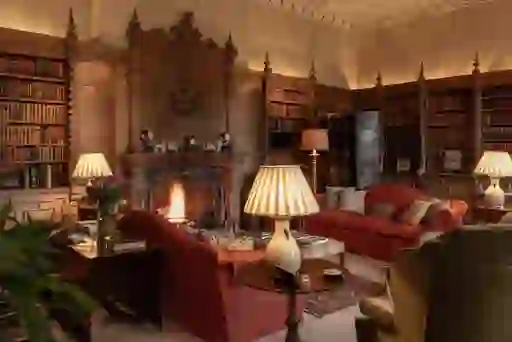 A talented team of chefs create edible masterpieces – from picnics to extravagant gala dinners. Ingredients for the full Irish breakfast served in the Castle's Victorian conservatory are sourced from local, artisan suppliers. In the evening – you might encounter Lord Erne who'll happily recite the castle's history for you or play a tune on the grand piano.
Beyond the castle, there are a staggering 1,900 acres on the estate to explore, and there's always someone on hand with a warm Fermanagh lilt to guide you through its highlights; such as the formal gardens or the exquisite Tudor boathouse on a jetty by the lake. The woodlands are filled with deer, pine marten, squirrels, rare species of butterfly and local landmarks – the oldest yew trees in Northern Ireland. Nearby, Enniskillen has a fine collection of atmospheric pubs, such as Blakes of the Hollow, where it appears that time has stood still for centuries.