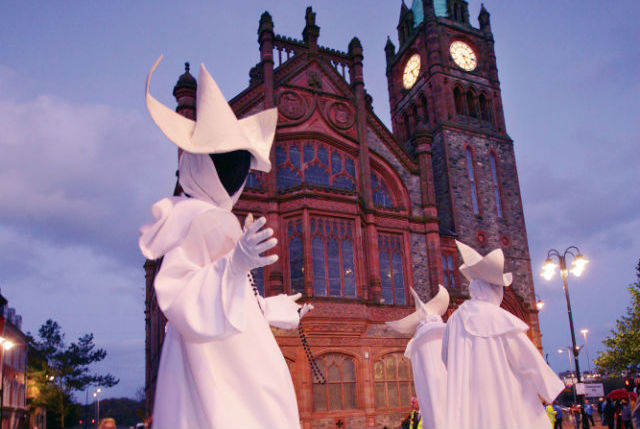 1 The Bram Stoker Festival, Dublin
Dracula, that beloved literary heavyweight, was written by none other than Dublin native Abraham "Bram" Stoker. Born in the Dublin suburb of Clontarf, his novel went on to influence the worlds of literature, film and TV around the world. Every year, his life is celebrated during the Bram Stoker Festival in Dublin, with parades, readings and, of course, haunting performance pieces...
2 DerryHalloween, Derry~Londonderry city
Having been voted the best place in the world to celebrate Halloween, Derry~Londonderry has a long legacy of spook-tacular celebrations. During the DerryHalloween festival, people prowl beneath the city's 400-year-old walls as ghouls, ghosts and witches. With parties, parades, live music and delicious food and drink, we think you'll be well able to handle the spine-tingling goings-on at one of the haunted tours. Boo!
3 Jailbird tales in Belfast, Wicklow and Cork
Some of the island's most brutal criminals never came to rest after leaving this mortal coil. Instead, their spirits roam through the walls of this island's historic jails. Crumlin Road Gaol in Belfast is one of the island's most haunted sites, and has never quite managed to shake the spirits who were shackled here. Wicklow's Historic Gaol unearths tales of the "forgotten Irish" – those banished from our shores to work in labour camps in Australia and the West Indies. And, while tranquil now, Spike Island off the coast of County Cork, was once a monastery, then a fortress and finally the largest convict depot in Ireland. Feeling brave? A tour will have the hairs on the back of your neck standing up...