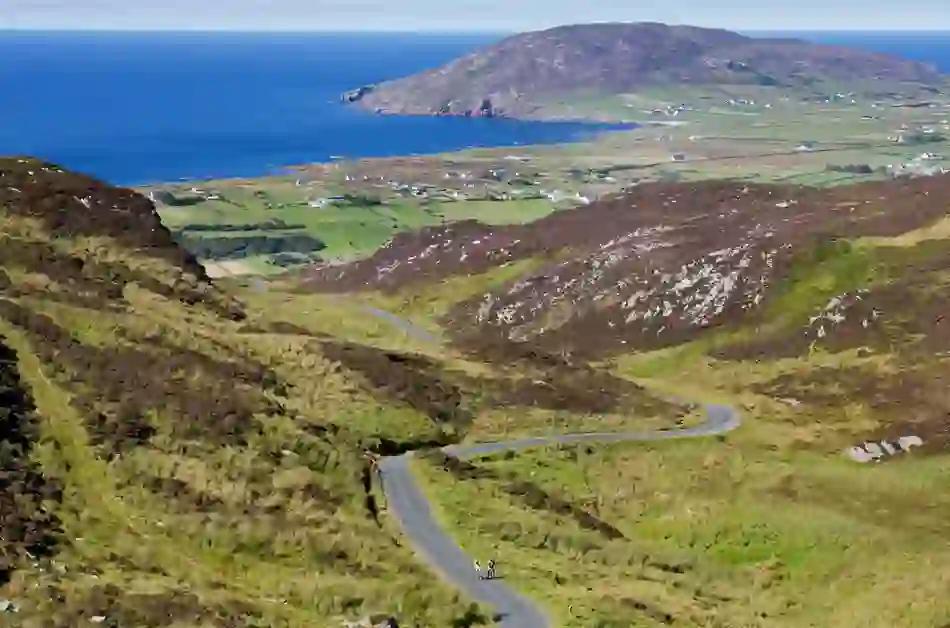 5 ways to tour the Wild Atlantic Way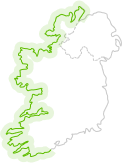 Wild Atlantic Way
At 2,500km, from the Inishowen Peninsula in County Donegal to Kinsale in County Cork, the Wild Atlantic Way is the longest defined coastal touring route in the world. It's broken into six zones, each with its own character, so whether you're interested in nature, surfing, diving, kayaking, arts and crafts, music or delicious food, there's a whole lot of ways to explore this magnificent coastline.

By car
Perhaps the most flexible way to travel is by car. Whether you bring your own or rent a car, you'll quickly be out onto quiet country roads (remember that Ireland drives on the left), discovering hidden gems. You'll pass through lots of little towns and villages, and meet the locals – be ready for a chat, wherever you stop!
You can take things at your own pace, admire the ever-changing skies, experience marvels such as the Northern Lights, visit an artist's studio, linger over lunch or stop for a stroll whenever the mood takes you.

By foot
For walkers, there's plenty to suit all levels of ability, and lots of different tours. Hardy hikers can choose long-distance routes, and clearly marked looped walks are perfect for day trips. The geology and terrain change fast here – a couple of hours' hike could include beaches, bogs, sea cliffs and crags.
You can organise your own trip, with self-guide maps and plenty of places to stay along the route, or go with a guide who will take care of transfers and accommodation, leaving you free to immerse yourself in the experience. Walking festivals are also a great way to explore, with strangers fast becoming friends as you traverse these lands.

By bike
Traffic is generally light along these roads, but there are also dedicated cycling trails, such as the Great Western Greenway – one of the longest off-road routes in Ireland – which skirts County Mayo's Clew Bay along the old Westport to Achill railway line. Bring your own bike or rent one when you arrive; go self-guided or join a group.
Perhaps you'd prefer just a day's outing. Pedal-assisted e-bikes are fantastic for this terrain, or try mountain biking on the Derroura Trail in Galway. Fat biking is another fun option – the wide tyres are perfect when pedalling over soft bog and sand. You could even join in the Wild Atlantic Way Cycle Sportif, and cycle alongside like-minded enthusiasts on this wonderfully varied route.

On the water
Whether you're a nature lover, a surfer, a sailor or a swimmer, it's all here. Surfers head to Bundoran in County Donegal and Mullaghmore Head in County Sligo, or have a lesson in the gentle waters of Spanish Point, off the County Clare coast. Hire a sailboat, go kitesurfing, take a ferry out to Galway's Aran Islands, or the Skellig Islands in County Kerry.
You could even try whale-watching and dolphin spotting off the Dingle Peninsula. Nighttime kayaking on Lough Hyne in County Cork, lit only by stars and bioluminescence, is also magical. Or simply find an empty white beach in Connemara and go for a dip.

By guided tour
Travelling under your own steam gives you flexibility, but it's nice to be in the hands of experts. You can depend on their local expertise (and good deals), and many offer something really special. Perhaps you're a Father Ted fan and want to see Craggy Island. How about a seven-day tour by motorcycle or classic car from Kinsale to Westport?The itinerary and accommodation are fixed up – all you have to do is travel in style, with nothing overlooked but the ocean.
Or go for broke with a tour that gives a taster of everything, including surf lessons, exploring castles, cycling on Galway's Inis Mór and traditional Irish music.