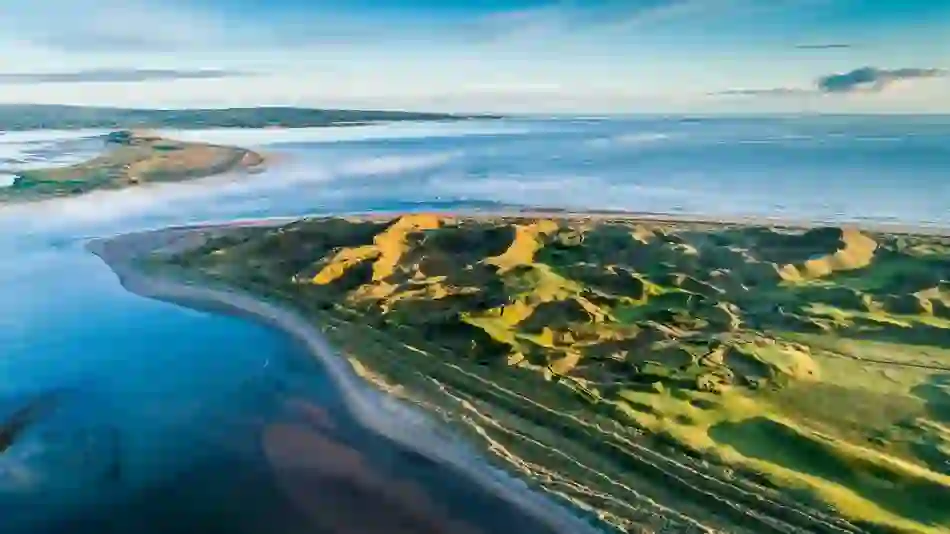 9 must-play courses in Ireland's northwest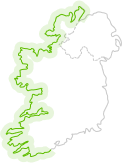 Wild Atlantic Way
When you think of the Wild Atlantic Way, you probably think of rolling green hills, untamed coastlines and cosy, welcoming villages, right? Well, if you're an avid golfer, venture to the realm of the north west, and uncover a golfer's dream…
Across Sligo, Donegal and Mayo, you'll find some of the best golf on the island of Ireland – with plenty of tee times, reasonable green fees, and visually stunning courses – this is the last great undiscovered golf haven, and it's waiting for you…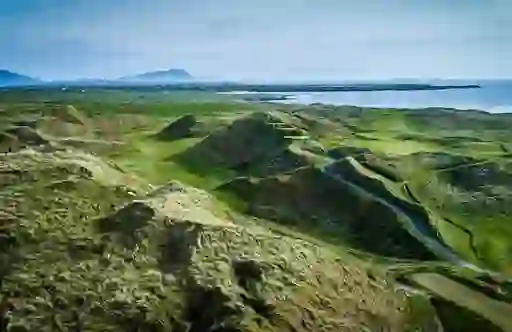 1. Carne Golf Links, County Mayo
While the joy of golf comes from the challenge, an added bonus is the landscape, and Carne doesn't disappoint. This course stretches across the wild, rugged landscape of Mayo's northwest. With epic sand dunes and glorious views of the Atlantic rolling beneath, you'll feel like a champion golfer no matter your scorecard.
Carne has two courses – the original Hackett 18, and the more recent Wild Atlantic Dunes, which perfectly showcase the dramatic views. If you fancy the ultimate challenge, stay overnight in nearby Belmullet and try both courses to truly test your mettle…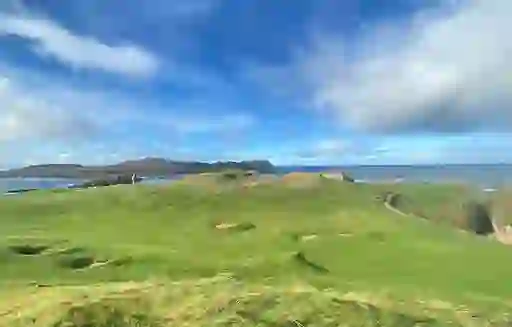 2. Cruit Island Golf Club, County Donegal
Are you an absolute beginner, or a seasoned pro? Regardless, the panoramic spread of Cruit Island (pro tip: it's pronounced "Critch") will give you a hearty challenge. This 9-hole links course is golf at its best – where every shot has to be planned to perfection. And, as expected, the setting is magnificent.
This isn't a pristine, manicured garden course – this is a raw and rugged experience, that many would consider golf at its purest form. With views of Arranmore, the Owey Islands and Errigal looming overhead, you'll feel like you're sinking that final putt in a time long past.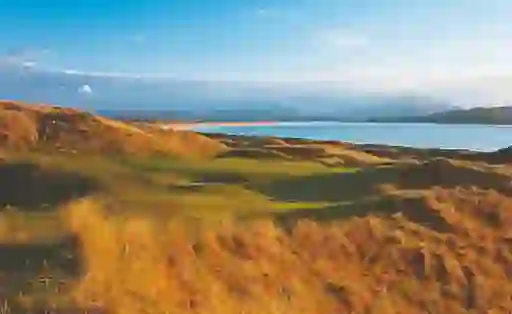 3. Rosapenna Hotel and Golf Resort, County Donegal
Perched on the stunning, picturesque Sheephaven Bay, Rosapenna is the perfect combination of history and innovation.It boasts three links, a classic in the Old Tom Morris Links; a modern great in the Sandy Hill Links; and the latest attraction, an acclaimed, Tom Doak designed marvel, the St Patrick's Links, which opened in 2021.
The Sandy Hills course is a firm favourite of golfers, with its lunar landscape of towering sandy dunes providing a hearty challenge. And the St Patrick's Links have taken the golf world by storm, exploding into Golf Magazine's top 100 as the highest new entry in 2021-22!
And if you're interested in trying everything else Rosapenna has to offer, take your ease in the palatial 4-star hotel for food and relaxation in between rounds. Why not stay for a few days and tackle all three links if you fancy the challenge?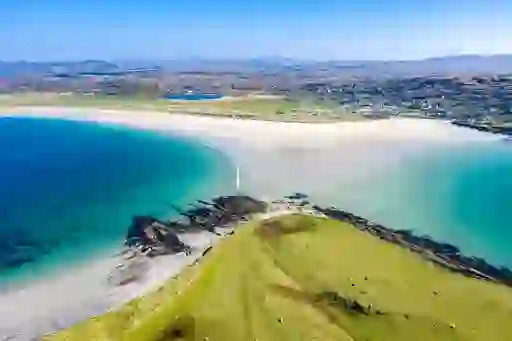 4. Narin and Portnoo Links, County Donegal
Sometimes, when you want a relaxing day of golf, simplicity is best. Take Narin and Portnoo – nestled in the south west corner of Donegal, this quirky and distinctive 18 hole course showcases both stunning vistas and glorious Atlantic Ocean. Picture it: teeing up that key shot, with no sound but the sea breeze whistling in your ears.
Founded in 1930, the course has changed many times over the years, but a recent course redesign by renowned golf architect Gil Hanse has brought the challenges and visuals to a whole new level – transforming the beautiful but little known links into something truly special.
Narin and Portnoo is the perfect marriage of natural beauty, quirky course design, and challenging layout that any golfer worth their salt will want to try…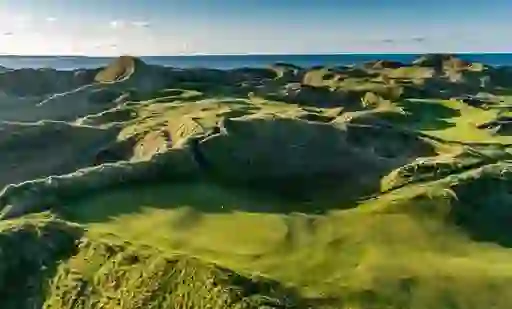 5. Enniscrone Golf Club, County Sligo
With a sprawling course that snakes across towering dunes and links, Enniscrone is one of the most challenging courses on the island of Ireland. It has 27 holes, so there are several playing options – but the must-try is the aptly titled "Dunes" course.
With the moody Ox Mountains and picturesque beaches as your backdrop, the 'Dunes' is a vista that will linger long in the memory. The open space structure of the course means there will likely be some challenging winds so do come prepared.
And if you need some relaxation after your efforts, head to Kilcullen's Seaweed Baths and rest your weary bones…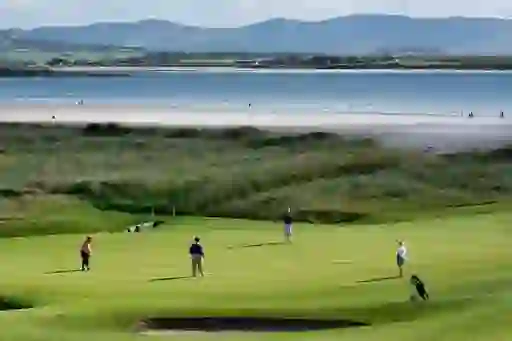 6. The County Sligo Golf Club at Rosses Point, County Sligo
It's only right that a course in Yeats Country would have views that stir the soul. With the sprawling expanse of Drumcliffe Bay surrounding the course, and the mighty Benbulben framing the background, the vistas at Rosses Point are second to none.
And the course is no slouch, either, offering a diverse mix of challenging bunkers, burns and dunes. The back nine, especially, takes place on the rolling headland and is an absolute joy to behold.
If you've had a great game, or a tough day on the links, make sure to head back to the club bar; or the Watchhouse Restaurant to unwind and reflect on the challenge of this fine course.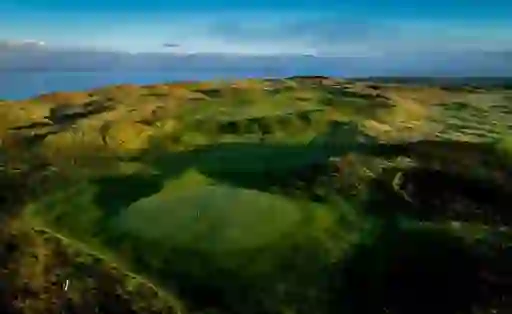 7. Donegal Golf Club, County Donegal
Donegal Golf Club is easily one of the most unique and enchanting courses on the island of Ireland. Laid out in 1973, this course is a challenging, championship level experience.
If you want to tackle this course, you better have a fearsome handicap. Each hole presents a unique challenge, with towering dunes, semi-blind tee shots, and a thrilling back nine, so you'll be sweating from more than just the Wild Atlantic sunshine!
Described by Ryder Cup hero Darren Clarke as "one of my favourite courses in the world", Donegal is considered one of the most lengthy and challenging golf experiences you'll find!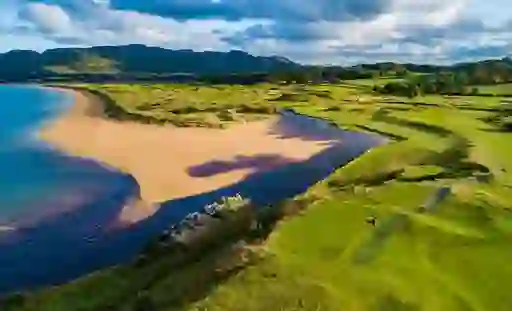 8. Portsalon Golf Club, County Donegal
Running along the sandy shores of Ballymastocker Bay, the 7000-plus yard expanse of Portsalon is a challenge for the most seasoned golfer.
The course itself is simple and unpretentious, with parts winding around the stunning seawater lake, Lough Swilly. It also hosts one of the most stunning holes on the island of Ireland – the 2nd hole takes place on an elevated tee box overlooking the beach, and is quite simply spectacular.
But don't let the views distract you – you'll need to break out your most imaginative shots to conquer this gorgeous course.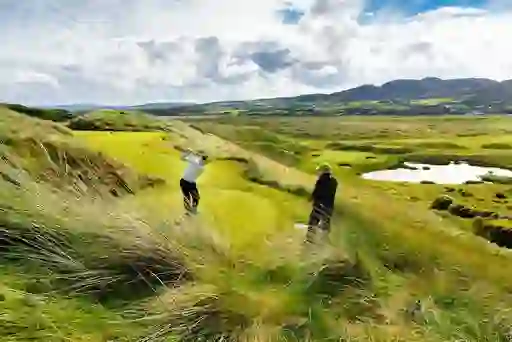 9. Ballyliffin Golf Club, County Donegal
And to finish, we have one of the most acclaimed courses on the island of Ireland. Ballyliffin is at the northernmost tip of the Wild Atlantic Way, and boasts two championship links that are a must for any discerning golfer.
Ballyliffin has hosted a range of tournaments – including the 2018 DDF Irish Open – and is another that presents a huge challenge to the discerning golfer. The Glashedy links have nine brutal par fours in excess of 400 yards. You'll have to bring your A-game if you want to play handicap here.
And Ryder Cup legend Paul McGinley agrees, saying: "it deserves to take its place in the very upper echelon of great courses in Ireland." And he'd know something about elite golf courses.
The best of the north west
Plot your journey through some of Ireland's finest courses...