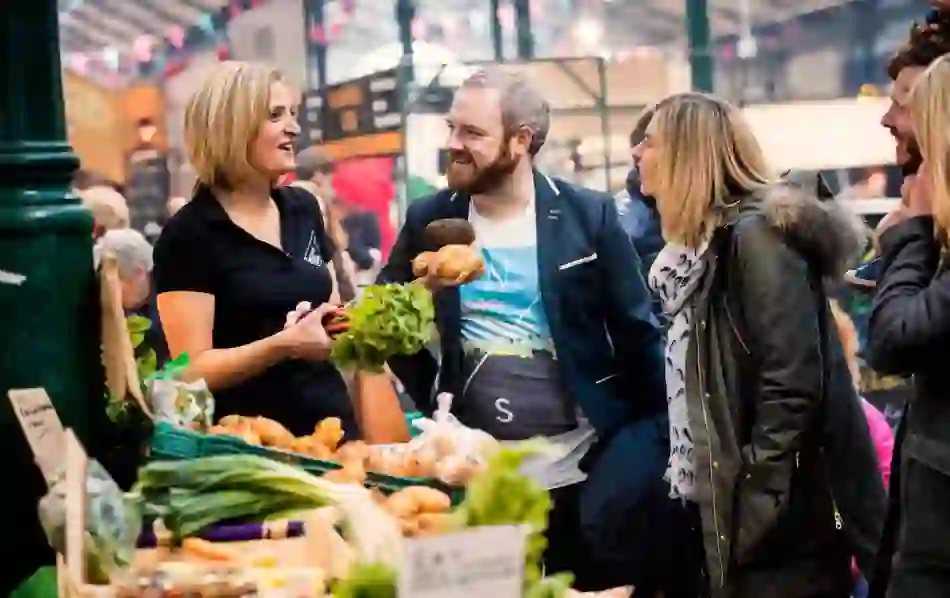 5 reasons Belfast tastes amazing County Antrim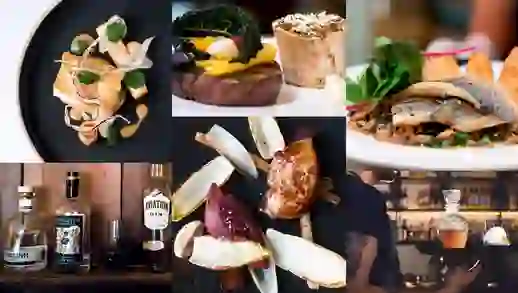 Belfast's food scene is buzzing. Whether it's delis and markets laden with super-fresh local produce, sleek city centre restaurants, or old-school favourites like fish and chips and the Ulster Fry, the capital of Northern Ireland is fast becoming a true food hero.

1. It's got the Ulster Fry
This is not just breakfast. This is one of the most delicious, most tasty, most satisfying breakfasts you're ever going to eat. A morning delight that will set you up for the whole day: we're talking eggs, potato farl, sausages, bacon, black pudding, baked beans and hash browns.
"An Ulster Fry is not just a special treat, but also a delightful demonstration of the finery of Northern Ireland's artisan produce."

THETASTE.IE
Of course, the proof is in the eating: and you're spoiled for choice on this one. Try a really great Ulster Fry at Maggie May's, Harlem and 26 West. Sorted.

2. It's got Titanic eating experiences
Belfast's most famous visitor attraction is the state of the art Titanic Belfast visitor experience and if you want to take things further after visiting, you can enjoy some unique Titanic dining experiences.
Start the day with breakfast right in the heart of the Titanic Quarter. Paper Cup is a cute little coffee shop that serves up tasty breakfasts and lunches while offering unrivalled views of the stunning Titanic Belfast building.
Lunch on Titanic-inspired heritage dishes in The Pantry in Titanic Belfast. Or head next door to the Titanic Hotel – once the drawing offices of Titanic's builders Harland & Wolff – where afternoon tea is served in the Harland Bar. Finish up with a tour and whiskey tasting at Titanic Distillers, located in the historic Titanic Pumphouse.

3. It's got an incredible food market
A good market reflects a city's attitude to its food and St George's Market is one of the best around. Step inside on a Saturday and you'll be bowled over with the incredible array of local produce. The sights, sounds, smells and tastes of this place puts it up there with the best on the planet – it's like an endless gastronomic adventure.
Join the award-winning Belfast Food Tour that kicks off from the market doors and set off across the city to meet the innovative producers behind the market's delicious creations. Whether you have a bit of a sweet tooth, or love savoury flavours, this tour has something for everyone.
"St George's Market is an absolutely brilliant destination for anyone visiting Belfast. Full of great food, local products and people to watch. I can't recommend it enough!"

Rae L, Tripadvisor
Start off with a glorious bap from the Belfast Bap Company, traditional fresh breads filled with bacon, sausage, egg and soda farls and check out the great local produce at Hillstown Farm Shop and Mullan's Organic Farm stalls. It's a place you could spend all day in.

4. It's got amazing natural produce on its doorstep
We firmly believe that one reason food in Belfast tastes SO great is the incredible natural produce available. And it's not just us. According to National Geographic Travel, "Belfast's easy access to top-notch food products keeps the local culinary scene buzzing."
Belfast's easy access to top-notch food products keeps the local culinary scene buzzing.

National Geographic Travel
Look out for amazing Glenarm Shorthorn beef, Broighter Gold Rapeseed Oil, Baronscourt Sika deer venison, Ballylisk Cheese, as well as local whiskeys, gins and craft beers at restaurants such as Ox, James St and The Merchant.

5. It's got the best fish and chips in the world
Okay, lots of places can claim to have the best fish and chips, but Belfast really does. Trust us. Incredible fresh local fish from the waters around Northern Ireland is turned into the stuff of magic at old-school chippies such as John Long's, a favourite of visiting celebs and local characters alike. It's been here for over a hundred years, so it's got to be doing something right.
"Long's chippie is what Belfast is all about"

Belfast Telegraph