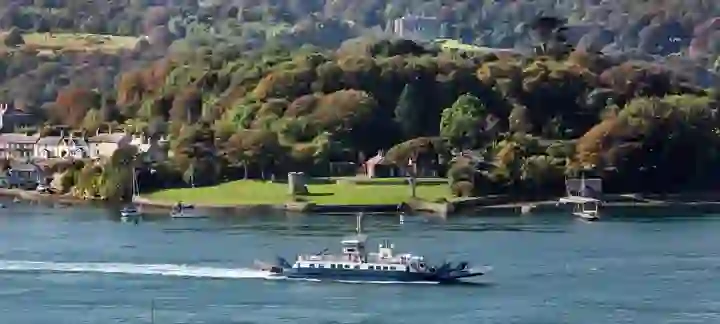 Charming towns and villages of Northern Ireland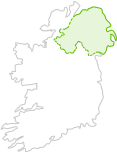 Northern Ireland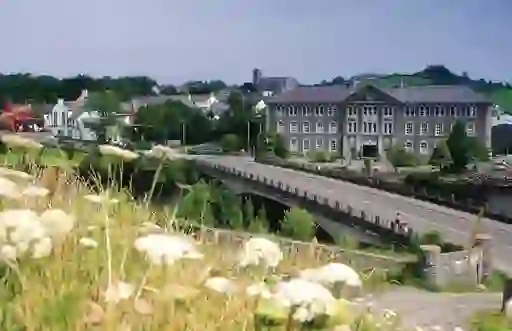 Belleek, County Fermanagh
Straddling the border of counties Fermanagh and Donegal, Belleek is a bustling market town on the banks of glittering Lough Erne. Seek out the world-famous Belleek Pottery, where exquisite Parian china artworks have been crafted using local traditional methods since 1857. Embrace your own crafty side on a fully-guided immersive tour, and get your hands dirty making and painting a piece of Belleek ware. Best of all, your piece will be fired and shipped to your home address, so you'll have a little piece of Belleek to cherish forever. After the tour, stroll through forest tracks to the rugged ruins of Castle Caldwell, then fill up on some tasty local fare in the town's oldest building, the Thatch Coffee Shop.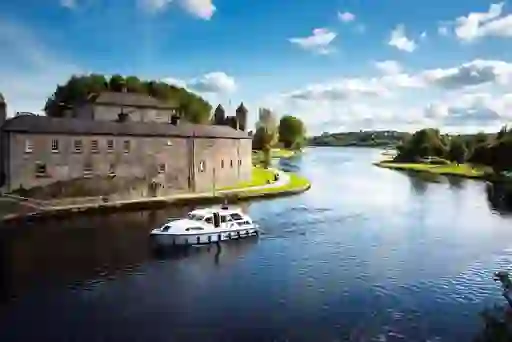 Enniskillen, County Fermanagh

Located along the waterways that link Upper and Lower Lough Erne, the bustling town of Enniskillen is a perfect base to explore County Fermanagh's famous lakelands. Wander the meandering streets and pop into Enniskillen Castle, built by the ruling Maguire clan over 600 years ago and now home to two museums: the Fermanagh County Museum and the Inniskillings Museum. Take a boat trip on Lough Erne and enjoy some top-notch angling or just sit back and soak up the views from the MV Kestrel Waterbus as it journeys to the 6th-century monastic site of Devenish Island. Pop into The Boatyard Distillery for a tour and to see how the team produces its fine spirits, while discovering the secret behind its famous 'Érainn' copper still. And there's fresh seafood on offer at family-run Saddlers Bistro & Wine Bar, while at Blakes of the Hollow you'll find a cosy craft beer haven in which to get comfortable with friendly locals and great live music.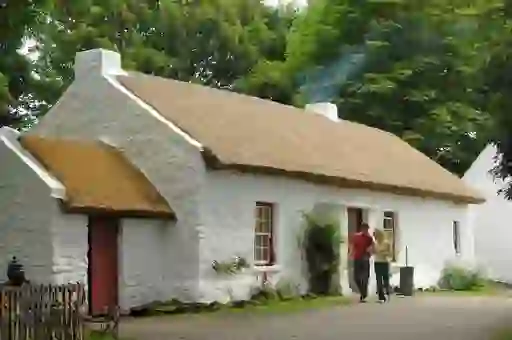 Omagh, County Tyrone
Nestled in the heart of Tyrone lies the market town of Omagh. It's so easy to relax in this charming place known for its independent shops and characterful cafés, but there's also a wild expanse of natural beauty on its doorstep. Your reward for tackling the short off-road walk to Gortin Lakes is superb views of the dreamy, heather-clad landscape of the Sperrin Mountains. Renting a bike with MountainBikeNI.com is also a great way to see the spectacular valleys, forests and lakes of the area. And just outside Omagh, the Ulster American Folk Park is the perfect place to learn about the human drama and bravery of Irish emigration.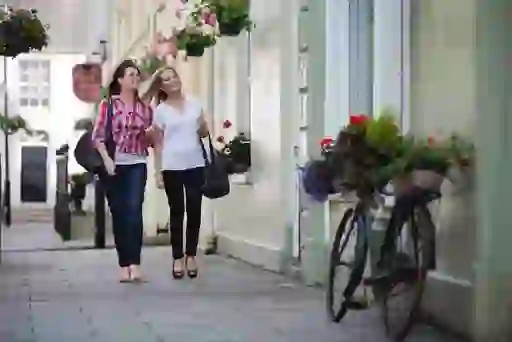 Moy, County Tyrone

Stay at the beautifully furnished 150-year-old stone buildings at Spice Cottages from where you can explore the small town of Moy and its surroundings. Visit a walker's paradise at Benburb Valley Park, or wander through a handsome Irish gentry house and wooded riverside estate at The Argory, before navigating its atmospheric avenue of fragrant lime trees and wildflowers. Moy is also a secret foodie haven, and is home to excellent farm-to-table restaurants: visit Chapter V Restaurant, where innovative cooking is served against a stylish backdrop in Moy's main square; or admire stained glass windows, a comfy courtyard and a labyrinth of cosy rooms at family-run pub, Tomney's.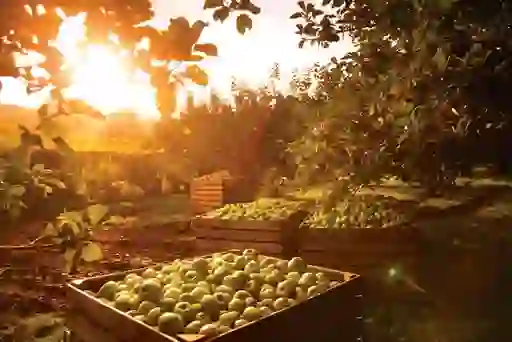 Loughgall, County Armagh
Pint-sized perfection, Loughgall is the archetypal charming village of Northern Ireland. It's at the heart of Armagh's apple-growing tradition, which stretches back centuries, and the undulating hills that surround it are home to a multitude of orchards. Take a tour with the Armagh Cider Company and learn about the cider-making process from blossom to bottle. Or stick around town and enjoy its gems: pass the gates leading to the imposing 17th century Loughgall Manor; marvel at relics and old farming artefacts at Dan Winter's House; or picnic amongst the conifer forests and meadows of the magnificent Loughgall Country Park.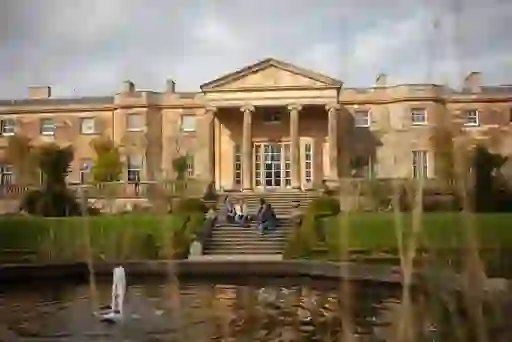 Hillsborough, County Down
The town of Hillsborough is dominated by the imposing Hillsborough Castle. A beacon of Georgian architecture, this royal residence is where Queen Elizabeth II and other members of the royal family stay while visiting Northern Ireland. There's so much to do here: listen to real household staff tell their personal stories of important events which took place within the historic house on a guided tour, or amble the grand 18th century Walled Garden and admire exotic plants in The Lost Garden. The town is also the perfect place to indulge in some outstanding food. Established in 1758, the family-run Plough Inn combines the warm glow of good food with a homely atmosphere, while the Parson's Nose is a Georgian pub renowned for its excellent seafood.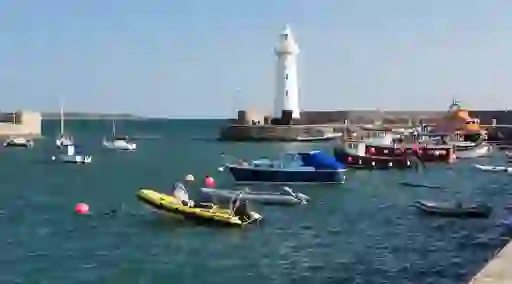 Donaghadee, County Down

The photogenic little town of Donaghadee has such a cracking personality you won't want to leave. The Donaghadee Town Trail provides an opportunity to learn more about the buildings, monuments and streetscapes that have given the town its historical character. Or take a stroll along The Commons, a public park along a rocky coastline that stretches to the golden sands and seawater lagoon at nearby Millisle. Fancy a spot of island hopping? The Copeland Islands are superb for a day of fishing and birdwatching. Foodies will also get a real kick out of the fabulous food scene here: sublime seafood awaits at Little Big Fish and The Captain's Table, while Grace Neill's is one of Ireland's oldest pubs, as well as the cosiest drinking den in town.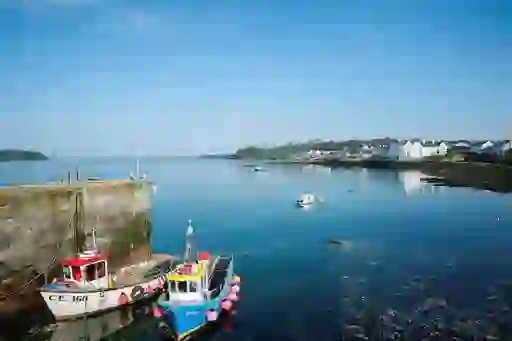 Greyabbey, County Down

Located on the Ards Peninsula – an Area of Outstanding Natural Beauty that encloses Strangford Lough – the village of Greyabbey is a joy to behold. A highlight is Grey Abbey House, considered to be one of the finest Georgian country houses on the island of Ireland, and boasting sublime gardens with a plethora of unusual flora and fauna. Its grounds merge into a landscaped park, which sweeps down to the ruins of a 12th century Cistercian abbey, from which the town gets its name. Greyabbey is known for its high-quality antique shops and galleries: pop into the Old Courthouse for period antiques, vintage furniture and local linens. And just outside the town don't miss the floral paradise of Mount Stewart House and Gardens.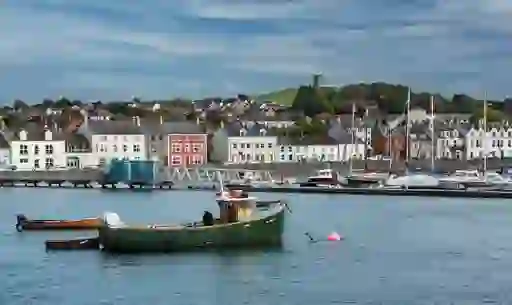 Strangford and Portaferry, County Down

Strangford is a pretty village at the mouth of Strangford Lough in County Down, where a quaint harbour is overlooked by rows of 19th century cottages and a Georgian terrace. Grab one of the daily ferries to Portaferry on the other side of the lough where an abundance of wildlife will take your breath away. Once here, you're spoilt for choice: at Nugent's Wood you'll find one of the last refuges for the native red squirrel, while the Exploris Aquarium is the place to find cute seal pups and a world-class reptile exhibition. And just a short walk from the town centre, don't miss the 16th century tower house of Portaferry Castle.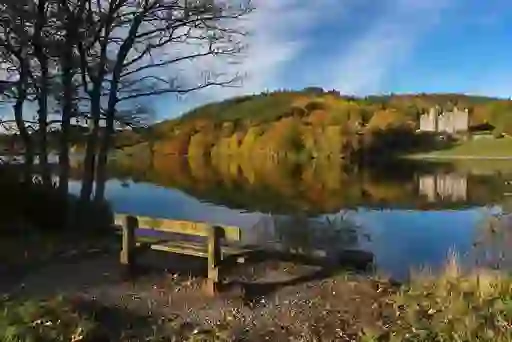 Castlewellan, County Down

Surrounded by magnificent sights, Castlewellan is a lively spot with plenty of character. The incredible Castlewellan Forest Park is home to one of Northern Ireland's most famous lakes, as well as a stunning Victorian castle with panoramic views of the Mourne Mountains. Find your way through Castlewellan's Peace Maze and ring the bell at its centre; try dipping your toes in the sea at the nearby Blue Flag beach of Cranfield; or why not wrap yourself in the wilderness at Tollymore Forest Park, the filming location for the Haunted Forest from hit TV series Game of Thrones®? Then be sure to have your camera at the ready when visiting the mysterious megalithic Legananny Dolmen on the slopes of Slieve Croob.