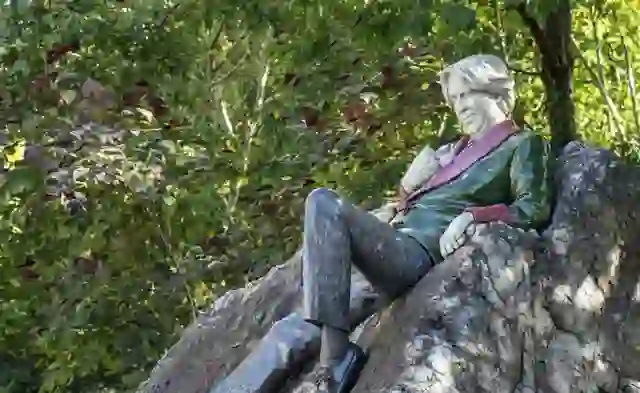 Dublin's talking statues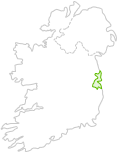 Dublin
Ever wondered what it would feel like to delve into the mind of Oscar Wilde or James Joyce? Or to hear some of Ireland's greatest historical figures describe their famous deeds? Or to get a phone call from a mythical hero? Thanks to the witty, innovative Dublin's Talking Statues project, ten of Dublin's most famous statues are finally having their say.
When passing a talking statue, simply swipe your smartphone across the nearby blue plaque. Then just wait for the call back and marvel at the magic of modern technology as you listen to these snappy monologues – written and performed by much-loved Irish writers and actors including John Banville, Ruth Negga and Roddy Doyle. You'll find yourself looking at these iconic sculptures in a whole new light...

1. Wolfe Tone
St Stephen's Green
Three-time Golden Globe nominee Brendan Gleeson narrates this prose penned by The Butcher Boy author Patrick McCabe about Theobald Wolfe Tone, a leader of the United Irishmen and commonly regarded as the father of modern Irish republicanism. Born in Dublin in 1763, the son of a Church of Ireland coach-maker, Wolfe Tone flirted with the notion of a career in acting when he was a young man. But it is for his views on revolutionary democracy that he is remembered and his efforts to end British rule and create an independent Irish republic are still celebrated.

2. James Joyce
Earl Street North
The literary genius most famous for the divisive and influential novel Ulysses has been brought to life by two of Dublin's favourite sons: Booker Prize winner Roddy Doyle (The Commitments) and esteemed actor Gabriel Byrne, best-known for roles in thriller The Usual Suspects and Coen brothers' classic Miller's Crossing. James Joyce's 'stream of consciousness' writing style – evident in works such as the short story collection Dubliners(1914) and novels A Portrait of the Artist as a Young Man(1916) and Finnegans Wake (1939) – gave the author notoriety throughout the world of literature that lasts to this day.

3. Daniel O'Connell monument – Fidelity
O'Connell Street
Daniel O'Connell was known as 'the Liberator' for his role in successfully campaigning for the right of Irish Catholics to become Members of Parliament in the early 19th century. At the base of this monument are four winged victories, each representing a virtue attributed to O'Connell: courage, fidelity, patriotism, and eloquence. In this Talking Statue, Dublin poet Paula Meehan envisions Fidelity as a compassionate soul in a fable narrated by Academy Award nominee Ruth Negga.

4. James Connolly
Beresford Place
Comedian Brendan O'Carroll – the creator of TV's exuberant character Mrs Brown – both wrote and narrates the story of political leader James Connolly, a key figure in the 1916 Easter Rising and one of the seven signatories of the Irish Proclamation. In the wake of the 1916 Easter Rising, Connolly was executed by firing squad in Kilmainham Gaol. However, his influence can be seen to this day: one of the main railway stations and a hospital in Dublin are named in his honour.

5. James Larkin
O'Connell Street
Trade union leader 'Big Jim' Larkin is famous for fighting for the rights of unskilled Irish workers throughout the early 20th century. A socialist activist, Larkin believed in the unionisation of workers. He founded the Irish Transport and General Workers Union and also helped establish the Irish Labour Party. Academy Award nominee Stephen Rea narrates Irish playwright Enda Walsh's analysis of this great character.

6. Meeting Place
Liffey Street Lower
Legendary actress Brenda Fricker – the first Irish actress to win an Academy Award (for My Left Foot) – gives voice to a statue that reflects everyday city life and celebrates the commonplace: two women putting the world to rights. Affectionately known as 'the Hags with the Bags' by Dubliners, these formidable ladies have been brought to life by respected scriptwriter Rachel Kilfeather.

7. George Salmon
Trinity College Dublin, College Green
The story of mathematician and theologian George Salmon has been written and narrated by Irish radio and TV host Joe Duffy. Salmon's statue is located at Trinity College Dublin, an institution he first entered in 1833 as a 14-year old student, before eventually climbing the ranks to becoming its Provost (director) in 1888. Just like the Book of Kells, this imposing sculpture has become part of the fabric of Trinity College, gazed upon by countless students, tourists and many Dubliners who use the college as a shortcut from Dame Street to Nassau Street.

8. Oscar Wilde
Merrion Square North
Playwright, novelist and poet Oscar Wilde is undoubtedly one of Dublin's most colourful literary figures. Born in 1854, he spent his formative years in a house directly opposite his statue in Merrion Square – one of Dublin's five historic Georgian squares. The statue itself is a multi-coloured beacon of bravado and a testament to the wit, cynicism and decadence of the author whose works include The Importance of Being Earnest and The Picture of Dorian Gray. Booker Prize winner John Banville (who sometimes goes under the pseudonym Benjamin Black) has penned a homage to Wilde, narrated by BAFTA and Olivier-award winning actor Andrew Scott.

9. George Bernard Shaw
National Gallery of Ireland, Merrion Square West
Irish playwright, critic and political activist George Bernard Shaw's influence on theatre, culture and politics continues to this day and, for many, his genius has been regarded as akin to that of William Shakespeare. Shaw, who held both Irish and British citizenship, wrote more than 60 plays throughout his life and was awarded the Nobel Prize in Literature in 1925. Later, in 1938, he provided the screenplay for a filmed version of his classic play Pygmalion, for which he received an Academy Award. Respected Irish actor Stephen Brennan narrates a script penned by Father Ted co-writer Arthur Mathews.

10. Cú Chulainn
General Post Office, O'Connell Street
The tale of Cú Chulainn is embedded into the consciousness of Ireland – a story full of courage and loyalty taught to children from a young age. Born Sétanta, the Irish mythological hero is an ancient Gaelic warrior gifted with superhuman strength, speed and skill. Indeed, Cú Chulainn's popularity amongst children and adults alike is due, in part, to his trustworthy weaponry of a hurley and sliotar – items synonymous with the Irish sport of hurling. Children's book author Eoin Colfer's treatment of the life of this legendary Irish warrior has been voiced by Dublin actor Peter Coonan.