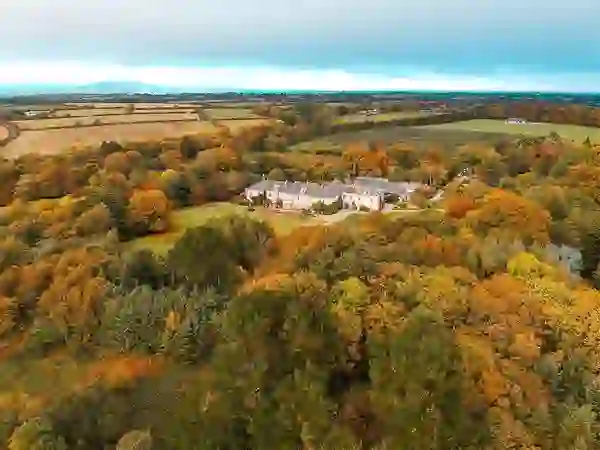 Blending Flavours: Irish & Canadian Delights
In the world of culinary fusion, the blending of two diverse cultures creates a unique and exciting experience. Chef Kevin Dundon has combined the flavours and traditions of Ireland and Canada, resulting in two exceptional recipes: Maple Bread and Butter Pudding, an Irish dish with a Canadian twist, and Dubliner Cheddar Poutine, a Canadian dish with an Irish twist. Join us on this gastronomic journey and try your hand at these delightful creations that celebrate the heritage of each culture and showcase the incredible potential when culinary traditions intertwine.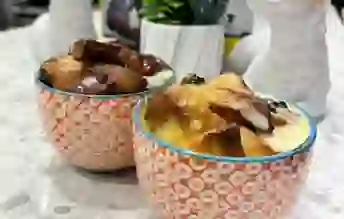 Maple Bread and Butter Pudding
Kevin Dundon brings his expertise and innovative touch to the traditional bread and butter pudding. This beloved Irish dessert holds deep roots in Irish culinary traditions, evoking nostalgia, and comfort. With Kevin's unique twist, incorporating the richness of Irish whiskey and the sweetness of Canadian maple syrup, the Maple Bread and Butter Pudding becomes a delightful cross-cultural dessert.
Ingredients
15-18 slices of day-old bread (slice pan or brioche)
50g butter at room temperature (plus extra to grease the baking dish)
50g maple syrup, plus extra to serve
4 eggs
300ml full cream
250ml milk
1 tsp ground cinnamon
2 shots Irish whiskey
50g raisins
Whipped cream and custard (to serve)
Method
Preheat your oven to 180°C (350°F).
Spread butter on one side of each slice of bread and cut them into triangles.
In a large bowl, whisk together the eggs, full cream, milk, maple syrup, ground cinnamon, and Irish whiskey.
Grease a baking dish with butter.
Arrange the bread triangles in the greased baking dish, overlapping them slightly.
Sprinkle the raisins over the top of the bread.
Pour the pudding mixture evenly over the bread in the baking dish, ensuring all the bread is soaked.
Let the mixture sit for about 10 minutes, allowing the cream mixture to be absorbed.
Bake in the preheated oven for approximately 35-40 minutes or until the pudding is coloured and no longer runny.
Remove from the oven and let it cool for a few minutes.
Serve the Maple Bread and Butter Pudding warm, drizzled with additional maple syrup, and accompanied by whipped cream and custard.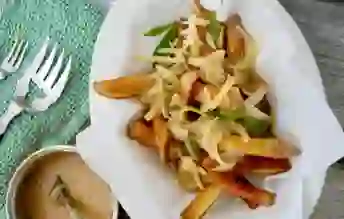 Dubliner Cheddar Poutine
Poutine, considered Canada's national dish, receives an irresistible Irish twist in Chef Kevin Dundon's rendition. Poutine's origins trace back to 1950s Quebec, while Grosse Isle, an immigration depot during the Great Famine, symbolizes the enduring link between Quebec and Irish heritage as the Irish Memorial National Historic Site. Drawing inspiration from this shared history, Chef Kevin Dundon incorporates Irish influences into his Dubliner Cheddar Poutine. With over 4.5 million Canadians claiming Irish ancestry, the use of Irish cheddar pays homage to the vibrant Irish community that has enriched Canada's cultural fabric. Irish cheese, known for its exceptional quality and distinct flavours, elevates the traditional poutine experience, creating a harmonious fusion of Canadian comfort food and Irish culinary traditions.
Ingredients
40g butter
1 onion very finely chopped.
2 cloves garlic very finely chopped.
40g flour, or corn flour
500ml beef stock,
250ml chicken stock
2 tsp Worcestershire sauce
1 tsp cider vinegar
1 tsp mixed dried herbs
1 tsp smoked paprika
6 potatoes, peeled.
200g grated mature Irish cheddar cheese
2 tbsp fresh herbs, optional
Salt and pepper
Method
First, prepare the French fries. Slice them and place them in cold water for at least one hour or overnight. The longer the crispier the fries will be.
In the meantime, in a saucepan, melt the butter and add the onions and garlic. Sautee for 2-3 minutes until translucent and starting to colour.
Sprinkle over the flour. Stir and cook over medium heat for 60 seconds to create a light roux.
Pour in the beef and chicken stock, Worcestershire sauce, vinegar, mixed dried herbs, paprika. Stir well and bring to simmer for 2-3 minutes or until the sauce is coating the back of the spoon. Check the seasoning and keep warm aside.
Once ready, preheat a deep fat fryer (or an air fryer) to 180˚C/ 350˚F. remove the potato from the water and dry them as much as possible on a clean towel or kitchen paper.
Deep-fry the potatoes until crispy and soft in the centre. Remove from the oil and drain on a kitchen paper for a few minutes adding some salt and pepper.
Warm the gravy and sprinkle some cheddar in the sauce to create a lightly cheesy sauce, Place the fries on a serving dish, add the grated cheddar and drizzle over the gravy sauce.
Sprinkle with fresh herbs and enjoy while piping hot.
Get cooking!
Enjoy these recipes by Kevin Dundon at home today! Be sure to find Kevin busy at work in the Dunbrody House in County Wexford on your next trip to the Emerald Isle!