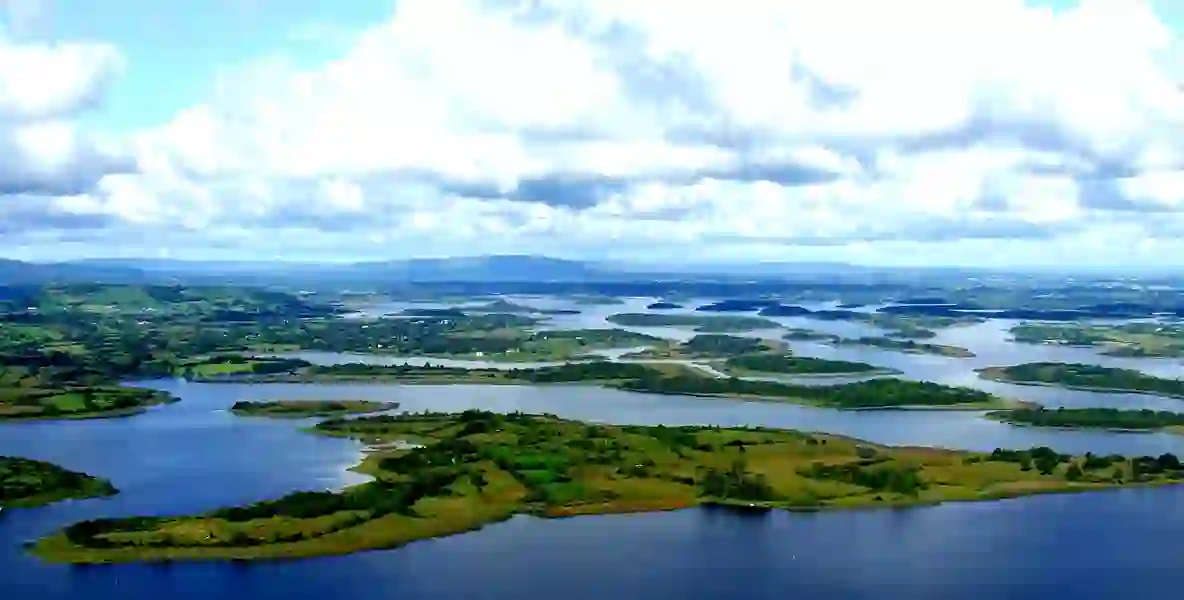 Make a splash at Lough Erne
1hr 45mins from City of Derry Airport
Lough Erne is the glistening centrepiece of the Fermanagh Lakelands – a water wonderland in the heart of Northern Ireland. It's actually two connected lakes, the Lower Lough and Upper Lough, which are joined in the middle by the River Erne. If you're after some water-based holiday fun, it's hard to think of a better location on the island of Ireland!
The lakes have featured heavily in Irish mythology and folklore down through the centuries. The warrior queen Méabh, various high kings, and even giants are said to have visited these parts, adding a mystical beauty to the area.
Add ancient island settlements, action-packed watersports, 5-star resorts, and the buzzing town of Enniskillen into the mix, and you've got a water paradise to explore. It's time to make a splash...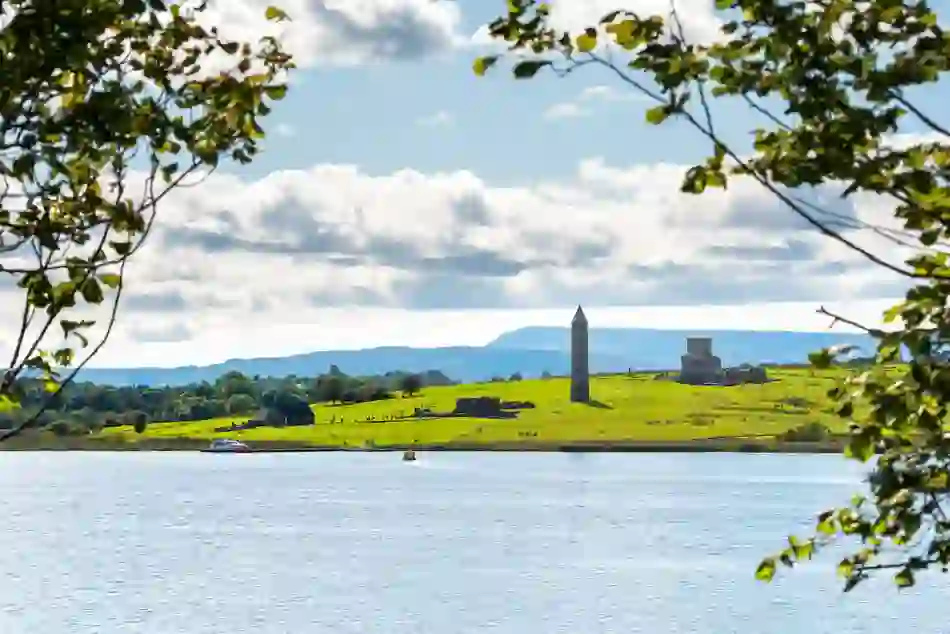 Islands of Lough Erne
Everyone from ancient Celts to marauding Vikings has left their mark on these islands.
Make your mark
Fun on and off the water
Erne Water Taxi provides a wide range of excellent activities. Foodies should check out its Lakelander Food Experience. Whereas sustainable travel enthusiasts can hop aboard the Island Discovery, an all-new and all-electric passenger boat that's the most eco-friendly way to cruise along and sightsee on the water.
Back on dry land, the nearby Cuilcagh Boardwalk Trail is a must for walkers and hikers. Nicknamed "the Stairway to Heaven", the steep climb up the boardwalk stairs to the viewing platform is more than worth it – the view out over the County Fermanagh countryside is simply stunning.
If scary heights aren't your thing, why not go underground? The Marble Arch Caves are also close by, a subterranean world of stalagmites, stalactites and dark recesses that formed over 340 million years ago!
Explore Enniskillen
A beautiful waterside setting makes this island town the perfect base to explore the charms of County Fermanagh.
Take me there!
Lake-sized action!
There's a reason the water-lovers head for Fermanagh. With an abundance of lakes, rivers, and waterways, it's a glorious place to try out watersports, enjoy a cruising holiday or just sit by the lakeside and listen to the waves lap at the shore. Bliss!
Check out Castle Archdale Boat Hire & Watersports, and take to the water with a rented canoe, kayak, hydrobike or even an electric-powered water scooter! Talk about an adrenaline junkie's dream.
For more of a slow-travel experience, try Erne Boat Hire, a family-run business that rents out small pleasure crafts. They're a great way to see the wildlife and natural beauty of Lough Erne while going at your own pace.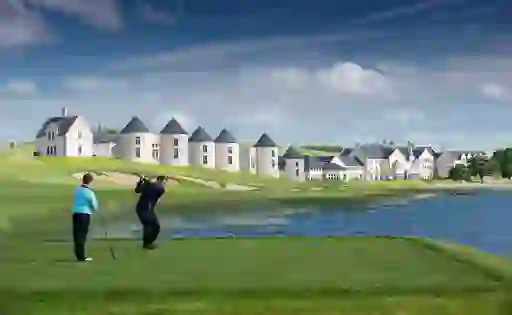 Lakeside places to eat and stay
The showstopping place to stay here is undoubtedly Lough Erne Resort, a state-of-the-art 5-star hotel set on a 600-acre peninsula by the shores of Lough Erne. With two championship golf courses, a Thai-inspired spa, and several restaurants and bars serving up high-quality local food and drink, it's a heavenly spot where you can retreat, relax, and unwind in luxury.
If a self-catering holiday home or some outdoor glamping fun is more your style, visit Rossharbour Resort, which is beautifully situated on Lower Lough Erne. The award-winning site comes complete with a fine bistro and Buddy's Bar – the perfect setting to drink in a stunning lakeside sunset (and a tipple or two, of course).
For a memorable feed, go to The Firehouse Bar & Grill in Enniskillen, a casual dining joint with stone-baked pizzas, juicy steaks, and killer cocktails on the menu.
As for pubs for a drink, Charlie's Bar is a buzzing live music venue known for its legendary pints of Guinness. And The TapHouse has a tasty-looking range of local craft beers and ciders. We'll drink to that!
Want to see more?
Here are some great reads to get you started
Lough Erne highlights
Don't miss these things to see and do