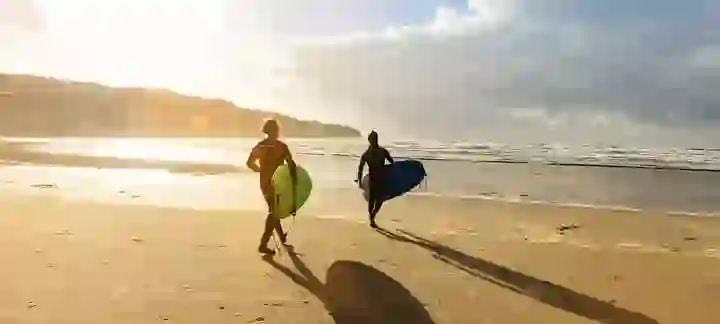 Surfing in Ireland County Donegal
It's June and on shore in Bundoran, the sky hangs bruised to purple as if swelling up with the makings of a good night's rain. Into that sky flies a spinning BMX, attached to it someone else who knows a thing or two about bruises. Around the stage, hands are in the air, paper cups are held aloft and surfboards stick out of the sand like an informal sculpture.
This is Donegal; this is the Sea Sessions music festival – one of the coolest and quirkiest festivals on the calendar. Surfing in Bundoran, and in Ireland, is hot!

Where surfing gets real
Heat is not something usually associated with the slice of Atlantic Ocean that makes up Ireland's Wild Atlantic Way. But that's what makes Bundoran so appealing: this place is for real surfers. Here, breaks, peaks and waves take priority over the perfect tan.
If you come here in February, you're going to get pelted by hailstorms, and the only chick you're going to see is a seagull

Richie Fitzgerald, Isa Team Coach
Having surfed and lived here for almost all his life, local man and Irish Surfing Association Team Coach, Richie Fitzgerald, knows this shoreline, and its benefits as a surf destination, better than most. As he told the New York Times, posturing is not part of the pleasure: "We don't have that surf-bum, hang-around culture."

The big breaks
The most popular surf spot in Bundoran – and one of the most favoured in Ireland – is known as The Peak. This is the wave that defines the surf here, the one break that makes surfers load kit and caboodle on planes, boats and buses to get to Bundoran and take on Mother Nature. A reef break, this is one for more experienced surfers – so if you count yourself in that category, you're in for a treat.
It was just like a little party out on the water

Kelly Slater, World Champion Surfer, Waveriders
For the rest of us mere mortals, the Bundoran Surf Co offers lessons in waist-high water – and you can stay in this surf shop slash B&B, too, as it comes complete with access to an all-night communal chill-out room. There are also much-loved beach breaks and surf experts at Rossnowlagh, Mullaghmore, Tullan Strand and Streedagh. And if you don't fancy experiencing those surfing thrills for yourself, you can always just stay on shore and watch! Everyone's welcome around here.

Sea Sessions
But back to Bundoran and the famous Sea Sessions music festival. From humble beginnings, the festival has grown to become one of the highlights of summer, attracting high profile international acts, as well as the best of Irish. It has cemented Bundoran's reputation as the Irish surf capital. As well as the musical side of things, it hosts Ireland's biggest surfing event, skating, BMX, beach sports, yoga, colour runs, and big, big party on the beach.
Other great surf spots
Just because Bundoran is the surf capital, doesn't mean the rest of this lovely coastline is lacking in surf. We're an island, after all. Portrush, Newcastle, Ballybunion, Achill Island, Inishowen and, of course, Lahinch are just some of the places you can experience this cold paradise… The Irish Surfing Association lists all of its members, while Outdoor NI makes sure surf schools in Northern Ireland can cater for your every need.