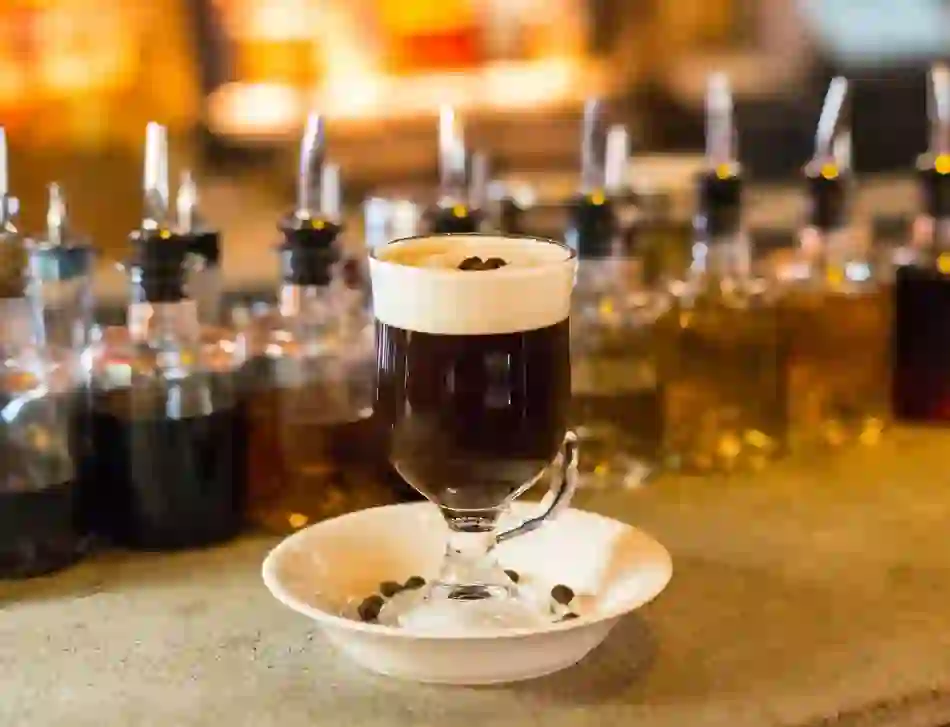 Everyone loves an Irish coffee, but it has to be perfect – especially when friends and family are gathered around you! Here we have a step-by-step video on how to make it just right. The recipe used is straight from Foynes, where this deliciously warming drink was invented!
This decadent drink was invented in County Limerick in 1942 by Chef Joe Sheridan at Foynes Port, where planes on route from Europe to America would stop to refuel.
Whipped up one cold winter's night as a warming treat for passengers who were delayed due to bad weather, the late night tipple went on to become a classic. According to legend, a hush came over the crowd as the group took the first taste. "Is this Brazilian coffee?", someone asked. "No," replied Joe, "that's Irish coffee."
The original Irish coffee recipe
Preheat your Irish coffee glass by filling it with boiling water for 5 seconds, then pour the water out.
Add 1 teaspoon of brown sugar and a good measure of Irish whiskey into the warmed glass.
Fill the glass to within 1 cm of the brim with hot, strong black coffee. Stir well to dissolve all the brown sugar.
Carefully pour lightly whipped cream over the back of a spoon so that it floats on top of the coffee.
Do not stir after adding the cream; the best flavour comes from drinking the coffee and Irish whiskey through the cream.
Where to get the best Irish coffee
There are few better things on a cold winter evening than warming yourself by an open fire with a creamy Irish coffee, and Ireland's pubs are happy to oblige. In Dublin, head to The Brazen Head, one of Ireland's oldest pubs, for the ultimate traditional Irish experience.
Garavan's, in the heart of Galway city, was named 2017 Whiskey Bar of Year and is renowned for their Irish Coffee. In Belfast's sophisticated Harlem, an Irish coffee is the perfect end to a delicious bistro lunch. Finally, you must try an Irish coffee in the place where it all began - Foynes in County Limerick. Try the original recipe and learn the history of Ireland's famous drink.