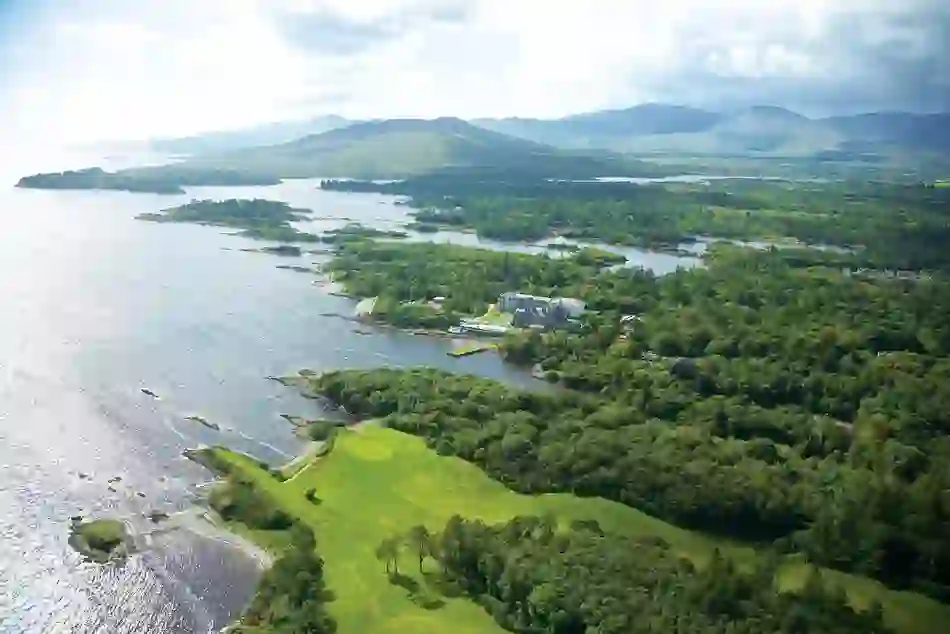 10 of the wildest places to stay on the Wild Atlantic Way

1. Mount Vernon, County Clare
The Burren is the very essence of wild beauty on the west coast of Ireland. Exotic coastal florals in exquisite colours dot a cool grey limestone landscape that has a stark yet intoxicating allure. Set along the coastline – the Flaggy Shore – you'll find Mount Vernon, a lovely 18th century B&B and perfect base for enjoying the very best County Clare has to offer. Antiques, cosy sofas, open fires, paintings and a library that opens onto a sheltered terrace and walled garden make this place a cut above the rest.

2. Clare Island Lighthouse, County Mayo
Clare Island occupies a dramatic spot at the entrance to the island-studded Clew Bay in County Mayo. This place delivers the wow factor in abundance with soaring cliffs, woodland, undulating green hills and the Clare Island Lighthouse boutique accommodation. Here, guests laze around in the well-stocked library, feast on six-course menus and roam an island filled with great walking routes and a friendly pub. Check in… and tune out.

3. Chléire Haven, Cape Clear, County Cork
If you like the idea of waking up to yachts bobbing in a secluded bay hugged by green hills, make your way to Chléire Haven. Step outside your tent (or yurt) and you're in the middle of some of the most glorious scenery West Cork has to offer. With an Irish-speaking local population of just 100 and few cars, the island easily captivates with champagne-clear light and a landscape that boasts awesome Atlantic views at almost every turn.

4. Delphi Lodge, County Mayo
You don't just stay in Delphi – you experience it. This 1830s country house and fishing lodge sit snugly beneath the extraordinary soaring mountains that surround it – a haven of warmth on elemental Galway days. Log fires, cosy libraries, old-world glamour and lively communal dinners make the indoors a treat. Meanwhile, outside, soak up the beauty of Killary Fjord, stroll the buttery sands of the remote Silver Strand beach, and drive through the breathtaking Doolough Valley.

5. Inis Meáin Suites, County Galway
Hours can easily pass surveying the etched limestone landscape of Inis Meáin, criss-crossed with dry-stone walls and patchworks of grass. Sympathetic to its surrounding landscape, there's nowhere better to stay than the Inis Meáin Suites: a dose of modern luxury and unique escapism, with an exceptional restaurant and rooms boasting panoramic views out to Galway Bay. Inis Meáin is the smallest of the Aran Islands and the suites facilitate great ways to explore it with bicycles, backpacks and hotpot lunches.

6. Loop Head Lightkeeper's House, County Clare
Birds swoop overhead, wild flowers ripple in the breeze, waves crash against the rocks below: this is Loop Head Peninsula, where Atlantic views roll out before you and drama is everyday. Perched at the very tip of the Loop Head Peninsula, the lightkeeper's house delivers self-catering accommodation Wild Atlantic Way-style, and is surrounded by seas rich in marine life.

7. Parknasilla, County Kerry
Set in 500 acres of wild, verdant County Kerry countryside, right on the water's edge, Parknasilla Resort is a unique hideaway where you can unplug and switch off. With great dining, gorgeous walking trails, golf, a swimming pool and a mix of self-catering accommodation and luxurious rooms, this is a place that you won't want to leave. When you do venture beyond the dreamy grounds, you're in the heart of County Kerry with stunning Derrynane Beach and pretty Sneem village nearby.

8. Bantry House, County Cork
Stand atop the parterre in Bantry House and you'll be treated to a magnificent panorama that reaches into the wild, wonderful, green-blue mists of Bantry Bay. This luxurious house offers each guest a chance to stay the night and feel like lord of lady of your very own manor. The six rooms here overlook the 19th century Italianate garden, and once the main rooms close to visitors, overnight guests are given a special treat: access to the fire-lit library and billiards room.

9. Donegal Thatched Cottages, County Donegal
Named as the coolest place on the planet by National Geographic Traveller, Donegal has wild places to stay in abundance! But one of the most special has to be Donegal Thatched Cottages on Cruit Island. Linked to the mainland by bridge, the island is a deserted natural masterpiece with pale grasses, velvety beaches, craggy rocks and an edge-of-the-world feel. Make a cottage your hub and enjoy awe-inspiring sunsets, rushing waves and a night sky that will take your breath away.

10. Coopershill, County Sligo
Look out a bedroom window at Coopershill and a blissful verdant wonderland greets you. Set in an idyllic corner of Sligo, inland from the coast on an estate boasting 500 acres of mature woodland, deer pastures and a river, this gorgeous country house has been the beloved family home of the O'Haras for eight generations. Explore the stunning Sligo countryside by day, before settling down inside to enjoy delicious local food and vegetables straight from the garden. Bliss.