Discover the Boyne Valley
If you're looking to explore Ireland's rich history, you've come to the right place. The Boyne Valley, a lush green paradise in Ireland's Ancient East,was once the territory of Ireland's high kings and boasts a history that dates back over 5,000 years. Just look around you and you'll see the legacy of every big player from Ireland's past, including ancient pagans, high kings, early Christian monks,Vikings, Normans and Anglo-Irish aristocrats.
But there's more to this place than historic monuments and ancient intrigue. For lovers of good food, it's a place that's hard to beat, with great local produce, excellent ingredients and a buzzing restaurant scene. And the beautiful natural surroundings play host to a range of activities, from kayaking on the mythical River Boyne to forest bathing in ancient woodlands – making it a perfect place to slow down, take stock and enjoy the moment.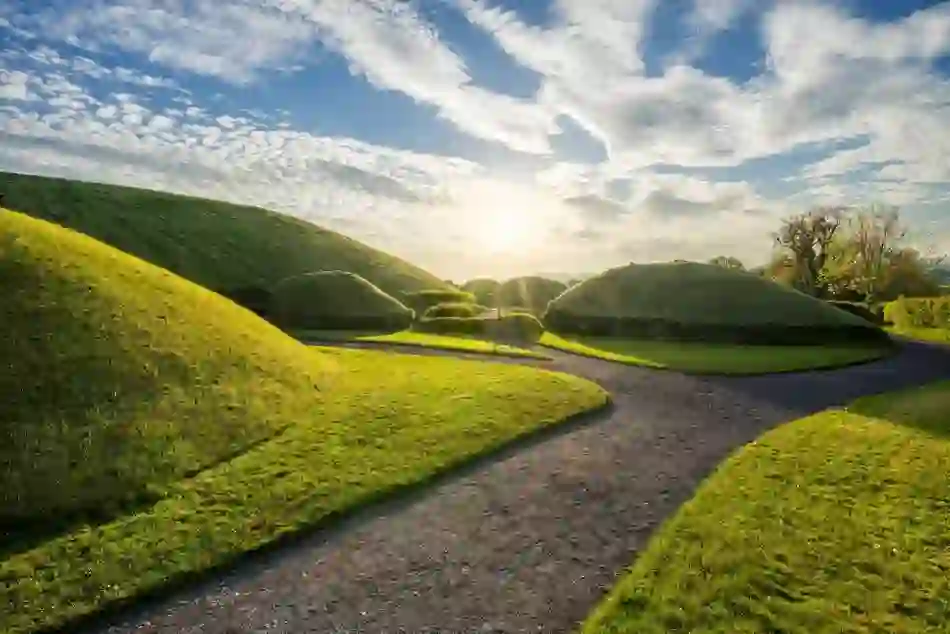 Ancient mysteries at Brú na Bóinne
Before the pyramids were built or Stonehenge stood tall, this place was home to a sophisticated wealthy society.
Go back in time
History is alive in the Boyne Valley
The big hitter here is Brú na Bóinne – one of the most important prehistoric landscapes in the world and a UNESCO World Heritage Site. It's home to Europe's largest collection of megalithic art, dotted across over 90 Neolithic monuments. But it is best known for the iconic passage tomb of Newgrange, which dates back to around 3200BC. Newgrange is the site of a breathtaking alignment every winter solstice when a beam of light from the rising sun snakes down a 19-metre passage into the cruciform-shaped chamber at its heart.
Moving through the centuries brings you to other historic gems including the Hill of Tara, once the seats of Ireland's high kings, and the Hill of Ward, where the ancient festival of Samhain was celebrated – a feast we now know as Halloween. Lovers of castles will find much to enjoy at Trim Castle, the largest Anglo-Norman castle on the island of Ireland, and Slane Castle, which found international fame as a venue for rock concerts by artists including The Rolling Stones, Bruce Springsteen and Madonna.
There are impressive monastic ruins at 12th century Mellifont Abbey, some well-preserved Celtic high crosses at 5th century Monasterboice, and the equally well-preserved head of martyred 17th century saint, Oliver Plunkett – a religious relic on display in St Peter's Church in Drogheda. No wonder Sir William Wilde, noted historian and father of Oscar, wrote that "the history of Ireland can be traced in the monuments along the Boyne Valley".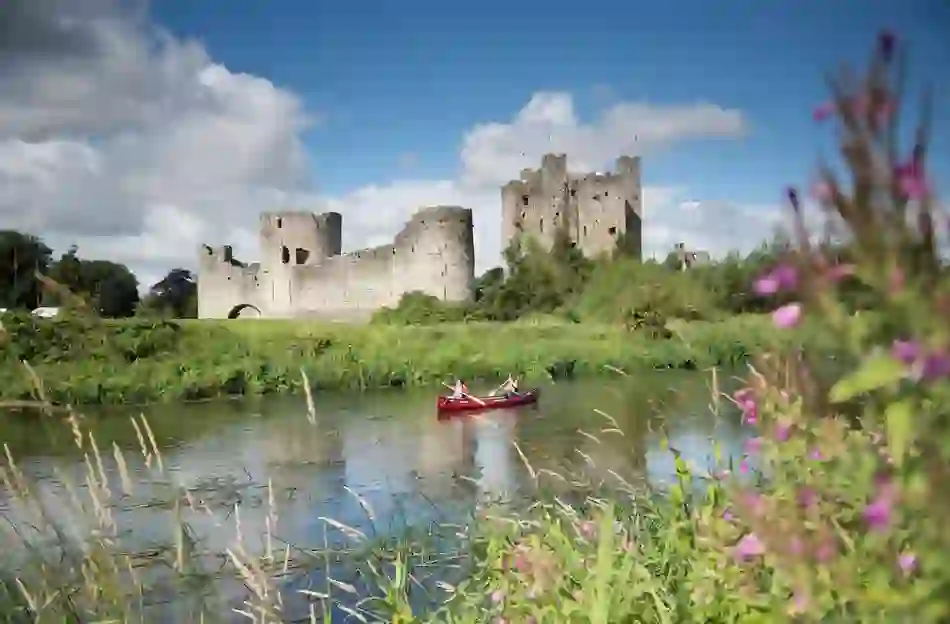 Trip idea: a voyage into history
Pass through the centuries of Ireland's past on this journey that takes you around counties Meath and Westmeath.
Ready to go?
Getting active in the Boyne Valley
Bring yourself back into the present by engaging in some of the many activities on offer around the Boyne Valley. The Royal Canal Greenway, which follows the path of the canal from Dublin to the River Shannon, passes through the south of the region and is a favourite with walkers and cyclists.
The Boyne Blueway centres around the town of Trim and kayakers are often to be seen paddling past the dramatic walls of Trim Castle. Alternatively, you can set off in a handcrafted, traditional "currach" with Boyne Boats, for a guided trip down the Boyne.
And that's not all. You can indulge in the practice of forest bathing, the traditional Japanese mindfulness practice of shinrin-yoku with Calm Paths. A taste of rural life is on offer at Causey Farm, where you can learn the basics of hurling (a traditional Gaelic game), bake brown bread and try céilí dancing. Or how about immersing yourself in the region's green spaces on the Boyne Valley Garden Trail. And, if you're here in September, head to the coast for the Laytown Races – a unique horseracing spectacle that's been running for over 150 years.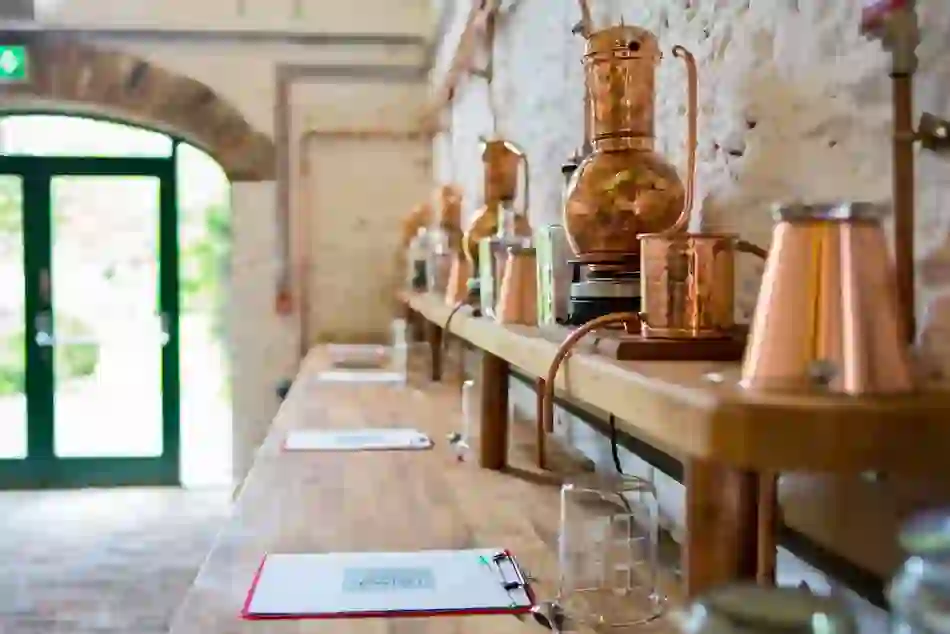 A flavour of the Boyne Valley
You might come to the Boyne Valley for the history but once you get here it will become obvious that this is a place that appreciates food. There is a deep connection with the land, and a respect for food traditions that can be seen in the region's thriving food scene. For a relatively small place, the Boyne Valley is overflowing with farmers, fishing communities, artisan food and drink producers, gastro pubs and restaurants, all flying the flag for local produce.
Some local favourites to try are Carlingford oysters, flavoured by a unique mix of local minerals; sustainably farmed venison from Killua Castle Farm; Boyne Valley Blue, a semi-hard blue goat's cheese produced by Boyne Valley Farmhouse Cheese; and whiskey from Boann Distillery and Slane Whiskey.
If you want to get a bit more hands on, the region boasts an exciting range of food and drink experiences to try. Listoke Gin School offers you a chance to distil your very own gin. Sheridan's Cheesemongers runs a Saturday market that features the best of Ireland's food. And at Martry Mill, a working watermill that dates back to 1641, you can take a tour to see how they make their stoneground wholemeal flour.
A great way to fit all this into your trip is to book a food tour with Slane Food Circle, where you'll have a chance to meet local food and drink producers. Dining out? Try the Glyde Inn in Annagassan for seafood; Brabazon Restaurant at Tankardstown House for fine dining; and the Cross Guns Inn for award-winning gastro pub fare.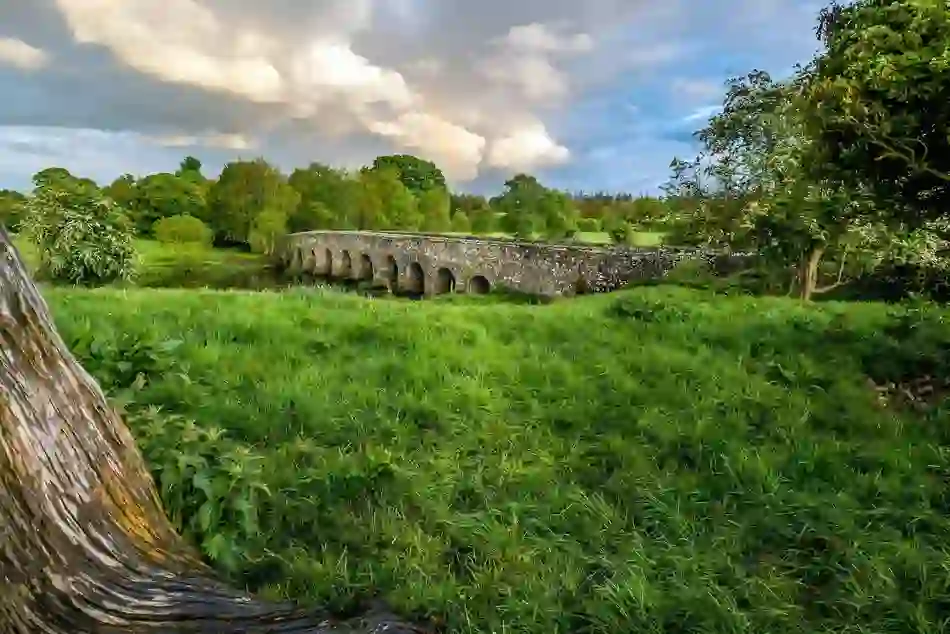 Want to see more?
Here are some great reads to get you started
Boyne Valley highlights
Don't miss these things to see and do
Getting to the Boyne Valley
Fly to Dublin Airport and you're almost there. Or head to Belfast and take the scenic route south. Coming by ferry? Dublin and Belfast are your closest ports. But Rosslare is a pretty easy distance.
Start your journey