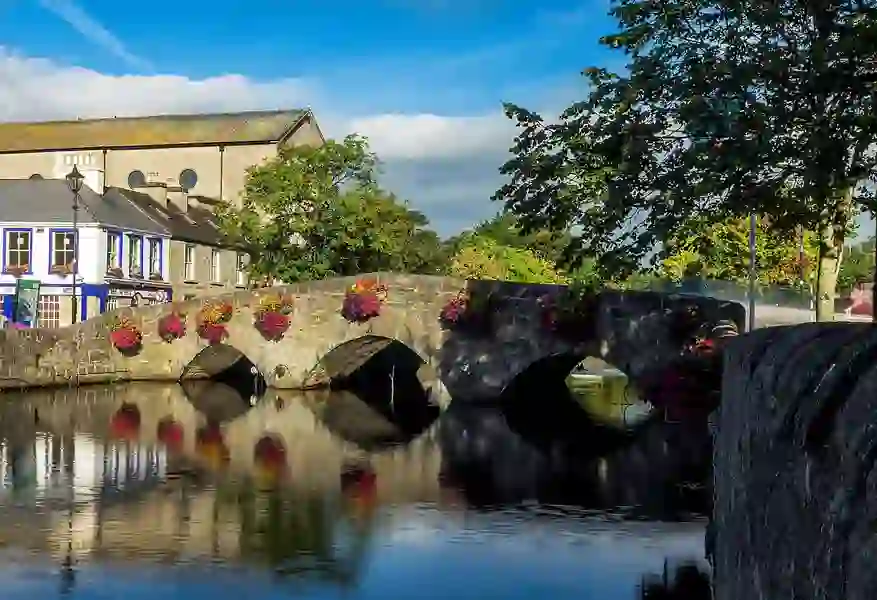 Westport: the waters and the wild
50 mins from Ireland West Airport
Few places combine natural beauty, 18th century elegance and incredible outdoor activities quite like Westport. Located along the Wild Atlantic Way in a rugged corner of County Mayo, this genteel town is the kind of destination that serves up such a myriad array of activities that it's hard to know where to start… Should you cycle to the wild Atlantic island of Achill along the Great Western Greenway? Snorkel along an intriguing trail off the stunning Old Head beach? Hike up Croagh Patrick in the footsteps of Ireland's patron saint? Or simply settle down beside the fire in a traditional pub with some cracking tunes and a pint?
Here are some ideas to get you started…
An 18th century beauty
Sitting pretty under the watchful eye of Croagh Patrick, Westport is pure charm. Wander along the Mall, a delightful tree-lined promenade with chunky stone bridges that arc over the waters of the Carrowbeg River, and it's easy to imagine what this town must have been like in the 18th century. Designed and created as a place to live for the workers and tenants of John Brown from Westport House in the 1780s, the streets reverberate with history, and the colourful shop fronts give it a surprisingly jolly appearance.
Westport is more than just a one-mountain town, blending as it does a brilliant stew of Georgian history, family-friendly amenities, bracing outdoor pursuits, vibrant nightlife and the odd show-stopping restaurant

The Irish Times
Stroll out of town along Quay Road and you can see how the other half lived at Westport House itself. Boasting an incredible location surrounded by parkland and with views of Clew Bay, Achill Island and the Atlantic Ocean, the 18th century house and gardens serve up everything from exquisite interiors to a hawk walk through forest trails at the Birds of Prey Centre. Of course, before John Brown arrived, Pirate Queen Grace O'Malley ruled these lands, and the house you see was built on the foundations of one of her castles – you can even tour the dungeons today.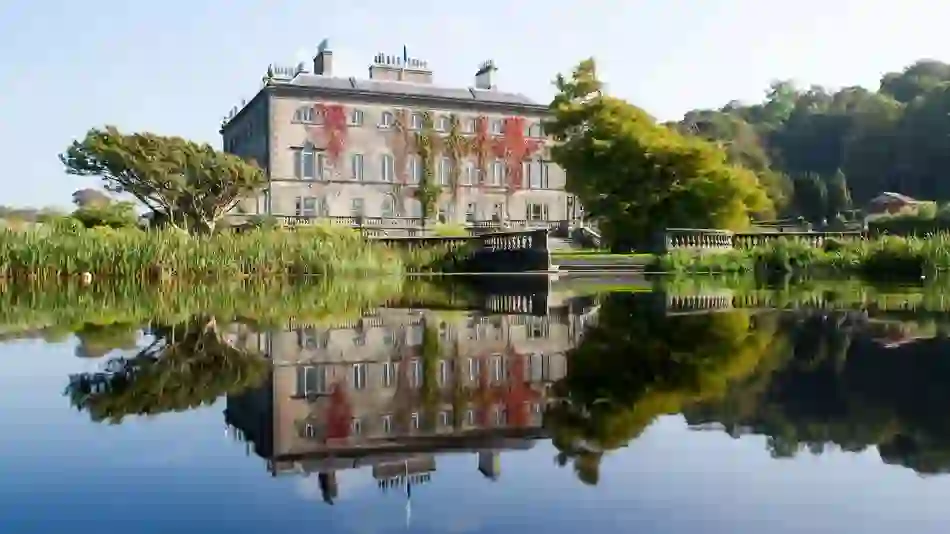 Pubs, food and fun
Back in town, Westport is chock-full of great places to eat, drink and be merry. Want to unearth the true essence of this west coast gem? Head to one of its warm, welcoming and toe-tapping traditional music pubs. Locals and tourists alike hotfoot it to trad-favourite Matt Molloy's for a pint, a few tunes and a good dose of "craic" (fun). The nightly music sessions have garnered a legendary reputation, but if you can't find a space within this cosy bar, try the lovely little Hoban's, McGing's and The Big Tree instead.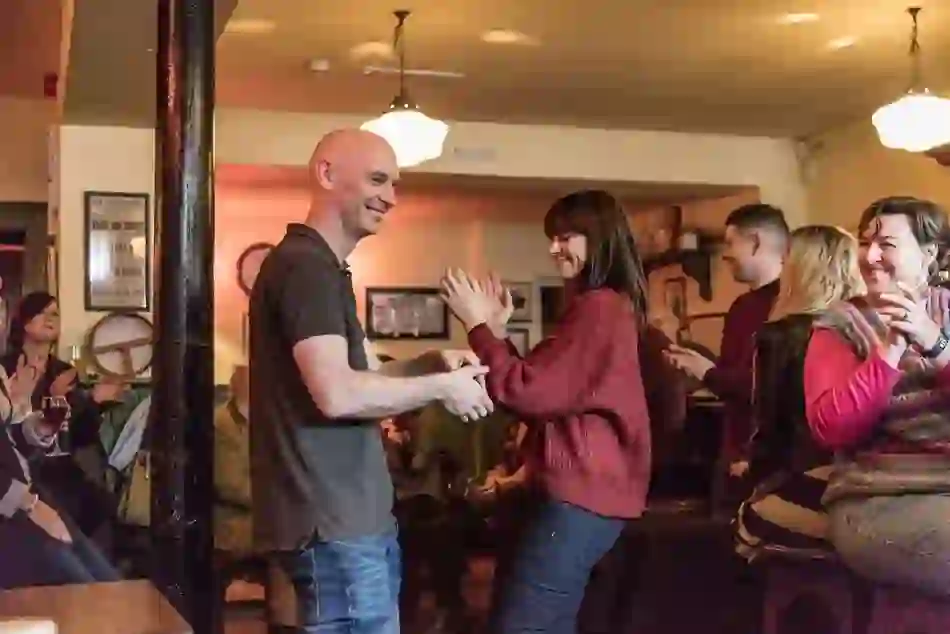 Westport is Mayo's nightlife hub, and its central location makes it a convenient and enjoyable base for exploring the county

Lonely Planet
Local flavours
As you'd expect from a destination that has an abundance of nature on its doorstep, Westport has a strong food culture. Here you can feast on a wealth of seafood, cheeses, sea vegetables and local meats that have been crafted into delightfully creative dishes. Head to An Port Mór for favourites such as marinated rump of Mayo lamb, west coast crab salad and smoked Connemara salmon. Or try Sage Restaurant, with Aran Island goat's cheese, Killary Fjord mussels and Clew Bay scallops. Pub-wise, don't miss The Tavern on the edge of town – it's a great, laid-back spot with a strong food pedigree, and for something slightly different mosey along to The Gallery Wine and Tapas Bar. With a long list of eco-credentials, the boutique wine bar specialises in natural wine and natural food, with Wild Atlantic food boards, artisan Irish cheese and wild Atlantic fish.
Get outdoors
Nature has sculpted the landscape around this part of the west coast into an intriguing mix of islands, bays, beaches, hills, mountains and craggy coastline, all just a short hop from Westport. Take enigmatic Clew Bay, where islands are scattered like jewels across a grey-blue sea, making an incredible destination for paddleboarding to snorkelling. You can take a boat trip out to Clare Island, ancestral home of Grace O'Malley; sea kayak on the Achill Blueway or go surfing at Belmullet. And, of course, if you like your beaches secluded, check out Dooagh on Achill Island. After 30 years underwater, it reappeared in 2017 as a butter-coloured shoreline that's perfect for quiet walks and spectacular ocean vistas.
The Great Western Greenway is the traffic-free jewel in the crown of Ireland's walking and cycling trails

The Telegraph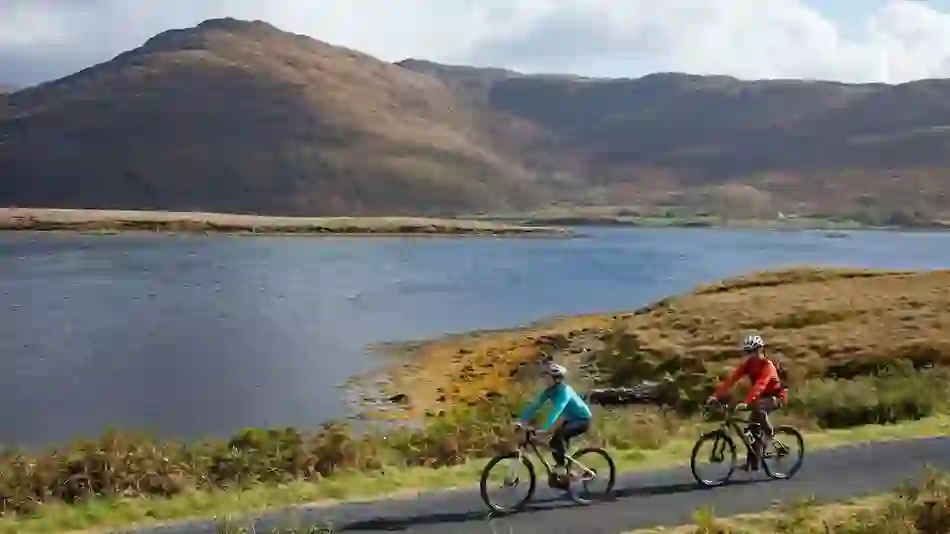 Beyond Westport
Meanwhile, the Great Western Greenway has cemented Westport's reputation as a destination par excellence for walkers and cyclists. Reaching 42km along the coast from the town out to Achill Island, it's a breathtaking off-road adventure that can be enjoyed in its entirety or in parts. And when it comes to walking, Westport is the kind of place that has something for everyone. You can scale the scree-covered slopes of Croagh Patrick; you can explore the town with Westport Walking Tours; or you can stroll the gentle Westport Slí na Sláinte, a 2.5km route that links the town's historic centre with the Quay Area.
Fancy pushing out a bit further? Pull on your boots and take to the hauntingly beautiful Nephin Beg mountains, the craggy Sheeffry Hills, or the looped walks of Mulranny.
Want to see more?
Here are some great reads to get you started
Westport highlights
Don't miss these things to see and do