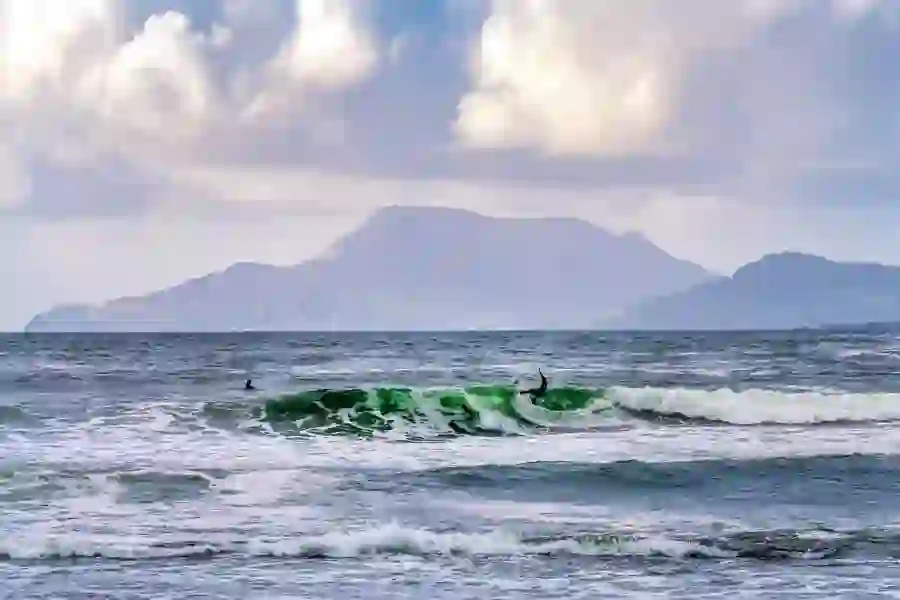 Make a break for Bundoran
1hr 15mins from Ireland West Airport
Buzzing Bundoran
Lying in the south of Donegal along the Wild Atlantic Way, Bundoran has pulled in visitors for decades. Over the last 20 or so years, however, the crowd has changed. The slightly old-world vibe has been replaced by one of the highest-energy sports there is – all thanks to the power of the Atlantic.
Surfers' paradise and lots, lots more
Where there are mighty waves and pristine beaches, there are surfers. And Bundoran has it all, with an incredible variety of beaches that have turned the town into a surfing hotspot. Some are sheltered and gentle, which is perfect for beginners; some are far more demanding, kicking up a bigger swell, which pulls in the pros. Surfers gather here all year round, and the town has hosted European Surfing Championships several times. You'll find lots of surf schools and places to hire equipment. There's even a wave named after the town, called the Bundoran Peak.
Bundoran is not just a surfer's paradise, though. Take a walk along stunning Tullan Strand – it's so huge you'll feel as if you've got it all to yourself. Try some swimming, kayaking or windsurfing. Weather turning chilly? The indoor aqua centre, Waterworld, has fantastic family pools, and it offers seaweed baths, which are said to relax and rejuvenate all those aching surf muscles.
The wildness of the landscape and the incredible waves generated create very dedicated surfers who put surfing at the very centre of their lives

Ross Whittaker, film director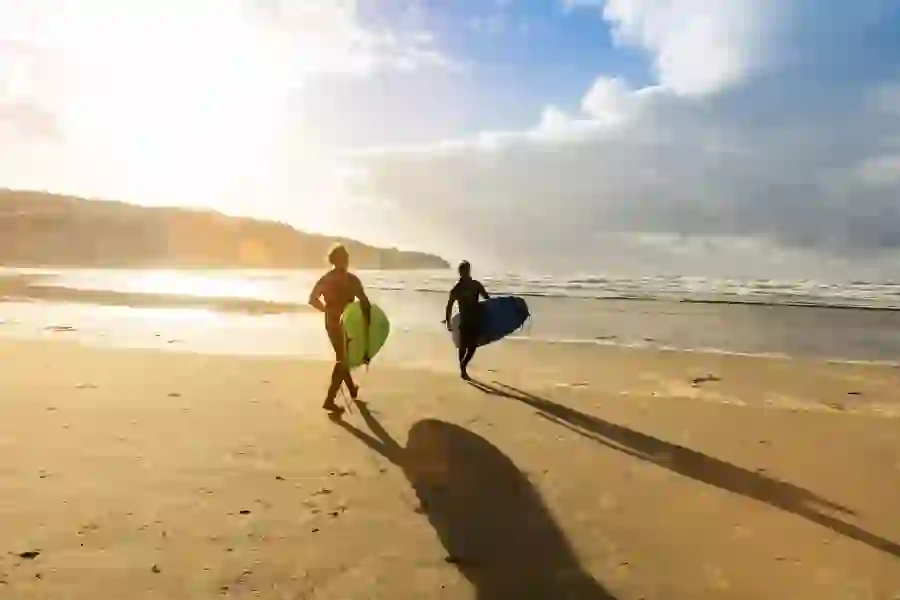 Surfing in Ireland
Known to surfers as a "cold paradise", there's no better place to take to the water than Ireland's surf capital – Bundoran, County Donegal
Discover more
Walking, cycling, golfing, and fishing
Bundoran's also a great base for a trip to the Slieve League sea cliffs on the other side of Donegal Bay, while walkers and hikers should head to the Bluestacks to the northeast of Bundoran for lovely hill walking, among bog and streams. A short drive to the southwest into Sligo will take you to the Dartry Mountains, Leitrim's Glencar Valley with its waterfall, and the otherworldly wonder of Ben Bulben mountain.
The fishing around Bundoran is superb, and astonishingly varied. Shore fishing is popular in and around the town, or take a boat out into Donegal Bay and go deep-sea. Inland, there's excellent coarse and game fishing in the rivers Drowes and Duff and in Lough Melvin. Licences and permits are available online, or you can pick one up, along with any kit you might need, from angling shops in Bundoran.
Golfers are also well looked after, too. Of course, there are plenty of fabulous links courses up and down the Wild Atlantic Way, but with Bundoran Golf Course right here, you won't need to travel. It offers out-of-this-world views (look out for dolphins) – along with some pretty tricky breezes coming in off the sea. Expect the unexpected as you play!
County Donegal is the wild child of Ireland and home to some of its most ravishingly sublime scenery and beautiful beaches

Lonely Planet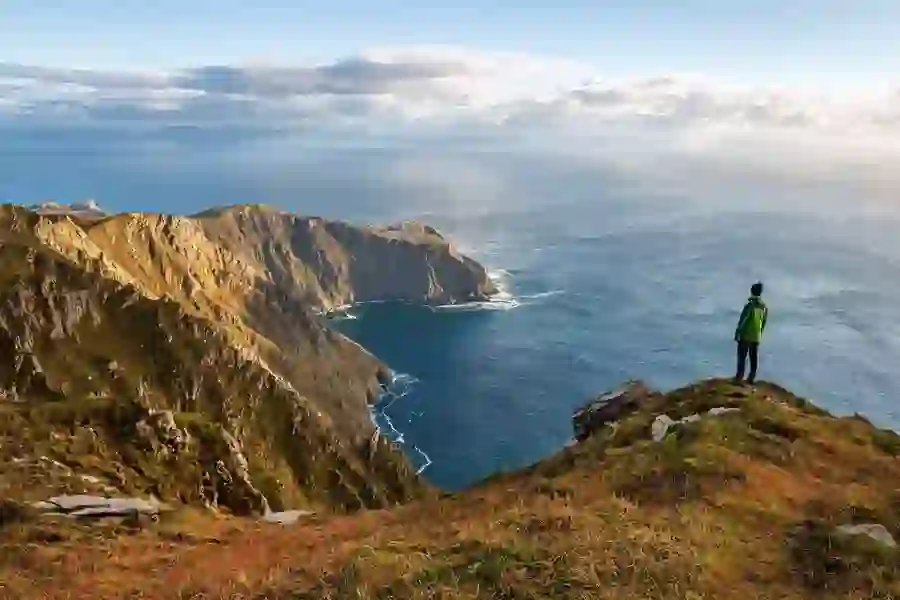 Good times and a seafront festival
The thing about surfers is that they like a good time – and Bundoran is ready for them. The little town is packed with pubs, where visitors and locals mix and mingle any old way. Music is big around here, both traditional and up to the minute. If you're after music and dancing, try The Bird's Nest Bar or drop into Kicking Donkey and George's Bar.
On the third week of June, though, Bundoran translates its love of a tune into the Sea Sessions surf and music festival. You can book one, three or four-day tickets, go camping, glamping or stay locally. There are three stages, loads of international and Irish acts, live bands, DJs, the mighty Atlantic and a town dedicated to having a party – it's all here for you!
Named the "Coolest Place on the Planet" by National Geographic Traveller Magazine, Donegal is absolutely stunning. And Bundoran especially!

Lilia Lalaoui, RTÉ culture correspondent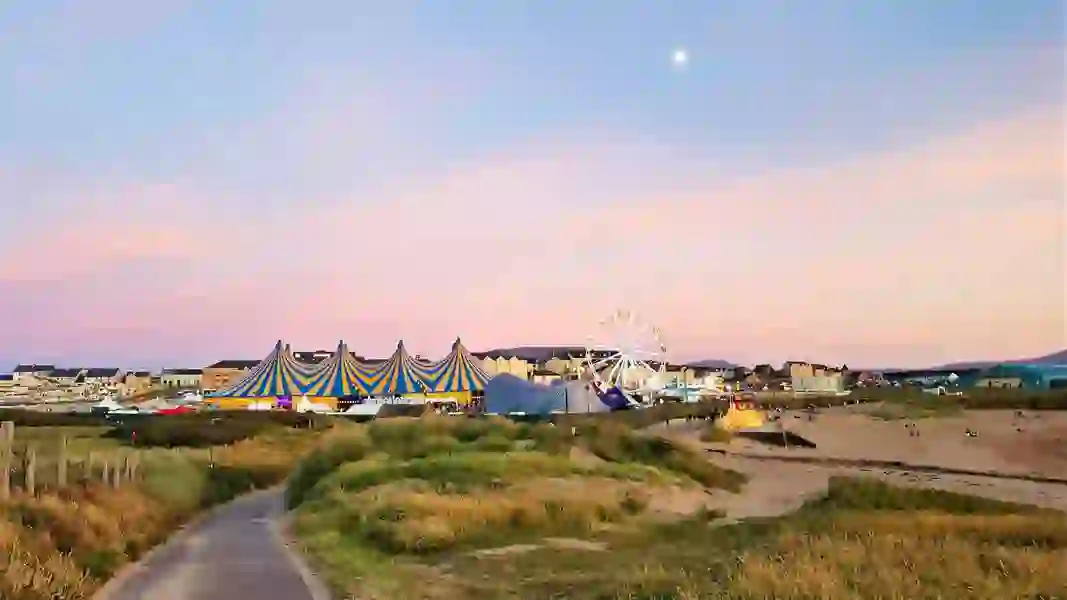 Want to see more?
Here are some great reads to get you started...
Bundoran highlights
Don't miss these things to see and do!