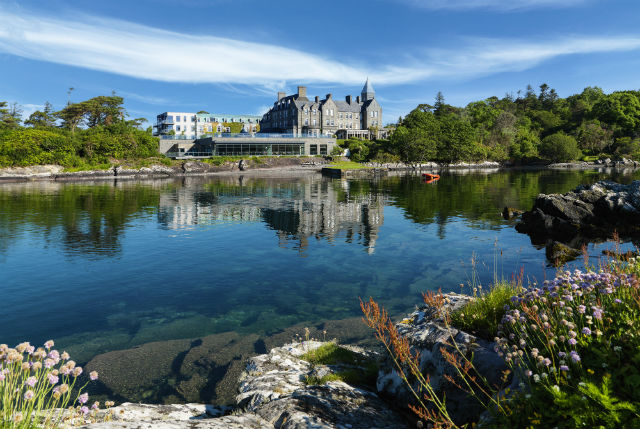 1. Mount Vernon, County Clare
The Burren is the very essence of wild beauty on the west coast of Ireland. Exotic coastal florals in exquisite colours dot a cool grey limestone landscape that has a stark yet intoxicating allure. Set along the coastline – the Flaggy Shore – you'll find Mount Vernon, a lovely 18th century B&B and perfect base for enjoying the very best County Clare has to offer. Antiques, cosy sofas, open fires, paintings and a library that opens onto a sheltered terrace and walled garden make this place a cut above the rest.
2. Clare Island Lighthouse, County Mayo 
Clare Island occupies a dramatic spot at the entrance to the island-studded Clew Bay in County Mayo. This place delivers the wow factor in abundance with soaring cliffs, woodland, undulating green hills and the Clare Island Lighthouse boutique accommodation. Here, guests laze around in the well-stocked library, feast on six-course menus and roam an island filled with great walking routes and a friendly pub. Check in… and tune out.
3. Chléire Haven, Cape Clear, County Cork
If you like the idea of waking up to yachts bobbing in a secluded bay hugged by green hills, make your way to Chléire Haven. Step outside your tent (or yurt) and you're in the middle of some of the most glorious scenery West Cork has to offer. With an Irish-speaking local population of just 100 and few cars, the island easily captivates with champagne-clear light and a landscape that boasts awesome Atlantic views at almost every turn.
4. Delphi Lodge, County Mayo 
You don't just stay in Delphi – you experience it. This 1830s country house and fishing lodge sit snugly beneath the extraordinary soaring mountains that surround it – a haven of warmth on elemental Galway days. Log fires, cosy libraries, old-world glamour and lively communal dinners make the indoors a treat. Meanwhile, outside, soak up the beauty of Killary Fjord, stroll the buttery sands of the remote Silver Strand beach, and drive through the breathtaking Doolough Valley.