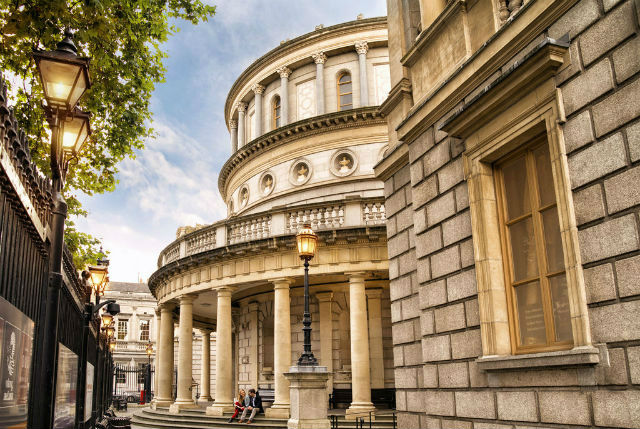 1. Free national museums
Ireland's history spans millennia, so trying to experience thousands of years of history in a short period of time can seem daunting. But fear not, because all of our national museums and galleries are free! You can come face to face with bog men, gold hoards, national and international masterpieces and literary greats with ease – all without having to break the bank.
2. Heritage Ireland's free first Wednesdays
Ancient castles, sprawling monastic settlements, Neolithic tombs – the relics of Ireland's past cover the landscape. Visit on the first Wednesday of every month, and most of the sites managed by Heritage Ireland are totally free! This includes Clonmacnoise, Glendalough, the Hill of Tara and the Burren National Park – there are over 100 attractions to explore, so make sure you get to your favourites.
3. Culture Night
It feels like everybody in Ireland marks Culture Night on their calendar each year. In September, cities, towns and villages around the island of Ireland light up with installation art, magical shows and musical performances in celebration of Ireland's long-lasting artistic heritage, and you don't have to spend a single penny.
4. Go by foot
Sometimes the best things in life are the simplest. Ramble through the wilds of Connemara, walk immaculate sands on Downhill Beach, meander along the River Shannon or, if you're feeling adventurous, get involved in one of the many walking festivals that take place across the island.  
5. Eat well for less
We all love the finer things in life, especially when it comes to great food. And nothing tastes finer than food that doesn't empty your wallet! Feast at restaurants or cafés between 5 and 7pm and tuck into their early bird (discounted) menus; book ahead for great value lunches – even at restaurants that come with Michelin stars, a two-course lunch is priced from just €50 – or create your own menus by devouring the very best of our fresh artisan produce at farmers' markets.
6. Once-in-a-lifetime moments
We all have that 'wow' moment, the story we like to tell over dinner, or to smile about when those indelible memories start flooding back. In Ireland, you'll find one around almost every corner. Whether you're pretending to be a Stark around Game of Thrones® territory in Northern Ireland, practising your best Jedi moves at a Star Wars filming location, or simply watching the Northern Lights as they glow overhead in County Donegal...
7. Free trad sessions
Walk through the doors of many a pub on any given night of the week in Ireland, and you're likely to hear the irresistible strains of a traditional music session. Pull up a stool and tap your foot to the beat of these musical medleys.
8. Festival fun
All year round, you'll find free festivals across the island. Literature buff? Get to Bloomsday in June. Looking to experience some culture and heritage? Try the Dalriada Festival in County Antrim. And if you're a foodie, you're in for a treat at the Galway International Oyster Festival. See what's happening when you're visiting, and soak up that festival vibe.
9. Discounts
We all love a bargain, don't we? Save a few pennies by picking up a visitor pass for the attractions you want to visit. And don't forget, if you're lucky enough to be a senior citizen, a student or part of a family or group, you can avail of bargains at many fantastic experiences! Just check websites for details.
10. Stay connected
It's the little things that add up, so before you pay for Wi-Fi or use up your mobile data, remember that many cafés, bars and public locations offer free Wi-Fi. Check on your smartphone, and see if you can get connected the easy way.
And just remember, have a wonderful break in Ireland… without breaking the bank!