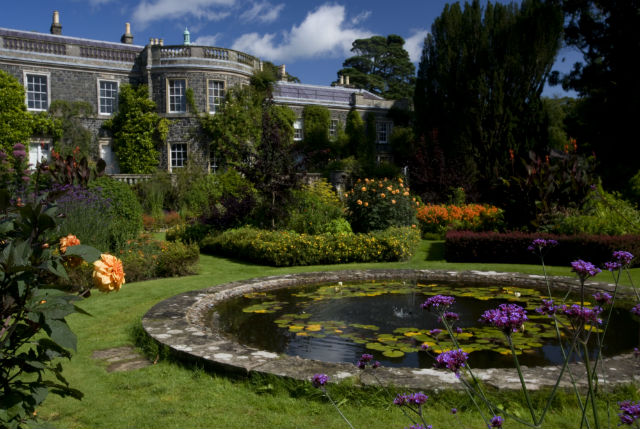 1. Mount Stewart Gardens, County Down
 On the shores of Strangford Lough in County Down, Mount Stewart Gardens awaits its green-fingered fans. Hailed by horticulturist, garden writer and garden designer Fionnuala Fallon as an "extraordinary mixture of grandeur, whimsy and eccentricity", this sprawling expanse of intricate design, exotic plants and Italianate influence enjoys an almost subtropical microclimate. Check out the stone dinosaurs that adorn the curious Dodo Terrace, before following the winding path that leads away from the mansion house and around the lake, to the part of the gardens known as Tir na nÓg: the land of eternal youth.
2. Powerscourt Gardens, County Wicklow
 Ornate terraces, dancing fountains, a flower-filled walled garden and panoramic views of County Wicklow make Powerscourt an irreplaceable retreat on Dublin's doorstep. A cultural hub as well as a dazzling horticultural display, Powerscourt plays host to works of open-air theatre in the summer, welcoming Shakespeare and Jane Austen alike. Recently voted third in a National Geographic list of the world's top 10 gardens, Powerscourt is surrounded by a beautiful wooded valley that is well worth exploring – not least to see Ireland's largest waterfall in the foothills of the Wicklow Mountains.
3. Botanic Gardens, Belfast
 Designed in the 19th century by Sir Charles Lanyon – who also designed parts of Queen's University – and built in part by Dublin's Richard Turner, these Gardens and their ornate cast-iron Palm House are a tribute to Victorian Belfast. Home to an assortment of plants and trees, including geranium, fuchsia, begonia and a hornbeam-leafed oak planted in the 1880s, the gardens are a bubble of nature at the city's heart. The jewel in the crown here is the Tropical Ravine, which houses banana, cinnamon and orchid plants – but the whole garden is a delight.
4. Altamont Gardens, County Carlow
 Tucked away in Ireland's Ancient East, this wonderfully atmospheric country garden is set amid the rolling countryside of County Carlow and is famed for its collection of rare snowdrops. Stroll beneath the shady grandeur of the ancient beech trees that line the Nun's Walk; visit the magnificent walled garden; and follow the twisting path that ambles past softly scented roses, neatly-cut lawns and an ornamental lake filled with water lilies. Rare rhododendrons, exotic specimen trees and ancient oaks flourish in quiet woodlands that descend to the banks of the salmon-filled River Slaney.
Wake up and smell the roses...
Discover 9 of Ireland's most beautiful gardens
Ireland's Gardens